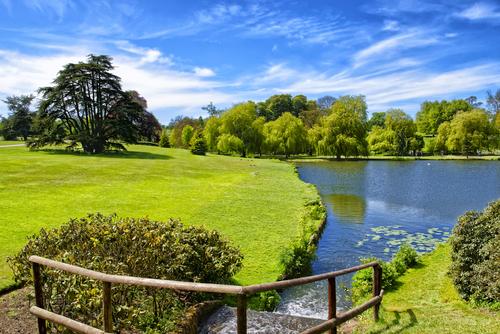 The South-East of England is known to be one of the driest and warmest parts of the country, which makes for perfect gardening. This is supported by the fact that there are some 180 gardens open to the public in Kent alone; pretty impressive, indeed. Henry VIII was so impressed with the fruits of one orchard garden in Kent (cherries, specifically) that he named the county 'Garden of England'.
2016 is the Year of the English Garden, which is the perfect excuse you need to explore some of the finest gardens on display in the home county that is Kent. Full of green landscapes, cultivated and maintained orchards, mazes, arboretums, wooded meadows and so much more, what garden inspiration will you find?
It's no wonder that local residents are keen to have their private gardens displayed perfectly at all times, showing off their gardening prowess with stunning arrangements and landscaping on display for all. Maintaining such high standards all year round can be demanding for many, like a full-time job. The average resident can't commit to such dedication, however, and is left searching for a viable alternative - fake lawns. Easy to install and look after, artificial lawns offer the people of Kent an easy way to keep up with the Joneses, and look good doing so.
So, where do they find their garden inspiration? In the public gardens in and around their villages, towns, and cities, of course! Here are a few of our favourites:
Sissinghurst Castle Gardens - Created in the 1930s at the home of Vita Sackville-West, this is one of the best gardens in the UK. Featuring themed garden rooms with a separate arrangement of flowers and colours for each
Hever Castle - Set over 4 acres, this 13th-century castle garden features a Tudor herb garden, Italian sculptures, various mazes, a lake and over 3000 beautiful plants
Goodnestone Park, Near Canterbury - Regularly visited by Jane Austin and packed with an arboretum, a rockery, and plenty more in the 1960's, this 15-acre park is something truly unique
Chartwell House, Based in Sevenoaks - The home of the late Winston Churchill has a beautiful garden with an ornamental design like no other
Leeds Castle Gardens, Close to Maidstone - The 500 acres of these gardens have their very own water cascade and over 500 years of history packed within
Port Lympne Mansion and Gardens - With over 15 acres of landscaped gardens overlooking the Wild Animal Reserve and the coast, these gardens feature trojan steps, statues, mazes and even a clock garden
With so much outstanding beauty, fine-crafted design and flowers by the dozen, it's not hard to see why artificial lawns in Kent are so popular with the locals.
Make sure you take a visit to the Garden of England this year, we promise you won't regret it. When you feel inspired to recreate the stunning landscapes around you, remember, Artificial Lawn Company can help you bring that dream to life.
For more information on our range of grasses, please visit our website or contact us on 01474 364320.