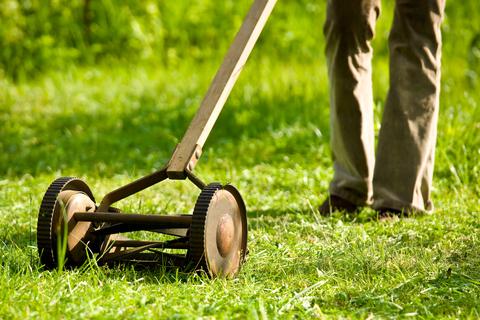 Everyone here at Artificial Lawn Co agrees that grass has its place in society. For a start, it has aided agriculture for over the last 7,000 years, as we have grown it to feed our livestock. Lambs and cows across the western hemisphere have grazed relentlessly on grass, just in time for Sunday dinner. We even eat it on a daily basis as we use the grains to form rice, wheat and barley. Food aside, it also has a plethora of benefits that have aided civilisation through the rapid cultural advancements of industrialisation and urbanisation, because it can also be used to make alcohol, paper, fuel and clothing. So let's not underestimate grass for a moment, because in all honesty, it will probably be around a long time after we're gone.
But this blog isn't about the green stuff that covers 20% of the Earth's surface, we're talking about the domesticated form; the lawn. Ah yes, the faithful lawn; hard to maintain, weak, messy and muddy; you know, the stuff that makes you sneeze throughout the summer months. Well, we have a replacement and for good reason. Listed below is our favourite reason why artificial grass is better for your home. Click here for more information on fake lawns.
Maintenance:
Maintaining grass is a job in itself, in fact entire industries have been created around keeping our grass looking healthy and pleasant. Cutting the grass is always a pain. First of all, you've got to get out the extension lead that is always tied into a thousand knots. Once you have unraveled that, you've got to plug it in and drag it through the house, feeding it over the maze that is the kitchen sink, the staircase, then up and out through a window. Once you finally have power to the archaic lawnmower that's been handed down through three family generations, it's time to cut the grass. Because cutting the grass is such an effort, you tend to leave it for longer than is necessary, which means you're not trimming a well looked after bowling green, but battling your way through the 3ft mini rainforest that has sprung up in your garden overnight.
The majority of us simply do not have the spare time to dedicate to cutting grass. In this instance, it's much easier to get a fake lawn. With synthetic grass, all the hassle of maintaining a real lawn is taken away. No trips to the shed on a cold dewy Saturday morning, no wires to unravel, just a gorgeous, lush lawn that is always ready to be used. Aesthetically pleasing, our artificial grass looks good all year round come rain or shine. Its tough durability through the winter months has had homeowners across the nation climbing over each other to get their fake lawn installed. Realising the instant benefits of having a manufactured lawn has led to the high increase of businesses and domestic dwellings installing an artificial lawn. Highly realistic and soft to touch, our grass is designed to withstand a summers worth of children playing on it and the bleakest conditions winter has to offer. Visit our webiste for artificial grass installation services
So, feel free to explore our website, browse through our extensive range of fake lawns and find exactly what you are looking for. With more than a decade of experience in supplying and installing artificial lawns, here at Artificial Lawn Company, we can give you the best advice and guidance so don't hesitate to get in touch.