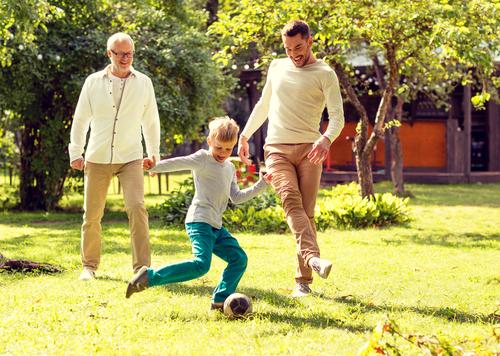 Take away dad's pain of wasting time cutting the grass every weekend this Father's Day by installing a synthetic surface that will stay green all year round.
The summer months mean that we spend a lot more time outside in the garden, with the weather far more inviting than it was just a few months ago. Of course, the added sunshine means that the garden requires a lot more maintenance.
With an artificial grass surface, dad can spend Father's Day in his favourite chair without having to worry about pulling the lawnmower out of the shed. He will know that his lawn is the envy of his neighbours without so much as lifting a finger!
Low Maintenance
While real grass requires great care and a lawnmower at least once a fortnight to look its best for a short period of time, the artificial grass looks perfect all year around. All that is required to keep your synthetic surface looking pristine is a simple brush after rainfall to aid in washing water away.
This also means that dad doesn't have to worry about any pets or children when they play outside. Nobody likes the sight of mud trampled all through the house, which is another major reason why fake grass has grown so popular with homeowners.
Artificial Grass for Sporty Dads
It is no secret that the surface first came to prominence for its use in sport, with its development over the years turning the synthetic turf into a necessity for clubs. Artificial grass can make for the perfect private putting green in the garden or an ideal father vs. son football pitch.
Thanks to the technology that is used to manufacture the surface, not only will anyone playing on fake grass not get their kit dirty, they are also less likely to suffer from injury. The soft turf cushions any tumble, while also providing an all round better playing surface for an array of games.
Installation
The installation of artificial grass is simple and, if you live in London or other areas in the South East of England, ALC will be more than happy to do this for you.
If you prefer to install your new surface yourself, then that is fine, too, as you can find an easy to follow step-by-step installation guide on our website here.
For more information on investing in artificial grass, please do not hesitate to call the ALC team on 01474 364320 today.