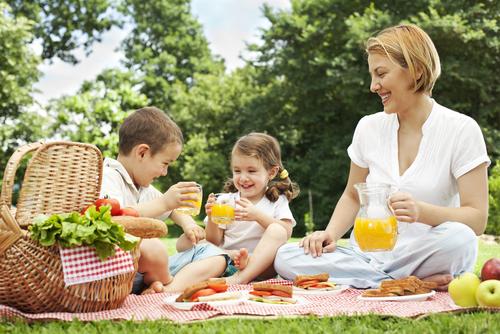 While many people like to focus on the BBQ, one of the oldest British summertime traditions is the picnic - and we love it. Humble and quaint with the romantic nostalgia of days gone by, the traditional picnic is a great way to spend time with your family without the need for the formalities of a sit down dinner!
In the good old days, picnics were relaxed and stress-free, and that's exactly how they should be. However, on those days where the sun is shining, and the parks are jam-packed with the masses, it can often be much easier to set up camp in the garden - especially when there are kids involved!
We put it to you that your garden is the perfect picnic spot, period. Whether you have the real deal or artificial grass, you can rest assured that staying at home will keep your afternoon as stress-free as possible.
As well as avoiding traffic and parking fees on top of the children needing entertainment in the car, you don't have to contend with other people's noise or rubbish when dining in your back garden.
Forgot the sun cream? It doesn't matter. Grandchild won't eat from that particular plate? It can be replaced. Drink got spilled? Never mind. These examples and so many more are less of an issue when you're in your garden instead of 30 miles away in a park.
Moreover, you can relax safe in the knowledge that nobody is going to fall in a river should you turn your back for a second.
Put simply: the garden can be and should be the perfect picnic spot.
Don't believe us? Read on to find out why...
The perfect picnic spot should be peaceful and with a view. With artificial grass and a selection of your favourite flowers, the view from your garden is one you shouldn't underestimate
The enclosed fencing means your picnic spot is a whole lot safer when you have kids and a dog that just love to play havoc when the opportunity arises!
You're guaranteed shade and protection from the sun should the heat get too much. Similarly, if it rains, you don't have far to go to keep you and your family dry in those unpredictable summer showers
Forgetting the essentials won't ruin your day or require you to spend money needlessly to save a wasted journey - simply nip inside
One of the best things about the picnic is the food! Your picnic blanket will look fabulous spread across your artificial grass, but what comes next? Jamie Oliver has some wonderfully traditional and a few unconventional picnic food ideas for you to try this summer.
Now, that's whetted your appetite; it's time to organise your next picnic! If your garden is looking a little worse for wear but you don't have the time to maintain your lawn, opt for artificial grass. Not only does it require next to no maintenance and guarantee you a summer of fun instead of weeding the garden, but it looks fantastic, too.
For more information or to discuss your specific garden needs, please contact our customer service team on 01474 364320 today.