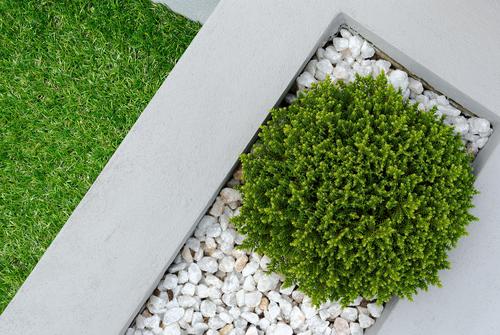 Moving from rented accommodation and becoming a home owner is a big step for anyone making their way in life. Similarly, leaving behind one home for another and starting afresh can be just as daunting - and exciting, too. Moving home is the perfect chance to rid yourself of the clutter that has accumulated; that pile of magazines you never got round to clipping and that appliance you never got round to fixing. It is also the perfect opportunity to start over and make this house and garden the very one you've always dreamt of.
The process of moving can be arduous and stressful, so making over and decorating your new home and garden is the last thing on your mind - and that's fine, so take your time and you'll end up with something that you are really happy with. For now, focus on unpacking and having a good, long think about how you can transform this house into your home, and this garden into your very own sanctuary.
Decorating a house isn't necessarily our forte, but when it comes to gardens, we like to think we're more than qualified to help out. Life is so busy for everyone these days that even mowing the lawn is often at the bottom of our to-do lists. Take it off yours completely and make an investment in your garden, and yourself, with a fake lawn.
With an artificial lawn base, your garden will automatically feel fresh and clean all year round, with little to no maintenance to keep it looking in great shape. This will free up a little time in your schedule to transform the rest of your garden into a space to be proud of.
So, new house? Check. Unpacked? Check. Decorating underway? Check. Fake lawn? Check.
Next on your to-do list is making over the rest of your garden and transforming it from plain and average to something extraordinary.
We've got a few garden make-over ideas to get those creative juices flowing:
- Add colour! Coloured planters with your favourite flowers will really set off your fantastic new artificial lawn in the best light
- Clean your gutters, and give them a protective coating to ensure rust and dirt don't ruin the aesthetic you're trying to achieve
- Set aside an hour every few weeks or so to keep on top of weeding - it really makes all the difference
- Seal and stain your decking to give it a new lease of life
- Give your patio and exterior walls a power wash; you might notice your house doesn't necessarily need repainting, after all
- Clean your windows and exterior sills so as not to detract from your beautiful garden
- Start a higgledy-piggledy arrangement of slabs in contrasting and complementary hues and tones, and fill the gaps with gravel, edged with potted plants for a unique patio dining area
- Add a rock garden and shallow pond for a bit of movement in your garden. Not only will this attract wildlife but it will also make a fantastic focal point
- Inside space a little cramped? Utilise your patio more. Add a pergola with some climbers plants and a small tree for shade in summer; a chiminea for those cooler nights and some new garden furniture, and you've got yourself an outdoor room
For more garden inspiration that will really set apart your fake lawn from the neighbours', please visit this website. In just a few simple steps, your new garden will be cause for pride just as much as your home is.
Show the neighbours how it's done with a fake lawn this year.
Choose from our broad range here; there is something for all budgets and the end results are fantastic. Please do not hesitate to contact us should you require further information.