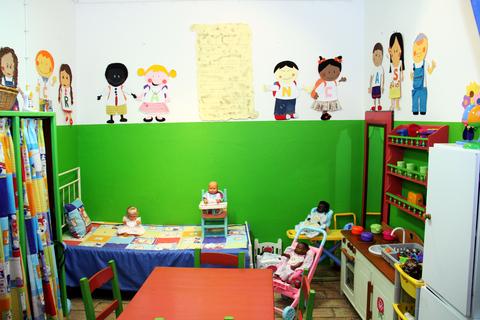 Nurseries are often a picture of colour and educational fun. With glitter and decorative materials strewn across the walls, a soft, colourful carpet and plenty of activities to engage with, nurseries need to be comforting whilst fostering learning and creativity from an early age.

So, instead of having one dedicated play room, why not consider transforming a couple of spare areas into themed spaces for children to enjoy. You can do this by age group, ensuring each and every room caters to the needs of the children, whilst being completely safe to enjoy.

One such themed space you could create is a jungle room, filled to the brim with life.

Below, Artificial Lawn Co have compiled just a few tips for creating a jungle themed room in your nursery.

Flooring

When people envisage jungles, they often picture tangles of overgrown grass, but you need to make sure your jungle themed room is safe and comfortable. That doesn't mean you can't add an almost natural touch though, as false grass can do the job nicely. Not only is it soft and durable, but it is also perfect for the rough and tumble of tots because it maintains its lush green look, providing a wonderful base for your miniature 'jungle'.

In addition, there are many different styles available. So if you wanted to incorporate this surface into more than one room, you can mix and match to suit different age groups and themes. Follow this link to discover the UK's best fake lawns!

Walls

There's nothing like getting the kids involved in a nursery-wide project, and what better way to add a personal touch to the jungle room than to let them at the paints for some finger-painting and handprints. You can use a selection of colours that reflect a jungle, like greens, oranges and blues, and perhaps even invest in some stencils for a lovely collection of jungle animals on the walls!

There's plenty of potential here, but if you would prefer the adults to try their hand at something artsy, you can put together a complete jungle theme, with a setting sun, tigers, panthers and more.

Features

So, the walls are painted, and the floor is covered with luxurious artificial grass, what's next? Well, the kids will need a few features to make it more enjoyable. Depending on the size of the room, things like plastic houses and jungle-themed equipment will work a treat and keep everybody thoroughly entertained, day in and day out.

These are just a few ways you can create a jungle-themed nursery room for your visiting little ones. Do you have any more tips that you'd like to share? Or perhaps you'd like to share your own experience about getting mucky whilst decorating a themed space? If so, feel free to crawl our site.