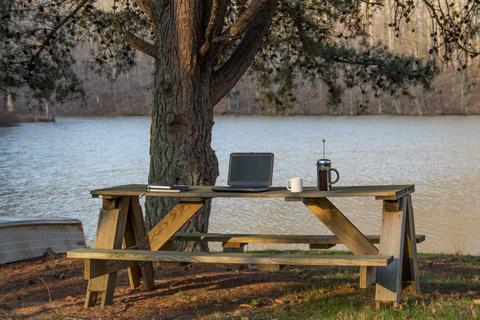 Do you ever sit in your office staring out the window, just longing to be in the hot sun when summer rolls around?

If you answered yes, you may also be thinking of ways you can have the best of both worlds, whilst remaining productive and focused at work.

Why not consider teaming up with another department or even another office in your area, to create an outdoor picnic area?

Having a dedicated area for quick five minute breaks when you feel yourself switching off is a great way to set yourself up for the day or unwind after a long, tiring shift.

You could even make it a communal space where your office and others, can gather and get to know each other.

These are all factors you need to take into account when designing and decorating your picnic space, as the number of visitors, and more, will determine how it needs to look and its size. Of course, you could always make it personal to your company by branding the new equipment using paints.

It's all up to you, and below we have compiled just three things you'll need to make it a success.

Seating

Aside from having little foodie bits to nibble on, you will, of course, need seating to accommodate your company, plus others if you have decided to make it communal.

Luckily though, there are plenty of options available that are easy on the eye, as well as the pocket. These are perfect if you're looking for a cost-friendly yet sturdy option for everyone to enjoy.

Plus, by picking a cheaper seating option, you will have more budget to put towards sprucing it up. Try sites like Preloved if you're looking for second-hand yet quality outdoor furniture!

Little Bits

So, you have your seating sorted, now what? Well, you will want to decorate it a little or a lot, depending on your tastes and whether you think less is truly more.

A few ideas include a lick of paint and painting your company logo on the centre of the picnic table. Or, if you'd like it a little more generic, you can use bright colours to match the soon-to-be summery feel that falls into place during this sunny season.

A Sturdy Surface

With your seating ordered and cans of paint at the ready, you may be forgetting something crucial. Don't fret though, as we already have a solution for you in the form of a fake grass carpet for your office picnic area!

Not only will this help to make the surface more level, preventing the irritating see-saw effect, but it is also extremely durable and can add an aesthetic touch to any worn-out patch.

Artificial grass is budget-friendly and a long-lasting investment. So, even on those rainy days, you can still admire it, in all its green beauty. Lastly, unlike organic grass, it won't suffer from the pressure of heavy traffic and furniture, eliminating the likelihood of signs of wear and tear, and promising low maintenance.

These are just a few ways you can create an appealing outdoor office picnic area, for those sunny days where everyone just needs a break at lunch. Do you have any more ideas to share?