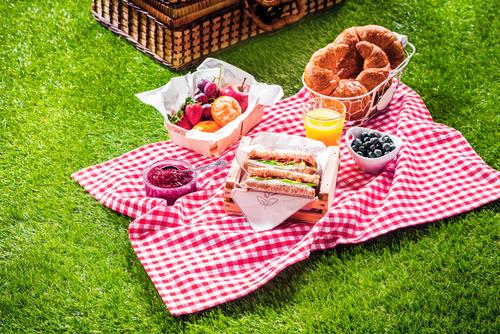 You may or may not know that 8th - 15th May is British Sandwich Week, but we thought we'd let you in on the news, anyway. That's right, one whole week dedicated to celebrating that nation's favourite food-to-go. Versatile and as simple as you like it to be, the humble sandwich is a staple for picnics and parties and lunch just wouldn't be the same without them. If you've opted for fake grass in your garden, you've got even more reason to sling together a picnic as you won't need to worry about getting muddy. Winner, winner, a sandwich for dinner!
So, now is the time to grab a fresh loaf of your favourite bread and join us in our run-down of the best sandwich fillings.
BLT
You can't go wrong with a classic BLT (bacon, lettuce, and tomato). This British favourite works well on any and every type of bread you can imagine. Got a big appetite? Make yourself a hunger-busting BLT club-style sandwich on thick white bloomer bread with the bacon stacked high.
Bacon and Egg
Making its second appearance, bacon proves that it is one of the most versatile sandwich fillings. This time, try it with seeded bread and a splash of ketchup or brown sauce for a breakfast-inspired sandwich celebration.
Cheese and Pickle
A popular go-to for vegetarians, a cheese and pickle sandwich can be as simple as a few slices of cheddar right up to dabbling with mixing different types of cheese. Teamed with the unmistakable tang of pickle, this is a proper British summer sandwich through and through.
Egg and Cress
Another well-loved option for non-meat eaters, an egg and cress sandwich says British picnic to us. Egg mayonnaise sandwiches are often the first to fly off the trays at buffets, no matter the type of bread. Also, cress is a leafy vegetable which means you're technically eating healthily - so get stuck in!
Chicken Salad
Along with bacon, chicken is one of the most popular sandwich fillings there is and they also work together remarkably well. The key to a perfect chicken sandwich lies in the texture; a crisp, leafy salad adds a fresh experience to each and every bite. As with every salad you can also dress it to your heart's content, whether you love a slathering of mayonnaise or a lighter dressing like vinaigrette.
Your filling choice might end up being messy; one of the best things about having a picnic on synthetic grass is easy to clean up, in addition to being well-suited to unpredicted changes in weather.
Did we save the best until last? Perhaps your favourite is something a little less conventional - we'd love to know what your favourite sandwich fillings are, so be sure to let us know.
In the meantime, for all your artificial grass needs, please visit our website or contact us to discuss your garden requirements.