Choosing artificial grass for your home or business isn't just about appearances - there is a whole range of benefits to be enjoyed, from lower maintenance to reduced costs. However, when the time comes to install your artificial lawn, you want to know that you are getting the most cost-effective option that will bring you years of active use.
At the Artificial Lawn Company, we offer a selection of different grasses with suitability for pets, children or sports. Finding the right one for you will ensure a long-lasting garden that brings you as much joy as the day it was installed.
With so many options available, choosing the best artificial turf for your needs may seem a little overwhelming, but here at the Artificial Lawn Company, we are happy to help. We've put together this comprehensive guide on choosing the best artificial grass for your requirements, with all the positive and negatives you'll need to know to make an informed choice based on your budget while keeping maintenance and environmental influence in mind.
Residential and Garden Lawns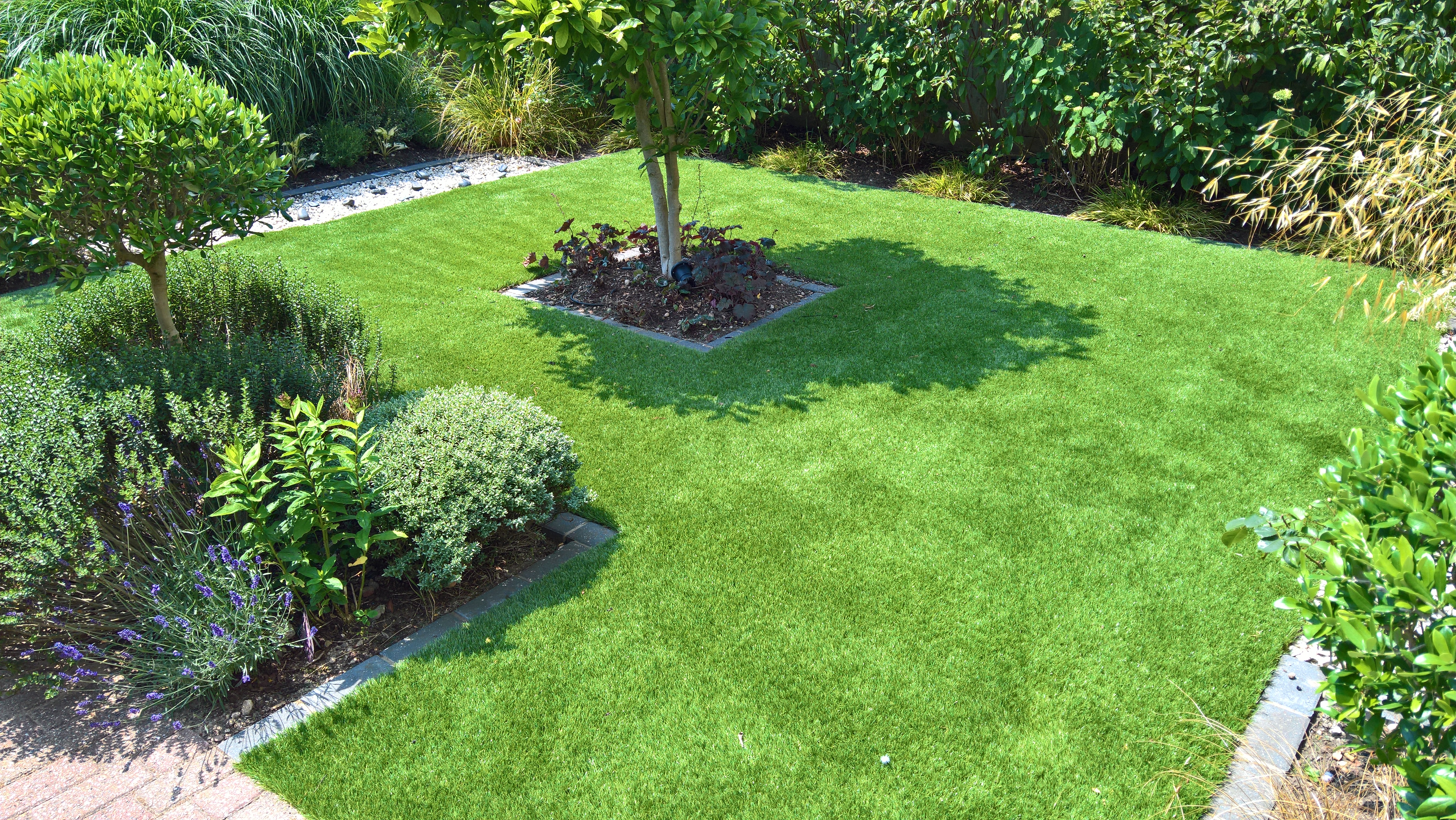 Artificial grass is becoming increasingly commonplace within residential gardens, and with the high quality of modern artificial grass, it is often hard to distinguish from a natural lawn. This makes it the perfect choice for someone looking for a lower-maintenance garden without compromising on the aesthetic of their outdoor space.
Which Lawn is Best?
The Luxury Lawn is a highly realistic, top-of-the-range lawn that will transform the visual appeal of your garden. Featuring four different colours, the 40mm pile is both straight and curled for a natural look and feel
The Landscape Lawn is slightly shorter, coming in at 30mm, but gives your outdoor space a more refined aesthetic. The two-tone pile is highly durable and looks great no matter what the weather
These lawns are incredibly easy to maintain, with minimal effort required to ensure your lawn is kept in tip-top condition no matter what the weather. A quick brush on a regular basis will keep the blades looking neat and tidy, as well as regularly removing debris and leaves. Cleaning your lawn simply could not be easier with the use of a hose to rinse and wash down. Always remember not to use metal garden tools as these can damage your lawn.
Artificial lawns are most commonly found in residential gardens and it isn't hard to see why. Not only does this mean that your garden is free from mud and weeds, but you save time and money without the need to mow and water your lawn, too. Choosing the best artificial turf for your garden ensures your outside space looks great all year round.
Lawns for Dogs
Any dog owner will tell you that their pet is a creature of habit – and when it comes to your garden, this can often leave lasting and unsightly damage when it comes to their favourite spots. With the best artificial grass for dogs, though, you can say goodbye to unappealing grass and instead, have a garden to be proud of all year round.
Which Lawn is Best for Dog Owners?
The ideal artificial turf for pets will have a shorter pile, much like our Pedigree Grass – as seen at Crufts for the last few years. The shorter pile makes it easier to clean up any messes and it is much more durable in terms of outside play and increased footfall from your excitable furry friends. Clean up is just a quick spray down with your garden hose or if deeper cleaning is required, scrubbing with some soapy water will remove all potential stains.
At just 15mm, this fake grass is the ideal choice for dog owners. All of our lawns are safe for use with pets, no matter what the weather, as well as proving to be a cost-effective and low-maintenance option. Easily cleaned in minutes making it a hygienic alternative to natural grass, it is also safe for dogs and their sensitive paws as well.
Suitable for home use, as well as for use with agility training and dog runs alike, the Pedigree Grass will make life with dogs a walk in the park!
Lawns for Sport
Whether you are looking for the best artificial grass for playing sports in the garden or for heavier usage, there are a number of different lawns available to utilise. Sports surfaces require a much more durable lawn due to heavy footfall which can lead to more wear and tear in certain areas – such as on a football pitch. Further to this, some sports require a more specialised surface for performance purposes, such as putting greens.
The Right Lawn for Sporting Activities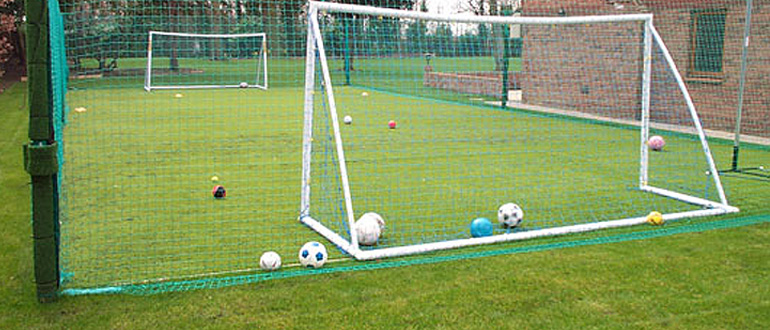 Teeing Areas – the grass laid in a golf teeing area receives a lot of traffic, flattening and damaging natural grass and causing areas to become thin, patchy or yellowed. Prevent having to re-lay your teeing area every season and ensure it always looks its best by investing in some Golf Tee Turf artificial grass. Not only is it more durable than natural grass, but it will maintain your tee-off area at a consistent level of quality to impress your golfers
More intense games such as football and other ball sports are prone to pitch wear and tear, but there a number of different turfs available that not only reduce damage over time but provide players with a high-quality pitch too. Luxury Lawn and Play Lawn are ideal for this purpose, offering a 40mm and 35mm pile respectively and responsive memory-fibres that provide excellent bounce-back after use
Here at the Artificial Lawn Company, we stock a wide variety of synthetic grasses which are perfect for dedicated sports pitches. For more information, simply contact our team who can give you advice on installing a durable artificial grass pitch.
Lawns for Schools
More and more schools are making the move towards artificial grass than ever before, and it isn't hard to see why. The benefits for schools are tenfold due to the extra demands placed upon them across all seasons, making a durable and reliable play surface imperative.
Benefits for Schools and Nurseries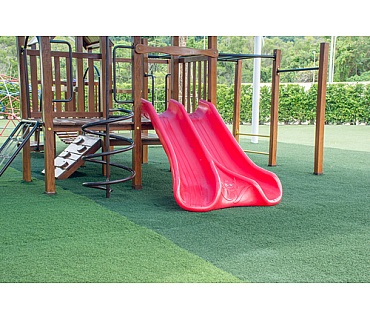 Durable and long-lasting – perfect for playtime and Physical Education
Flexible to suit odd shapes and spaces in playgrounds and outdoor spaces
Cost-effective – no ongoing labour-intensive maintenance such as watering or mowing required
Looks good all year round with minimal effort required for upkeep
Safer than alternatives such as natural grass which can be slippery and muddy in wet weather, as well as tarmac and woodchip which can be troublesome for trips and falls
Easy to maintain on a long-term basis
Won't go patchy or bald due to increased use
No unsightly muddy patches or puddles to deal with
Happy parents/guardians don't need to deal with grass stains
Our artificial turf recommendation for use in schools and nurseries would be the Play Lawn as it is durable, resilient and has excellent recovery from heavy footfall. The three-toned, 35mm pile is perfect for playing and learning.
Pair with our popular Grassflex Shock Tiles to create a playground-safe surface that offers fall protection up to 1.5m, defending against fall-related injuries. Grassflex Shock Tiles offer excellent bounce-back, even after heavy use, ensuring there is no need to worry about frequently-used areas becoming damaged over time.
Looking to Save Money?
Contrary to popular belief, having a high-quality artificial lawn won't break the bank thanks to the availability of our Easy Lawn. Despite being our most affordable option, we don't compromise on quality, as demonstrated with this 25mm-pile straight and curled turf. We keep costs down by removing the need for a sand infill without reducing the overall quality of the end product.
Lightweight and durable, this artificial lawn is available to order by the metre and offers the same great benefits as our other lawns when it comes to maintenance and upkeep. Easy to install, this budget-friendly artificial lawn will transform the look of your garden in no time at all.
Lawns for Roof Gardens and Terraces
Having a great looking garden is no longer reserved for those in the suburbs – the addition of artificial turf can transform a roof terrace with ease for those living in more urbanised areas. That being said, a roof garden is a wonderful addition of extra outdoor space for anyone with the space.
Which Grass is Best for a Roof Garden or Roof Terrace and Why?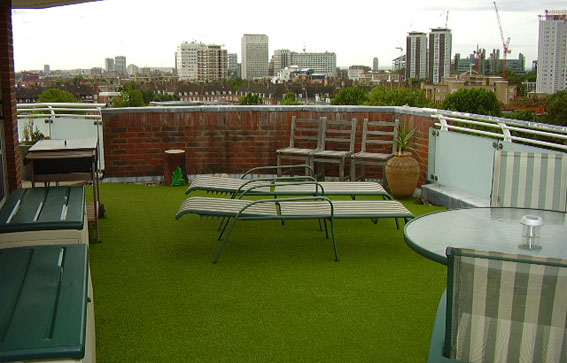 In many ways, artificial grass is ideal for use on a roof or terrace, as it is lightweight and drains with ease – which is very important in smaller spaces with a potential weight limit.
When looking for the right lawn for your terrace or roof garden, you need to consider a shorter length grass that can be used with Lawnflex tiles. The addition of this underlayer provides you with ample space for drainage and provides a softer feel underfoot, giving your rooftop garden a more natural feel, despite the height.
Shorter pile artificial grasses available in our range include Leisure and Landscape. Leisure gives a fresh and soft feel for a more natural appearance which is ideal for smaller spaces or balconies, whereas Landscape offers a slightly longer pile with a beautiful aesthetic – perfect for terraces and gardens in the sky.
Turf for Exhibitions and Displays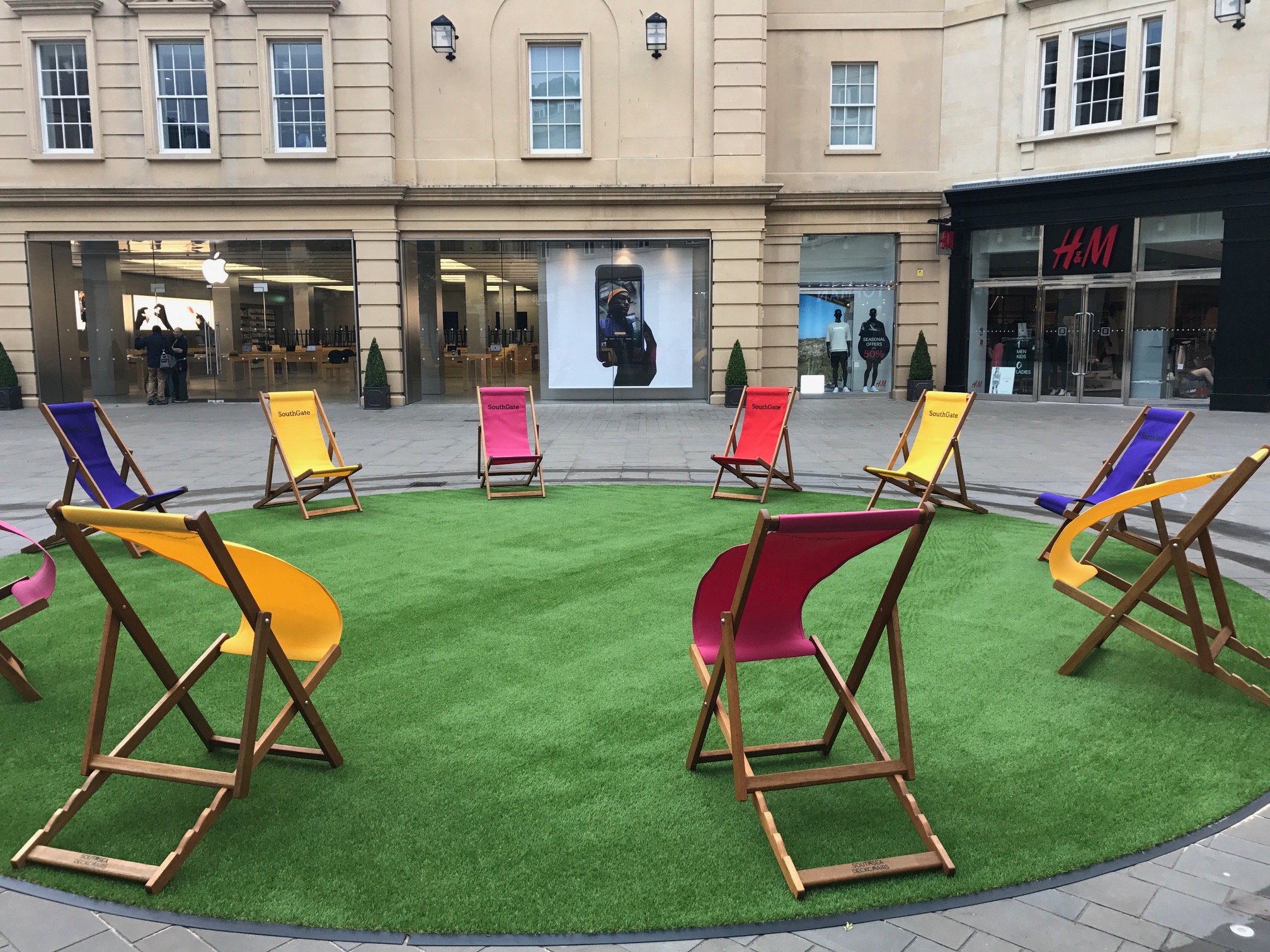 Any business that works the exhibition circuit will know the importance of a well-designed display and the impact it can have on attracting a crowd, and ultimately the success of the event. The aesthetic you present can really make or break the day, so the materials you utilise need to be of the highest quality, which is where the best artificial turf comes into play.
Not only is artificial grass a great way to bring your exhibition space to life, injecting some much-needed colour and creating a talking point, but it can also help your business stand out from the crowd.
Choosing the Right Lawn for Your Display
When setting up at an event, it is important to create an appealing visual to catch the eye of potential customers or clients. With that in mind, there are two lawns that would be the perfect addition to your exhibition display - Luxury Lawn and Easy Lawn.
Luxury Lawn is a prestigious artificial lawn with a 40mm memory-fibre pile in four contrasting colours, that comes together to provide a premium grass offering quality throughout
Easy Lawn offers a slightly shorter pile length at 25mm, but the three-tone colour mix ensures that this grass is a high-quality option without splashing out on our Luxury Lawn
Both options give a natural and professional feel to any display, ensuring that your display is the one that stays at the forefront of people's minds.
The Environmental Impact
Being environmentally conscious is a big topic at the moment. In order to be a more sustainable, greener company, businesses should encourage more considerate internal workings and practices, including, but not limited to, reducing waste and paper usage. Another way to help a business become more planet-friendly is to turn to artificial grass for indoor and outdoor rest areas.
Not only perfect for use in the garden, artificial grass is an excellent choice for roof terraces, balconies, schools, or even for sprucing up your exhibition stand, ensuring you look the part while also reducing your impact on the world around you.
When using artificial lawn in your business, you can gain these great benefits:
Greatly reduced electricity and water use when compared to a natural, seeded lawn - no need to constantly water and mow
Does not require regular pesticide or chemical top-ups to keep pest-free
Offers an excellent, cost-effective method of introducing green spaces where previously it was not possible or practical to add an outdoor area
The Best Artificial Grass for Your Needs
With so many options available, knowing the different types of artificial turf and their specific benefits when utilised in a variety of scenarios is of paramount importance. Whatever your reason for looking for the best artificial grass around, you can rest assured that you will find the perfect option to suit your needs.
From improved family life through to keeping your pets and children safe and happy and attracting a crowd at your next event, you can rest assured that by finding the best artificial grass for your needs, you will soon be reaping the rewards.
Want more information? Please do not hesitate to contact our team or refer to our artificial lawn calculator for more information on what type of artificial grass is best for you.