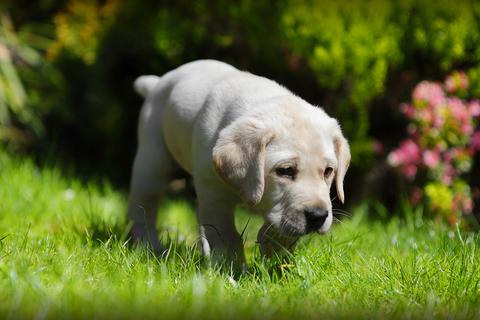 Puppies can make a wonderful addition to a household; not only can they become a member of the family, dogs have a tendency to stick with their owners through thick and thin making them a loyal companion to invite into your home.
However, raising a dog is more difficult than people initially think and no matter what breed you decide to get, there's no doubt that you'll be faced with a few challenges on the journey from playful pup to man's best friend.
A few of the challenges that are bound to pop up along the way include costly outgoings, puppy training and of course, pet-proofing your home, notably your garden, to keep your four-legged friend safe and sound.
In today's post ArtificialLawn.co.uk will be taking a look at how to pet-proof your garden to keep your little pup safe from harm.
Hazard: Garden Tools
If you're a keen gardener who has a tendency to leave your tools lying around while you grab a glass of water, these bad habits need to be kicked out the garden shed. Not only do unattended tools pose a risk to you and your family, but your pup too. As puppies tend to be playful, there's no stopping them getting injured because you forgot to pop the hedge trimmers away.
To avoid this hazard, you should do a routinely check at the end of each gardening session. If you want, you can even make a list of tools you've used on that day and tick them off one by one when you pop them back in the shed. If you don't currently have a shed, it is strongly advised to purchase one for the garden. Not only does it mean you can store your dangerous tools away, it also means that any other hazards can be simply popped in the shed when it's time for your pup to have a run-around.
Hazard: Dry Mud Patches
Every gardener who cares for their natural lawn will understand the frustration of spending hours cutting and attending to the grass only to find that your pup has created a series of dry muddy patches. However, while they only may seem like an annoyance to you as the homeowner, they can actually pose a risk to energetic pups.
If they're running about and having the time of their life, after a while these dry muddy patches may cause harm to their paws and if you notice that there are stones lying around on these patches, these can cause injury to unsuspecting puppies.
To avoid this problem altogether, artificial grass is ideal for dogs and homeowners on a budget. Not only is it cheap to buy and install, it's a long-term investment that will last in the years to come. It's an all-season alternative as well as being highly resilient to the wear and tear of lively puppies. Lastly, it is soft and bouncy, making it perfect for puppy play!
Hazard: Plants and Flowers
If you pride your flower bed then of course the last thing you want is for it to be dug up by your new pup however, it's also important to remember that some plants and flowers can be toxic when ingested by pets.
For this reason, it may be worth setting up a pet-proof fence to stop your puppy getting into your flower beds. This way you protect both your beloved, pristine garden without causing any harm to your puppy. This will also help you to set boundaries which can help with puppy training.
These are a few puppy safety tips in the garden. Do you have any more that you'd like to share with our readers?