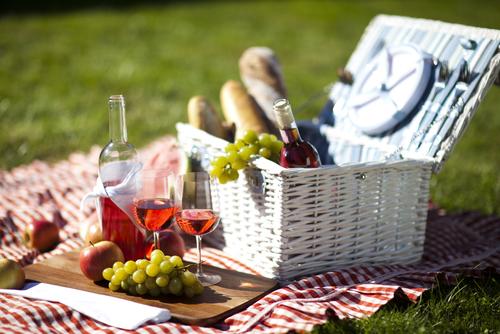 When it comes to picnics, us Brits don't let a crazy thing like weather put us off. Come rain or shine, if we have a picnic (or even a BBQ) planned, it's going to happen. The best picnics, of course, are bathed in sunshine with minimal breeze, perfectly chilled lemonade, and the insects kept at bay.
Here in the UK, the weather can change in a split second. Showers come and go but when you have a fake lawn in the garden, you can rest assured that mud and grass stains won't ruin your blankets, and you can still make the most of the summer weather when the clouds do eventually part!
Last Saturday was officially International Picnic Day, so we hope you got your blankets and picnic hampers out to mark the occasion. Weather been putting you off? Well, it can't rain all the time so hold off until the sun is shining down on us once more.
Presentation is everything when it comes to a picnic, so choose your Tupperware carefully and give the garden a tidy! Luckily, with fake grass, you won't have to mow the lawn beforehand either - now, that's a win-win situation!
Our Picnic Favourites
Here at Artificial Lawn Company, we can all recall our childhood picnic favourites; cheese and pickled onions on sticks, cocktail sausages, and ham sandwiches with the crusts cut off, but we know you can do much better now. While pork pies, potato salad, coleslaw, chicken legs and quiche are still firm favourites, these days it is much more acceptable to experiment, too.
Mix it up with some falafel and fresh veggies dipped in houmous, homemade granola bars and Greek yoghurt, couscous and feta salad, freshly baked bread and curried egg mayo and cress sandwiches, mini red velvet cupcakes... the list is endless.
Alternatively, play it a little safer with scotch eggs, pasta salad and pots of jelly with fresh fruit.
We all have our own version of the perfect picnic, what's yours?
The Fake Lawn Makes it All Worthwhile
Choosing your own back garden could be the best decision all round if you want to host the perfect picnic. Instead of trudging through woodland and struggling to find a suitable picnic spot and having to contend with all manner of insects and muddy grass, you can have a stress-free afternoon with your family and some good food. And it won't matter if you forget the cutlery, with the kitchen just a few metres away.
Fake lawns don't just look great, but they're practical, too. They don't feel damp; they're soft and clean to walk on and with fewer allergies to contend with, it's the perfect setting for everyone to attend and enjoy your picnic.
Sound good? We thought so. If you're yet to join the artificial grass revolution, please get in touch with our friendly team, who are more than happy to discuss your options with you.