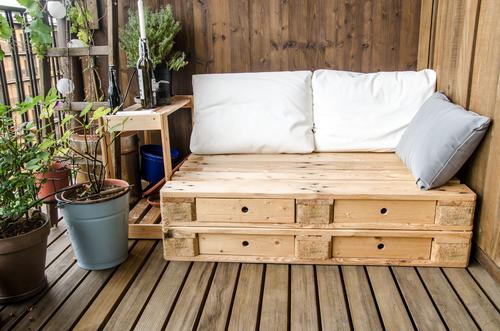 Though summer may still seem like a distant thought, spring is the perfect time to get outside and make the most of your outdoor space. If you have a balcony, it's a great place to get some fresh air and enjoy the view, but after the long, cold winter months, the chances are that your balcony is in need of a little TLC.
Although not every day will be sunbathing weather, before you know it the good weather will have arrived and there will be sun beating down on your balcony. So, why not get prepared now? Lay some artificial grass and give the balcony a lick of paint - it will soon begin to look a lot better!
If you're struggling for inspiration this spring, here are a few of our favourite ideas to help you get started.
Have a Spring Clean
The first thing you should do is give your balcony a spring clean. This means getting rid of any unwanted furniture and sweeping away debris which may have built up over the winter. You should also make sure to thoroughly clean any furniture you do decide to keep as well as the balcony itself - it will be looking better in no time at all!
Add Some Colour
Next comes the fun part - it's time to start redecorating! Throughout the year, your balcony will have faced the elements, causing paint to peel and fade and leaving it in a rather sorry state. You should consider repainting the area; don't be afraid to get creative with your colour choices to really make the space your own.
Get Creative
Why not get a little creative? You could look at alternative furniture ideas like old tyres, for example. After a good clean and a spruce up, tyres could easily be incorporated into unique decorations or possibly even seating! Adding some personality to your balcony and allowing you to upcycle an old tyre at the same time - what could be better?
You could also look at laying synthetic turf on the floor of your balcony to provide a fresh and comfortable feel. Artificial grass is ideal as the grass will stay perfect all year round and requires minimal care, leaving you more time to kick back and enjoy yourself when the good weather does eventually roll around!
Give Yourself a Break
Don't forget to sit back, relax and make the most of your balcony. Before you know it, winter will be nothing more than a distant memory and you will be out enjoying your balcony every day!
Take the time to give your balcony a little TLC and ensure your outdoor space is looking its best this year. Even just the small addition of a fresh coat of paint or some lush artificial grass will leave it with a brand new look - you won't look back!