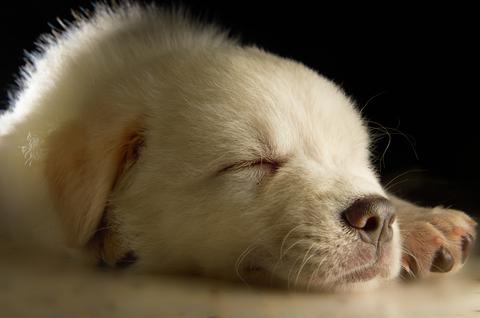 Doghouses are brilliant as they give your puppy a place to relax when the weather is too hot or too cold and when done up nicely, can become like a sanctuary after a long play in the garden. If your current doghouse is falling apart and you need a few ideas to spruce it up a little for your pup, keep reading as we detail a few ideas that you can use to enhance the appearance and feel of your doghouse.
A splash of paint
A splash of paint can revitalise any doghouse up, no matter how dreary and dull so why not choose a few vibrant colours and get painting! If you have a wooden dog house, you can paint every inch with your favourite colours to add a touch of personality to the doghouse and make it feel more like home for your pup. Also, the energetic colours will help to reflect your puppy's dynamic lifestyle and they're sure to feel right at home!
If you want, you can even paint a few of your puppy's favourite foods on the house to make it more personal. Check out artificiallawn.co.uk's blog post for more information.
Flooring
If the grass hasn't been cut in a while or there are dry muddy patches underneath the doghouse, it's likely that your dog will be experiencing some discomfort. To improve this scenario and avoid possible injury, you can use artificial grass for dogs and puppies.
Not only is artificial grass a cost-effective alternative to natural grass, it is also versatile and durable while being soft making it the perfect thing for doghouse flooring. Also, due to its natural-looking appearance, dogs absolutely love it and they'll be more than happy to cuddle up in their cosy doghouse with artificial lawn flooring.
Toys
Nothing will treat your pet more than a brand new doghouse that comes with a few new special chew toys and a few of their old favourites too! You can kit out the doghouse with toys and special chews that your dog can enjoy during his time in his own little house during the hot summers days. Not only this, it will help to make your dog feel a bit more comfortable and at ease in new surroundings, especially if you pop your pups favourite toy inside.
These are just a few ways to renovate your puppy's doghouse.
If you're interested in purchasing artificial grass for your doghouse, please feel free to browse through our collection of grass types. We have a number of grasses available, some of which are ideal for pet use.
If you want to try out the lawns before you buy them, we offer the chance to receive up to 4 free samples.
Alternatively, if you have any queries, please feel free to get in touch through our website. We would be happy to help in any way that we can!