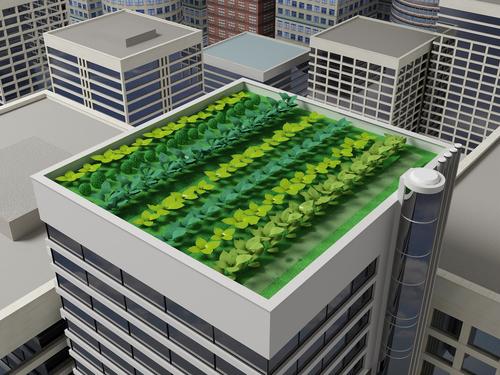 The popularity of the roof garden has been on the rise over the last few years, with hotels and restaurants opening roof terraces, and more and more high rise apartment blocks having expansive roof gardens for tenants to enjoy. This hot new trend is a fantastic way of people in urban settings enjoying the outdoor space they do have and is a great way of transforming your home into something extra special.
Here at the Artificial Lawn Company, we applaud the efforts of our customers and wider business communities for incorporating nature and the humble garden into otherwise entirely developed scenarios, thanks to the ingenious use of artificial turf.
How to Create a Roof Garden
Before starting work on your rooftop garden, ensure you are well aware of local planning procedures and requirements, any council restrictions, guidelines or stipulations, and have your home inspected to make double sure that your roof is suitable for the conversion. You won't always need professional help in the form of an architect, but you might well need assistance from them and contractors to transform your roof into something extra special.
It is also worth noting, on a practical level, that any flowers or greenery will require watering, even if your artificial turf doesn't. You will also need to ensure your rooftop garden is safe and protected from the wind.
Holiday Inspiration
New York, New York
Think decking; think a few cocktails after work and think low-maintenance after-work living
Consider potted evergreens as a backdrop for your seating area, relaxing and making the most of the evening sun
A concealed mini bar, spotlights in your shrubbery and draped awnings for wind protection
The Italian Lifestyle
Take in your view with needing privacy? Opt for a pergola roof with creeping vinery and potted plants for splashes of colour
Raised box planters with pebble rocks for an edgy, suburban take on Mediterranean living
Artificial turf gives you a hint of green as far as the eye can see, keeping your roof garden fresh and renewed
The London Life
Think of a cross between stark architecture and softer, green gardens
A lush artificial turf lawn to take in with plenty of seating for that morning cup of tea and reading the newspaper
Small iron garden furniture, complete with sun/rain umbrella - an essential, and spotlights on the flora
A chiminea heat source for those evening chills
With some inspiration under your belt, why not turn that rooftop garden dream into a reality this year with artificial turf from ALC? We have a broad range of lawns for you to choose from, and are the perfect starting point for your non-traditional garden!
Please contact us on 01474 364320 should you require any further information.