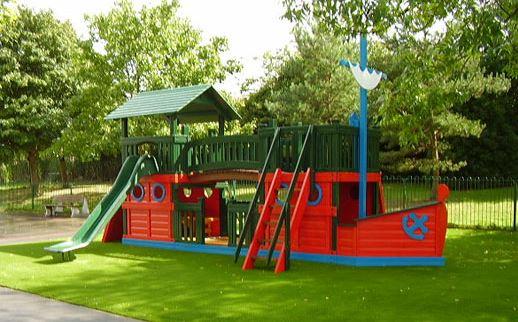 For those who have children, summer is a great opportunity to spend some family time together and make the most of the sunny weather before grey clouds dominate the skies once again. However, a patchy lawn broken up by dry muddy spots can be unappealing to play on to say the least, not to mention increase the risk of injury if someone falls over.
Artificial grass can be a great alternative during the summer as not only is it exceptionally durable, it can also withstand extreme weather conditions, including the peak of the summer heat, making it an excellent choice for those who want to spend the rest of this season in the garden.
So, if you want to make the most of your summer on your fake lawn, here are a few games you can play with the kids!
Water Balloon Catch
This game requires members to be willing to get soaked so be sure to pop on a few old items of clothing and let's get started! The aim of the game is to throw the water balloon and the person who catches it has to make sure it doesn't burst. Ideally you need more than 2 players and you can turn it into a championship with the last two players standing who haven't yet got soaked by a water balloon.
Also, there's no need to worry about slipping and sliding everywhere as the artificial lawn's unique draining system accompanied by the sun will have your grass dry in no time!
Nature Portraits
If your kids love to get creative, why not invest in a few paints and drawing pencils and have a session in the garden where you all create nature portraits? Not only is this incredibly fun to do as a family, the sun makes sitting in the garden relaxing all the more enjoyable! Also, you don't need to worry about spilling any paint as it can be washed away with the garden hose when you've finished and the grass will filter out any paint mix water.
Daisy Chains and Caterpillars
There's nothing better than sitting in the garden just enjoying the sun and what better way to appreciate the weather than to sit as a family and create daisy chains or daisy caterpillars! Easy to make however, quite time-consuming but who really cares on a beautiful summers day! You can teach the kids how to make them and take a family photo with you all wearing your daisy crowns to remember your brilliant day in the sun!
These are just 3 activities that you can do in the garden this summer! Do you have any more that you'd like to share?
If you're interested in having a fake grass lawn installed, please get in touch today to find out more about what we can offer you. Alternatively, feel free to look through our variety of grasses to find the most ideal lawn for you.