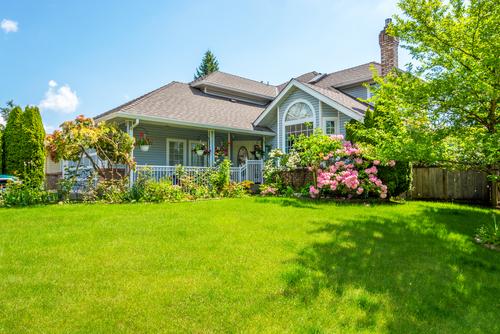 It is safe to say that the UK summer is (finally) upon us - we wait for months and then a heat wave hits us hard! The heating bill has drastically decreased, shorts and vests are out, ice is sold out in many supermarkets, along with ice creams, sun cream is flying off the shelves, and those who can are driving with the top firmly down.
Although many people complained about the late arrival of summer this year, now they have something new to complain about - that it's too hot; some people are just never satisfied, are they?
The Problem
A lot of money is spent on SPF creams and after sun care solutions, but in the same way, our lawns need to be lovingly prepared for the heat of summer, too. Too much sun and not enough water and a patchy dried up lawn will ensure.
We're fairly certain that you will agree - this s not a good look. If you consider the visual appeal of your garden to be important - which we are sure you will - then you'll agree that something needs to be done. The good news is that we have a solution that will not only look great all year round but will mean you have more time to enjoy your garden, too.
The Solution
Imagine a world where you would have no need for a lawnmower, wouldn't have to resort to keeping the pets in while using fertiliser and wouldn't need to manually dig up weeds and other muck from your garden? Imagine not having to maintain your garden but having it look more lush and vibrant than ever before - without putting in much of an effort?
Well, if you didn't know this was all possible, then you are not familiar with artificial grass!
Artificial grass has so many benefits in comparison to the hassle of maintaining real grass, including lower maintenance costs and much more besides.
Although gardening is a rewarding interest to have, it's not a hobby that you can pick up and drop every so often; it takes a significant amount of time, effort and patience to achieve the perfect garden.
Many people also like to put a lot of effort into their front garden as it is noticed by more people, and gives a great impression of what is beyond.
Artificial grass looks beautiful all year round, maintains its colour and form and doesn't need maintaining; what more could you ask for?
Say no more, give Artificial Lawn Company a call today; with over a decade of experience in supplying and installing artificial grass and lawns, we are so confident in our products that they are covered by an eight-year manufacturer's guarantee.
So this summer, pack that lawnmower away in the shed, kick back, relax and enjoy the warm weather admiring your new artificial grass.