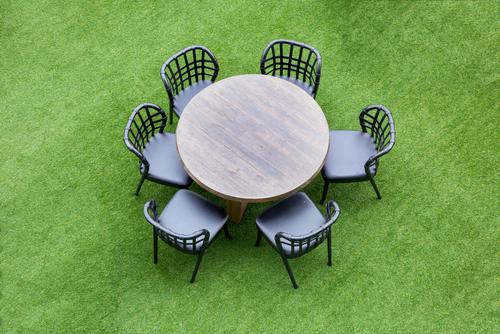 The weather is cold and the Christmas cheer has well and truly been substituted for the winter blues. It doesn't even get any better when you open the curtains and look out into the garden.
Your lawn has seen better days, it's a little bit overgrown but the wet weather and long nights aren't kind to the prospects of mowing. Besides, it's freezing outside so the last thing you want to do is waste away hours in the garden - you'll catch your death.
Advantages of Artificial Grass
Imagine looking outside on a cold January morning and seeing your lawn in perfect health, just as green as you remember it being in July. Glorious. And better yet, you barely have to do a thing - no mowing, no fertilisers... nothing.
That's the advantage of artificial grass for homes; once it has been installed you can pretty much just look at it and do nothing for the next ten years. Imagine the mess if you did the same thing with real grass!
Cut back on the costs of having to use the lawnmower, and spend the money you would have used on electricity on some heating instead. No more need for fertilisers as weeds are a thing of the past - thistles and dandelions are gone forever. Yellow spots are also gone, and you don't even need to worry about the dog running mud into the house.
Artificial grass is the practical solution for homes that just do not have the time to maintain lawns yet still want an immaculate garden that Alan Titchmarsh would gush over.
Child and Pet-Friendly
Artificial grass doesn't just look amazing; it is also child and pet-friendly. Insects will not be drawn to the garden due to the fake grass and it is just as soft as the real thing, meaning the children can take as many tumbles as possible and they will still be smiling!
Unlike astroturf surfaces, artificial grass will not cause any burns to the skin and will also be suitable to play on after downpours. The surface will quickly drain away moisture - it doesn't matter if the morning was a washout, it's game on in the afternoon.
Are you sold on moving over to artificial grass? Or do you simply want more information? Get in contact with the Artificial Lawn Company team who will be more than happy to discuss the advantages of artificial grass and why it is the best option for your home.