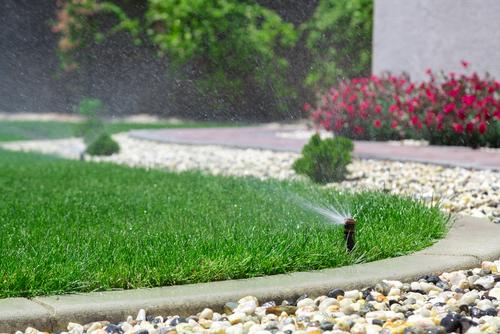 There's nothing like the sunshine during the summer months to get us out of the house and into our gardens; keeping our garden lawns presentable is a British rite of passage. There is nothing quite like seeing a beautiful, healthy lawn outside your home - keeping up with the Joneses has never been so apparent.
Although the majority of gardeners out there are self-confessed perfectionists, it is safe to say we all know that nature doesn't always comply in the way we would like it to.
What is the answer to perfectly green grass all year round? Fake grass, of course!
Why should I fake it?
Aside from the fact that your lawn will be aesthetically pleasing to the eye during all seasons, we give you some fantastic reasons why you should install an artificial lawn.
Artificial grass is the ultimate option for sporting events such as football, golf and more
Artificial grass is not just limited to outdoor use; use it inside the home, re-invent a room and get your creative side going
With artificial grass, there is no need for lawn mowing as it never grows and never dies! Requiring minimal maintenance - what more could you ask for?
It's great for pets. Artificial grass for dogs, cats and all outdoor pets with a lifelike texture they love, but minus the mess! Or, why not install fake grass in your dog's kennel, too?
Little or no pollution thanks to a reduced need for fertiliser and weed killer
The fake grass drains any water or rain, leaving you with perfect grass, minus the soggy puddles
Perfect for garden parties and family gatherings - perfect for kids that are usually covered in grass stains
Makes a striking first impression on visitors thanks to the perfectly neat aesthetic
Great for those that suffer from hay fever and other allergies - fake grass is much less likely to irritate those sensitive to pollen and more
Amazing setting for sharing a picnic with your loved ones in the back garden - all the home comforts and none of the hassle!
Practical, easily installed and versatile thanks to our extensive range of grasses
So, if you would like to keep the grass green from all sides, at all times, then contact Artificial Lawn Company today on 01474 364320 and transform your outdoor space into something a lot more special.