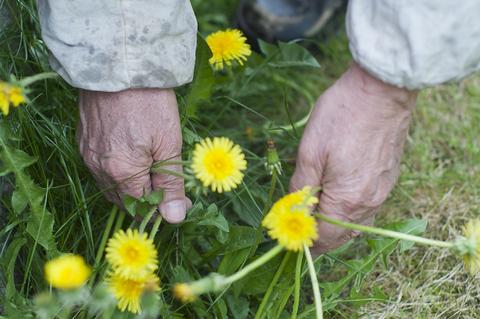 When it comes to the preservation of our precious lawns, the very thought of having to dredge through a mountain of garden chores (i.e. mowing and watering) can undoubtedly leave us feeling a little blue - but not if you have an artificial lawn. An artificial lawn requires nowhere near as much maintenance as its natural neighbour; leaving you more time to actually enjoy your perfect lawn rather than work for it. That being said, keeping your artificial lawn in tip-top condition should still be a tip-top priority.
Here at the Artificial Lawn Company (ALC) we believe that you deserve the perfect lawn no matter what the weather or season. That's why we have collected a few quick and easy tips to help keep your artificial lawn looking great!
Tip 1 - Fill me in
Sand infill is a great addition to any artificial lawn as it adds extra strength to the fibres. If you have recently installed artificial grass with a sand infill, be aware that it can take up to eight weeks for the sand to settle and bed in. To help quicken the process, light and regular brushing will work well.
Tip 2 - Weeding out the weeds
From time to time plants and weeds will find their way through the weed barrier. To get rid of them, simply use a water-based moss or weed killer. Once you've doused them, simply sweep them away.
Tip 3 - Eye of the Artificial Tiger
Carrying out regular checks of your artificial grass is always a good idea, to ensure that you aren't caught off guard by any nasty surprises. Here are a few things that you should look out for:
Animal Droppings
If you do happen to come across any animal droppings, then ensure they are disposed of in the normal manner. Residual waste will wash away leaving no lingering odours or discolouration in the grass.
Stains
If you encounter any stains on your artificial lawn, use hot tap water with washing up liquid and this solution will usually be all you need. However, for tougher oil-based stains then we suggest you use white spirit or something of a similar strength.
Sharp Objects/Broken Glass
Carefully check your synthetic grass lawn for any sharp or broken objects that may lay strewn across your artificial surface. Obviously, if you do come across any objects of this nature then remove them carefully and immediately.
Tip 4 - Avoid Extreme Heat
When put under extreme heat, say from a portable barbecue for instance, artificial grass will more than likely melt. For that reason and that reason alone, don't use anything that exerts high temperatures on your artificial lawn.
Tip 5 - Heavy surface use
Nowadays artificial grass is extremely durable, capable of withstanding some of the most rigorous of tests - bikes, wheelbarrows and wheelchairs, for instance, all get the artificial grass seal of approval. However, this doesn't include your car, motorbike or caravan. Be sensible and think about prolonging your lawn's life.
Now that you are armed with these handy tips you will have no problem keeping your artificial lawn looking its best. For more top tips and informative guides, why not checkout the rest of ALC's blog section. Alternatively, just get in touch.