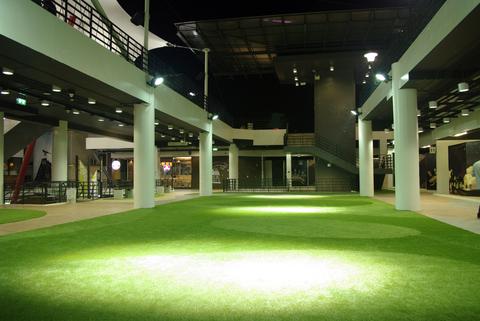 At its finest, the English countryside offers green and pleasant lands, luscious grass and the ideal setting for quintessentially British garden parties. However, if the typical English weather is involved, having anything outdoors can prove mighty difficult. How are you supposed to organise your annual summer afternoon tea with the rain showing no signs of relenting?
Well, the answer is obvious: take it inside, away from the harsh rain, pesky bugs and sudden winds that dress the lawn with napkins and stray wrappers. Practical as this may be though, it doesn't have the same appeal as the classic lawn lunch. But what if you could not only take your afternoon spread inside, but your lawn too?
Artificial grass has been making its mark in the gardening world, and now it is branching out into all sorts of areas, including tea rooms up and down the country. Quirky London bars and cafes were some of the first to start bringing the fake grass indoors, having themed rooms and topping them off with matching flooring to complete the look and add to the atmosphere.
We understand that if you are relatively new to the idea of an artificial lawn it may seem like a bizarre idea to have an indoor floor that replicates a well-maintained tennis court. But before you make up your mind, have a read of some of the uses and pros of indoor grass.
Convenience
The beauty of having an artificial lawn doesn't just lie in its aesthetically pleasing profile, but also in the maintenance domain. With no watering, weeding or mowing necessary - just the odd sweep with a stiff brush or even a hoover - it is incredibly easy to look after. Unlike a carpet, if there are any accidents with children, pets or spillages, a mild detergent and rinse will clean up the mess in no time, with no stains.
Safety
There is nothing so pleasant as being able to have your friends and family over on a Sunday afternoon. With the roast filling the house with a warming aroma and the sound of children's chatter and adult belly laughs as a soundtrack, it offers the perfect sense of relaxation. That is until a drink goes flying, and a little hand reaches up and pulls the gravy off the table, or someone has one too many sherries and knocks the apple pie straight onto the floor. What better feeling than to know that no matter what is spilt, you can get it cleaned up with no fear of lasting damage.
On top of this, children can play on artificial grass safely, with no harsh abrasions or risk of stepping on thorns - and all this under your watchful eye.
All Year Round
While we will always wish for better summers and whiter winters in this country, it is unlikely that our pleas will be answered. That is why an artificial lawn is the next best thing. A convenient flooring for all times of the year, it is cosy at Christmas time, but also refreshing on the eyes in summer. Not to mention the soft, luxurious feel under your feet that, unlike a traditional carpet, won't wear down - especially with our eight-year guarantee.
So ALC have described some of the ways that artificial grass can fit in with your home and family life, in order to bring an extra dimension to it. Considering putting an artificial lawn somewhere within your home can seem like a big step, but our helpful team are on hand to help you with advice and aid you with selecting the right style of grass.