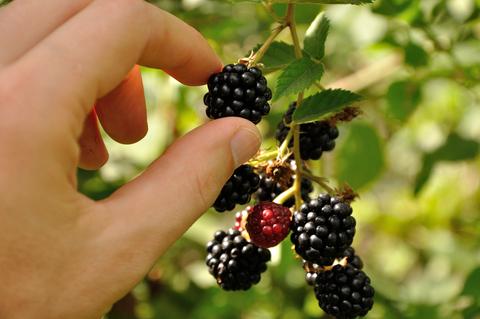 Gardening - some of us have the blossoming green thumb of life, while others suffer from the morbid black thumb of death. Love it or loathe it, it's something we all have to do at some point throughout the year. There is, of course, many ways to avoid getting on our hands and knees to dig a small trench and plant some seeds, that are inevitably going to be destroyed by slugs and crows. The thing with gardening is that it can be very time consuming. Combined with the pressures of working life, the majority of us simply don't have the time to dedicate to that bit of nature just outside our back door. Caught between wanting to have the beauty and personality that a garden offers, whilst keeping it subtle and easy to maintain is a task in its own right. Just have a look at these examples:
Time
A trip to the garden centre is never as straight forward as you think. First off you have to gather everyone and bundle them into the car. It's normally at the weekend so you will have kids running around under your feet, tripping you over and hanging off your coat tails. Meanwhile, the other half is busy deciding which polish to use on his alloy rims. Once you finally get to the garden centre, the kids see this as an excuse to run riot and use the place as a giant playground. Not entirely fun when you're trying to figure out the difference between Alyssums and Aquilegias. Once you finally make it to the checkout, the kids want some treats, and the hubby is complaining about missing the start of the football. Then it's just a matter of carrying those heavy compost bags to the boot of the car and then out through the house, into the back garden, all the while stamping soil into your carpet.
Not reaping what you sow
Okay, planting seeds can be therapeutic and rewarding - if it works. Most of the time, the UK fails to offer us the right conditions to grow what we desire and we just end up with a sad, lifeless, empty looking flower bed. The sight of green strawberry's and red blackberries litter our gardens, teasing us with the sight of what could have been, had we received just a little bit more sunshine. If the sun's rays fail to give life to your seeds, watch out as the slugs will treat your flower bed like a Kings banquet. With this kind of hindrance, you can be sure that the only thing you will be growing is weeds.
As you can clearly see from these two small examples, gardening is not a walk in the park. That's just focusing on going to get a few seeds to plant at the bottom of the garden! However, this is where Artificial Lawn Company comes in. Artificial grass prices are currently at an all-time low, after becoming increasingly popular with gardeners at the RHS Chelsea Flower Show. Here at Artificial Lawn Company, we specialise in simplicity and do whatever we can to make your life just that little bit easier. Perfect for people who see real grass as a muddy, patchy mess, our fake lawns offer year round durability. Easy to maintain and with a realistic feel, synthetic lawns are rapidly becoming a prominent fixture in homes across the UK.
So if you want the keep on top of your garden and have something you can be proud of, why not do yourself a favour and purchase an artificial lawn. This will save you time and effort, which can be directed towards more important things, such as that cabbage patch you've always wanted to grow!
Feel free to explore our website and browse through our extensive range of fake lawns to find exactly what you are looking for. With more than a decade of experience in supplying and installing artificial lawns, Artificial Lawn Company can give you the best advice and guidance.