Running a market stall is as much about attracting customers as it is about providing high-quality products or services. Often, market stall owners or greengrocers maintain most of their business via word of mouth or passers-by, with very few being able to take advantage of the digital sphere like standard brick-and-mortar establishments.
With this in mind, it's important to do everything you can to grab the attention of potential customers and entice them into your stall. This is where artificial grass comes in. Using artificial display grass in your greengrocers or market stall can have a serious impact on business, it's just about finding the best way of making that addition.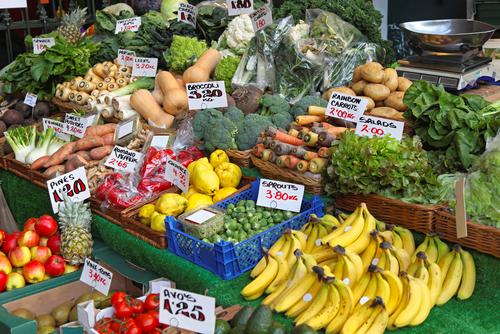 At Artificial Lawn Company, we have been supplying and installing artificial grass for over 15 years, helping businesses and individuals create the most impressive spaces possible. Using this experience, we've put together this quick guide on how you can upgrade your market stall with some well-placed artificial grass. Don't be afraid to experiment with our ideas!
Rustic Themes and Colour Schemes
Firstly, artificial grass is most effective when it can blend in or continue an already established décor. If your market stall has a rustic theme with lots of wood and stone, then artificial grass can very quickly blend in and add plenty of texture to your overall shopfront. Earth colours play a major role, too, with yellows, greens and browns amplifying that natural aesthetic which artificial grass can help great.
This style of market stall is perfect for greengrocers and craft stalls that embrace nature, helping to grab the attention of passing customers and improving the overall shopping experience. The effectiveness of correctly synchronising stall décor with the products you are selling can be surprising. Regardless, if you know that a rustic style is where your stall leans, definitely consider adding some artificial grass in and amongst the shopfront aesthetic.
Mini-Gardens
For a quainter and less intense market stall attraction, think about mini-gardens. Tiny garden environments using artificial grass, small flowers and soil are great for piquing the curiosity of passers-by. They can be fiddled with, played with and if you are running a relevant garden-related stall, they can even be used to promote products.
When creating a mini-garden, focus on textured or colourful fauna that can contrast the block colour of the artificial grass. Herbs like rosemary and thyme or certain small flowers can all look great bordering a small patch of artificial grass. Adding a few pebbles and or small ornaments then adds that finishing touch, with the colours drawing the eye and the curiosity of the small garden drawing people in. Simple, yet effective.
Signage
The biggest strengths of artificial grass are in its durability and versatility. As synthetic grass is sewn into a carpet-like backing, it can be attached to almost any solid surface, including signs. Rustically styled signs made using a blackboard, wooden material or other natural product can be given a special touch with an artificial grass border.
For extra impact, consider attaching other natural accessories like flowers, small shrubs and quaint ornaments that will amplify the eye-catching nature of the sign. It's these fine additions that can be the difference between intriguing a customer and losing them to a competitor.
Flooring
A much simpler yet often underutilised option is using artificial grass as a simple doormat or flooring option in front of your stall. There have been plenty of studies on how people behave in shops and how subtle changes in the environment can lead to completely different buying habits and attitudes. When people enter shopping spaces, they enter a spending mindset that increases the likelihood of them spending money and often, this is triggered by something as simple as walking through a doorway. Changing the type of flooring around your market stall can have a similar effect and artificial grass makes a portable, comfortable and unusual solution.
For additional effectiveness, consider adding some plants or ornaments to your new little artificial lawn. Themed items and signs that match the theme or products in your business work extremely well - it's all about experimenting and finding a solution that suits you.
Walls and Furniture
Finally, we have what is arguably the most eye-catching solution in this quick guide. Due to artificial grass' carpet-like backing, it can be attached to a host of different surfaces quickly and easily. This includes furniture outside your greengrocers or the walls of your market stall, giving your business an edge in attracting customers compared to others.
Modern artificial grass is both highly durable and capable of handling extreme weather conditions too, so you don't need to worry about protecting your grass covered items. Plus, modern synthetic grasses are surprisingly soft and our own range of artificial grass products are produced using specially crafted memory fibres, ensuring that even with continuous use, your turf keeps its form and looks its best. It's a quirky idea but is an exceptional way of using artificial display grass in your greengrocers or market stall.
These ideas aren't the be-all and end-all of how you can spruce up your commercial space with artificial grass but, hopefully, they have inspired you and provided a few ideas to implement and try out!
At Artificial Lawn Company, we personally manufacture each of our artificial grass products, ensuring the highest level of durability and quality across each and every one. If you are in need of a dedicated artificial lawn installation service, or simply want a few lengths of artificial grass for your market stall display, explore our product range or get in touch with one of our friendly team today.