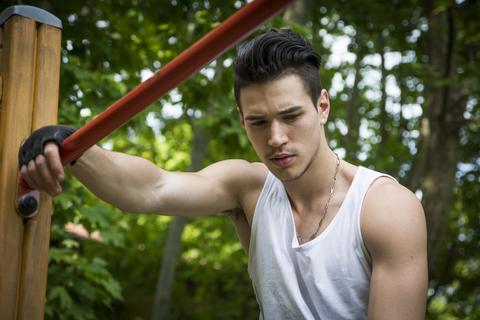 As we edge closer to sunny skies, more and more gym fanatics, and newbies, are working hard to achieve their ideal summer bod. Whether you are looking to tone up or drop pounds, the road to the picture of your perfect physique isn't an easy one.
However, it doesn't all have to be a struggle, nor does your journey have to be overly stressful; with the right tools, support and self-motivation, it can actually be quite an enjoyable transformation.
You might document your progress or perhaps invite a friend over to your home gym to keep spirits high and uninspiring thoughts at bay. However you decide to take on the challenge, be prepared.
One of the best ways to start your journey, or work up more of a sweat when it comes to your routine workouts, is by creating the perfect setting in your home gym. This might involve sticking up a few inspiring posters on the walls, and finding your perfect go-to playlist when you're feeling less than motivated. Or, it could even mean a complete renovation; especially if you, like many other Brits, want to make the most of the seasonal weather.
You see, taking your workout into the great outdoors is great if you don't mind a bit of heat. Not only this, but also, if you have the space to star jump your way onto your fake lawn, there's nothing better than popping on your favourite tunes and getting stuck in. Plus, who wants to be stuck in a stuffy home gym on a beautiful day! For information on our artificial grass installation service, click now.
See below for just a few tips to turning your home gym inside out.
Equipment
Part of what makes a home gym is the equipment in it i.e. the equipment that will help you on your journey. Of course, the tools you use may differ from those used by your friends, depending on your end goals, but, all in all, having the right equipment in the first place is essential.
So, if you do want to move your home gym outside, there are a few things to think about first.
Firstly, it is likely that an organic lawn will wear under the weight of heavy traffic (especially if you plan to exercise in company). So consider other surfaces or read up on the benefits of fake grass lawns.The latter is also fantastic if you want a lawn that will last, not to mention look fresh all year round.
Next, you need to think about what tools you can actually use in the garden. If you have a fully kitted out home gym, it is unlikely you will be able to move the treadmill onto the lawn or patio. On the other hand, things like weights can be used in the garden and moved with relative ease.
You will, of course, want to keep up your regime though, and you still can; you just need to consider the alternatives. For example, if you rely on your treadmill, research replacement exercises that can be performed in the garden, such as jump rope. (Source)
Motivate Yourself!
Half the challenge of achieving your fitness goal is actually motivating yourself to get started with your regime and perform workouts routinely. So, prepare yourself for the challenge accordingly and think about what motivates you best.
Of course, the prospect of squats on a sunny day is slightly more inspiring than getting sweaty in a stuffy home gym, but you still need to consider the bad days; the days where waking up raring to go doesn't seem like a possibility.
So, whether you get your friends hooked on the programme or you use incentives to keep yourself going, don't forget to do your research and find what inspires you most. Lastly, don't put yourself down if you feel like you've failed one day; remember how much you've achieved and keep your eye on the prize.
These are just a couple of tips for turning your home gym inside out this summer. Do you have any other tricks to share with our readers?
ALC can provide you with the perfect surface to not only spruce up your garden's aesthetics, but begin your transformation with a refreshing backdrop. Get in touch today with any queries.