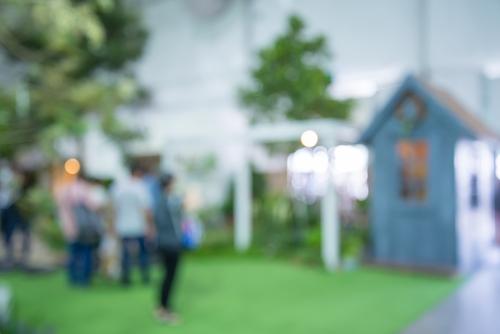 As an exhibitor, do you worry about how you are going to make your products stand out from the crowd? Are you searching for new ways to bring interested customers to your stand?
The solution is simple - all you need is a small piece of artificial grass to brighten up your exhibition stand, helping to bring your products to life.
When customers walk through streets of stalls, they are looking for anything that will catch their eye. There is nothing exciting about walking past numerous stands plastered with generic neutral colours. However, when a stand boasting a bold green comes their way, the customer is interested because what is in front of them is different. Here is your chance to shine.
Visualisation
By using artificial grass you are helping the customer to imagine your product in a natural setting, which is not nearly as easy when presented in a non-specific setting. Your brand creates a clear vision for the customer and they will feel more comfortable engaging with you because of this.
Many sellers of garden equipment and sports brands (products most likely to be used outside) make use of the fake surface on stalls and in shops for this very reason. By showcasing products in the settings in which they are designed to be used, they are more likely to be purchased by interested parties; making for the easiest marketing strategy your business can buy into.
Practicality
Unfortunately, it is not practical to use real grass for these occasions as the surface will die very quickly, leaving you with nothing more than dead turf. A synthetic turf can be used exactly the same as carpet and can be installed anywhere on an exhibition stand while also allowing for quick and easy removal.
Choosing Your Artificial Lawn
At Artificial Lawn Company, we recommend two main types of turf for exhibition stands. They are:
Premier Curl - an inexpensive but lavish alternative to standard outdoor flooring
Easy Lawn - the premier option for providing a natural look for your exhibition stand
Either of these two options will transform your stand from a normal run-of-the-mill stall to a standout booth catching the eyes of all prospective customers.
If you would like more information on the benefits of using artificial grass to decorate an exhibition stand, or to request a free sample, please call the team on 01474 364320 today.