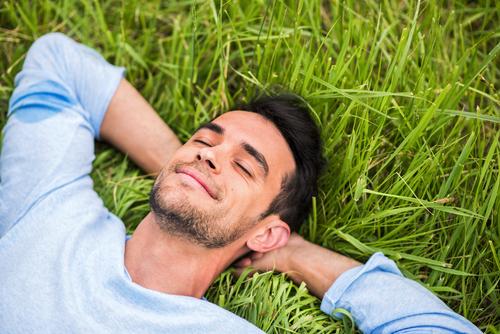 Do you look forward to days when you can just laze about in the garden without a care in the world? We do too, which is precisely what we wish we were doing for National Lazy Day on Thursday 10 August.
What could possibly be better than sitting outside in the garden with the realistic feel of an artificial lawn between your toes and a glass of something cold? Not much, which is why we suspect that this is exactly how many will be celebrating National Lazy Day.
With no need to worry about anything, you can spend the entire day admiring your beautifully kept garden.
No Need to Cut the Grass
Being lazy means not doing anything at all, even if you are supposed to. What is music to the ears of laid-back gardeners is that, with an artificial lawn, there is absolutely no need to cut the grass.
This means you don't have to spend your time on your day off pulling the lawnmower out of the shed and working up and down the grass. It's tiresome work that only has to be repeated every other week - in the end, you just feel as though you're going round and round in circles. In fact, you might be if that's how you choose to cut your grass.
The Best Way to Celebrate
Where some might call it lazy, others would call it smart. Why would you want to go to all of that effort to maintain a garden that won't always look perfect? Especially in winter, unfavourable conditions can cause brown patches to form which will need major maintenance.
With an artificial lawn, your garden will look immaculate all year round without ever having to lift a finger. So while the neighbours are breaking their backs and getting all hot and bothered in the sun this summer, you can test out the hammock for a few hours - for safety reasons, of course.
Installing Artificial Grass Couldn't be Easier
If you live in London or the South East of England, ALC offers artificial grass installation services where our experienced team takes care of the process in its entirety.
Allow us to measure where your turf will go and clear it ready for installation. Our team will ensure that your new lawn is installed correctly and promptly, allowing you to enjoy the end results.
For a quote, please call the ALC team on 01474 364320 today, or contact us via the website here.