As the world turns its attention to becoming more environmentally friendly and opting for more sustainable materials, it is only natural that the question of what artificial grass is made of will be asked, as well as whether it can be recycled at the end of its usage. Synthetic turf is made up mostly of plastic materials not dissimilar to those used to manufacture plastic bottles and, as such, can be recycled.
Depending on the range of artificial grass you opt for, you will find that most surfaces consist of polypropylene, polyethene, latex or polyurethane (or a combination of) as well as kiln dried sand infill and granite dust base.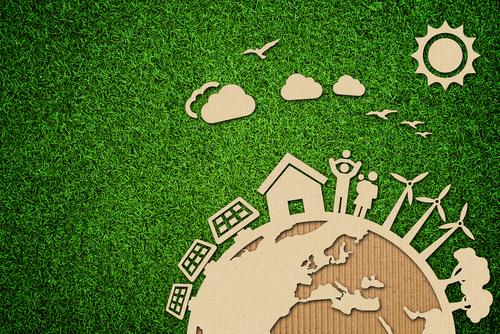 The Manufacturing Process
Along with additives such as UV stabilisers (so that the turf's luscious green shade doesn't fade in the sun) and colouring agents, the mixture is heated before running through an extruder head under pressure to produce synthetic fibres. The type of extruder head determines the shape of the fibres, of which there are two main types – monofilament and fibrillated.
The mix of materials utilised in the manufacturing process determines the quality of the artificial turf produced at the end of the process. For a synthetic surface as close to the look and feel of real grass as possible, you would expect the mixture to contain polypropylene as the thermoplastic is naturally shock-absorbing and has a high melting point.
Once the strands have been produced to replicate the look of real blades of grass, they are then placed on a carding machine and rotated into a loose rope with is tightened and woven into yarn. The yarn is heated and then put into a tufting machine where needles pierce the underside of the turf, feeding the yarn into a loop.
Once this step is completed, the turf is rolled out and coated with latex on the underside before it is fed through an oven which cures the latex. The manufacturing process is complete and is ready to be sold and installed into a customer's garden.
What Does Artificial Grass Feel Like?
This is highly dependent on the range of turf you choose. The best artificial grass does feel close enough to the real thing that, if you had not otherwise known, you could easily be fooled into thinking it is real grass. Over the years, especially the last decade, the manufacturing process of artificial grass has improved greatly, resulting in more realistic surfaces that not only look the part but feel it, too.
One of the main uses of artificial grass is for sports and play, so it is essential that any turf performs exactly as you would expect real grass to do. This means providing a smooth surface that does not hinder the level of play in any sport – i.e. making for unnatural bounces of a ball, as well as providing a safe substance for any tumbles that may occur.
A cushioned under-layer, made of polyethene foam pieces, makes for a safe and sound way of breaking the fall of any athletes or children who may take a tumble. It's why sports clubs and schools have opted for an artificial grass solution over the costs of maintaining a real lawn.
How Can Artificial Grass be Recycled?
Artificial grass can be recycled! The process does require for the materials to be separated, however, due to the advancement of modern technology and additional commitment to sustainability, this is a relatively simple process. During the recycling process, landscaping materials are separated from the mixture and converted into raw materials.
The synthetic materials then go through a process known as re-pelletising, in which they are cut, melted and turned into pellets. These are then used to create a range of other plastic materials, ensuring that most of, if not all, of the original artificial grass turf can be re-used.
Artificial Grass Isn't Bad for the Environment and Here's Why
Helping the Environment
It isn't just the use of sustainable materials in artificial grass that makes the surface healthy for the environment. Using synthetics means that homeowners and gardeners do not have to waste as much as 170 litres of water every 10 minutes by watering the lawn, which is a requirement of having a real grass lawn.
A fake grass lawn also means that there is no need to use any toxic chemicals such as pesticides or weed killer, which can be damaging for the environment as well as any household pets or wildlife. The artificial grass underlay ensures that no weeds creep through, while the lack of soil and the use of synthetics, which do not convert carbon dioxide in the atmosphere into oxygen means that the turf is not a viable habitat for pests and insects.
Get in Contact with Artificial Lawn Company
For more information on the materials used in the manufacturing process of making artificial grass, or to enquire about any of the available ranges on our website, please get in contact with our team today. Call us direct on 01474 364 320 or message us below.