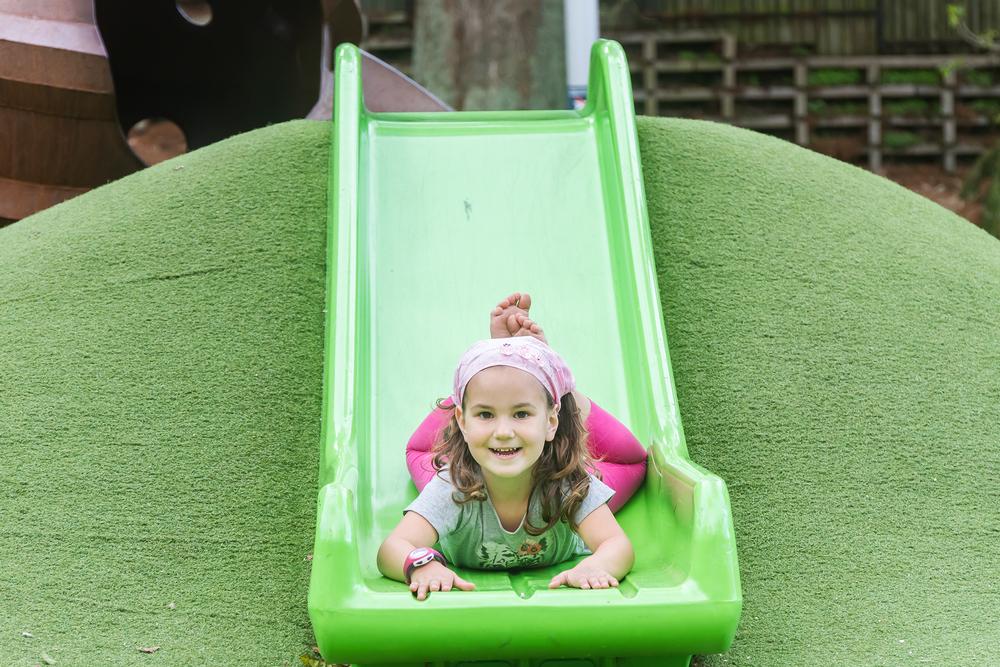 Artificial grass for nurseries is an innovative solution that ensures the safest playtime for tiny tots. Here at Artificial Lawn Company, we understand the importance of meeting all rules and regulations surrounding nursery gardens, and our synthetic grass gives you the means of doing so.
Being entrusted with someone's baby, toddler, or child is a huge responsibility, and you want to ensure that every measure is in place to keep them safe. This being said, you don't want to restrict them from exploring and having fun. The installation of artificial lawn gives you the best of both worlds.
No Injuries
Part of the enjoyment of being a child is the rough and tumble fun that you have as you explore and play. Despite this, parents and carers are rightfully worried about how this can result in bumps and bruises. Natural grass gives an uneven terrain with sticks and stones hidden beneath the surface that can easily result in falls and injury. However, the alternatives such as concrete or gravel don't provide a cushioned underlay, further contributing to the chance of nasty bumps, bruises, and scrapes. Therefore, synthetic grass is the perfect solution.
Before your artificial lawn is laid, the terrain will be properly levelled out, meaning that the surface will be even so less trips and falls. Similarly, you won't need to worry about what's hiding beneath the surface as there's no soil to mask any obstructions. Additionally, the material is extremely cushioned, meaning that the impact caused by a fall will be minimal. You can even opt for one of our safety underlays underneath the grass. Our 35mm Grass flex underlay can provide a critical fall height of 1.5m, perfect for around climbing frames.
No Mess
Everyone remembers coming home from nursery or school with their clothes covered in mud and grass stains. These can be a real nightmare to try and wash out of clothing, but no one wants to restrict their child from playing and having fun. However, with the presence of synthetic lawn, this doesn't have to be of concern. Artificial lawn provides kids with the softness of grass in the absence of the stains that come alongside it.
In order to maintain your synthetic grass, all you have to do is occasionally sweep and rinse the surface. This will ensure that the area is clean, and the little ones will be able to play to their hearts' content.
No Sogginess
Another issue with real grass is that it's greatly affected by weather conditions. When it rains, grass is likely to be soggy for hours, presenting a safety hazard and causing mess. However, synthetic lawn is quick to dry and isn't hindered by slippery mud and soil. Therefore, you won't have to restrict the tots to indoor play even after a big storm.
As long as you do what you can to maintain your artificial lawn, it's among the safest options for nursery gardens.
No Allergy Aggravation
According to NHS data, approximately 20% of the UK population suffers from hay fever, and this can begin from early childhood. Therefore, many children can be irritated by natural grass, causing repetitive sneezing, a runny and stuffy nose, watery eyes, a scratchy throat, and coughing. Though hay fever typically doesn't need to be cause for concern and can be alleviated by antihistamines, it's certainly not desirable. Hay fever in children can cause frustration and hinder their concentration, making playtimes difficult to handle.
Artificial grass isn't a natural substance, meaning that it's completely hypoallergenic. As a result, all children can play in these areas without the threat of hay fever.
No Damage
When it comes to large play equipment such as climbing frames, the grass can suffer from the placement of such. The grass is often squashed down by the legs of the structure, whilst the structure's body obstructs sunlight and restricts the growth of the grass. However, the resilient fibres of our synthetic lawn mean that it's able to withstand the weight of heavy play structures such as a climbing frame. Similarly, artificial lawn doesn't rely on sunlight for its growth, meaning that your lawn won't be patchy from limited sunlight in certain areas.
You can be sure that the nursery garden will forever be looking fresh upon synthetic lawn being installed into the space.
No Dullness
If there's one thing that captivates children, it's colour. When not properly cared for, natural grass is often a faded green with tints of brown. This is in no way enticing to a toddler and won't encourage them to play and explore. However, the bright green of artificial lawn is particularly inviting and is sure to grab the attention of the little ones.
Not only are our lawns aesthetically pleasing to the mature eye, but they're intriguing to the imagination of younger audiences.
Get in Touch with Artificial Lawn Company
Here at ALC, we pride ourselves on our products' versatility, boasting suitability for nurseries, residential, and commercial spaces alike. For further information about our artificial grass solutions and installation services, please get in touch. A specialist member of our team will be on hand to assist you with all your artificial lawn needs.