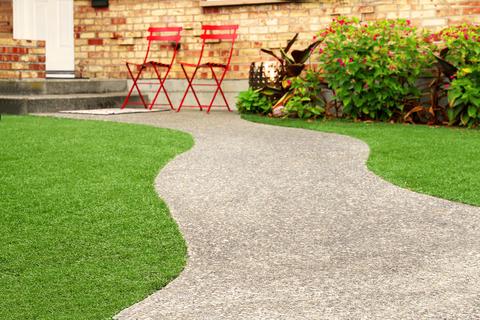 Have you ever wondered why your neighbour's front lawn looks more lush and green than yours? You put in the time and the effort from the very beginning; doing everything by the book to ensure a fail-safe approach to a lush green landscape, but to little effect. Your neighbour, on the other hand, who rarely does any yard work, is sporting a lawn that looks much more beautiful than yours. Even when their grass is months old, it looks like it was installed just yesterday, adding elegance and beauty to the entire garden. How is this possible? Artificial Lawn Company explains in this blog post.
Two words; artificial grass.
Artificial grass is fast becoming a must-have household item. More and more people are opening up to this innovative approach to landscape design. There is no denying the beauty of natural grass, but it is a pain to maintain, making it better suited to avid gardeners who can devote the proper time and effort to it. It requires a constant supply of water all year long, along with adequate fertilisers and pesticides to ensure it stays healthy and undamaged. To top things off, as the grass grows, it needs to be trimmed accordingly; another added weekly expense and chore you could do without.
All this puts natural grass at a disadvantage and this is where its nemesis, artificial grass, truly shines. It doesn't come with the same limitations and restrictions as natural grass, and it provides a stunning aesthetic.
Aesthetic Benefits, Without the Drawbacks
Artificial grass closely resembles natural grass and offers all the aesthetic benefits, without the drawbacks so commonly associated with natural landscapes. It does not grow so it doesn't require any kind of cutting or trimming. There is no need to water it, to deal with insects or to spend money on fertilisers because the grass is created from synthetic components. This saves homeowners from spending money on expensive fertilisers or pesticides, and it lowers overall maintenance costs.
A Job for Professionals
For all its benefits, one thing that you should keep in mind when dealing with artificial grass is that it requires professional installation. Artificial grass experts have the specialist knowledge, tools and materials to perfectly install your new lawn to a high standard.
A Solution That Lasts A Decade
Artificial grass is not something that wears out in a month or two; when you have it installed in your yard, you know that it will last for years. Manufacturers know that it is a replacement of the natural alternative, and as such, they make every effort to ensure it looks like the real thing, but with better properties. As well as being durable and attractive, installing fake grass in your garden can give you peace of mind because it is safe for kids and pets to play on too.
So next time you are wondering why the grass is greener on the other side, it is very likely to be due to artificial grass.