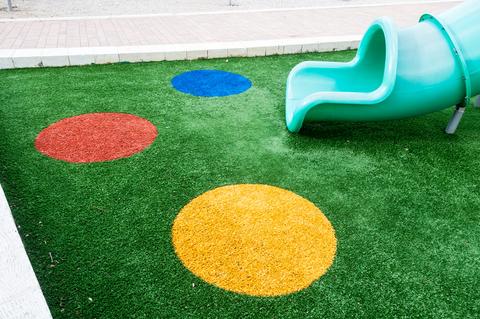 As schools - nursery, primary and secondary - continue to switch to artificial playground grass, you may be wondering why it is becoming such a popular option. Well, of course, we know why! And in today's article, we thought we'd share a few of the benefits of installing artificial grass in your school, plus the reasons spring is such a great season to do so!

Durability

You may have already heard about how durable artificial grass is, and if you have, that's great! If not, we thought we'd take a moment to explain why high resistance to wear and tear is so important, especially in a school setting.

Firstly, our grasses are prepared for the rough and tumble of school kids, no matter what age. The best part though is that thanks to its durability, it isn't prone to dry mud patches, helping to cushion falls and soften landings as and when they happen.

In addition, it keeps the grass looking fresh and luxurious, but we will touch on its aesthetics later. Next, we will discuss its low maintenance promise.

Maintenance Cost

The cost of maintenance is considerably rising, and it isn't just financially. For schools, lawn mowers are a necessity to keep the field trimmed and looking perfect. However, the gases produced by this machinery are extremely harmful to the environment. So, not only are we putting ourselves out of pocket with maintenance-associated fees, but we are also stopping ourselves from doing our part for the planet.

Artificial grass, on the other hand, is a brilliant substitute that doesn't require any mowing and very little upkeep. This is fantastic, as it not only gives staff more time to spend with the children on the school's playground grass, but it is kind to the planet and our pockets.

Of course, it will require a quick hose down from time to time, but that is nothing compared to the upkeep demands of its organic counterpart.

Appearance

Lastly, we have our lawns' aesthetics. Not only are they soft, which is perfect for playtimes, but they are luxurious and look fantastic all year round, maintaining their style and colour. This 'as good as new' feel is exactly the kind of welcome students need when they come back after the Easter holidays, to ease them into the next term and treat them for their hard efforts so far in 2015. This brings us to our next section; why spring?

So, why spring?

Well, in short, the weather starts to improve in spring and being close to summer, it is the perfect time to install fake grass. Not only does this mean students can enjoy a patch of artificial grass before and after the summer holidays, but it also ensures the school playground maintains its charm.

These are just a few benefits of installing playground grass. Do you have any more that you would like to add?