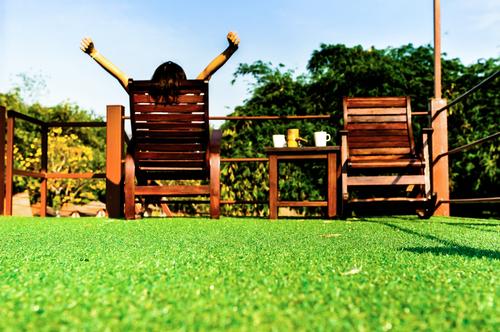 For some homes, real grass is not a viable option in gardens because of the conditions. If you live in a location that sees heavy rainfall or poor sunlight, or your garden is constantly shaded, you may have considered installing a patio.
Gardens without grass are like custard creams without the cream. With bland looking patio slabs encompassing the entire garden, this makes for a dismal and wholeheartedly uninspiring design.
When you go out into the garden, you should feel welcomed by bright and vibrant colours, not grey and murky concrete. Artificial lawn is the best alternative to real grass available, replicating the natural look of grass without the need for constant sunlight, watering and mowing.
Why Homeowners Make the Mistake of Using Patio
When used correctly, a patio can be beneficial to the design of the garden; however, when installed all the way through the garden reflects anything other than a welcoming space. Gardens should closely resemble a gorgeous field, as opposed to a car park, but it is easy to see how homeowners can fall into this trap.
Patio takes the stress away from having to maintain the grass in a losing battle against the conditions and stops mud from being trampled through the house. Artificial lawn also saves the stress of caring for unhealthy grass, while also providing a scenic view when you walk out of your back door.
The Benefits of Using Artificial Lawn
For homeowners whose gardens do not benefit from conditions suitable for growing real grass, or simply do not have the time to spend out in the garden, artificial lawn is a godsend. The synthetic surface provides all of the benefits of real grass, perfectly replicating the touch and feel of the real thing while requiring less maintenance than patio slabs to keep it looking pristine.
With surfaces available across the board to suit any budget, and any requirement, our lawns make for the perfect alternative to real grass.
A Safer Alternative
More than just looking the part, the turf provides a safer environment for children and pets running around the garden. On an artificial lawn, children will get right back up, while a child that has fallen on patio may require more serious attention.
For more information, please call the Artificial Lawn Company team on 01474 364320 or send us an enquiry online today.