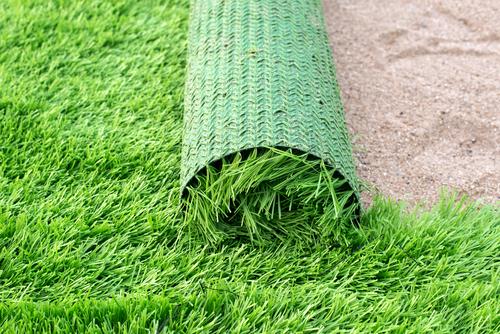 There are a number of common misconceptions related to artificial turf and its associated installation process. The first is that they stick out like a sore thumb; the second is that they are expensive, and the third is that they are too difficult to install without professional help. At Artificial Lawn Company, we are here to prove that these misconceptions are just that - not true in the slightest!
We believe that our extensive range of fake lawns is suitable for use in all homes as well as a number of businesses, schools, and more. What's more, the artificial turf installation process can be finished in just a few hours, transforming your garden and outdoor space instantly.
Why You Need Artificial Turf
When it comes to choosing an artificial turf for your home or business, there are a number of different considerations to make.
Firstly, you need to consider the purpose. If your garden is more for display, then choose a thick, luxurious pile such as the Prestige Lawn. If pets and children use your garden, the Tough Lawn could be the one for you.
Similarly, if your business is in need of alternative flooring, then the Easy Lawn could be a viable option. Schools, nurseries, and playgrounds would benefit from the Play Lawn, thanks to its durability with heavy footfall and sporting activity.
Secondly, you need to consider the time you have to maintain a garden or outdoor space. If you are often pushed for time and struggle to find a chance to get everything done, then looking for a fake lawn could free up some of your valuable time. With no need for lawn mowers, fertiliser, or weed killer; and no more muddy footprints, grass stained clothing and patchy areas driving you up the wall; artificial turf could be the solution you need.
There are a number of other benefits that can be enjoyed when looking down this route for your home garden or business, too.
For example, thanks to advancements in technology, the lawns manufactured are more realistic than ever before, meaning you will stand out for the right reasons - namely, that your garden looks perfectly maintained all times!
Similarly, artificial grass installation is a quick and easy way to give your outdoor space an instant face-lift without the associated hassle. It will save you time and money in the long run, which can be very sought after things!
What's more, artificial grass can be enjoyed by the whole family - including children and pets - as well as adding an interesting element to a commercial property.
Other exciting uses of fake lawns include balconies, roof gardens, terraces, play rooms, indoor sporting areas, conservatories and much more besides. We've even seen it used as carpet!
Artificial Turf Installation: A Step by Step Guide
Once you have chosen the right grass for your needs, we do offer an artificial turf installation service throughout Kent, London, and the South East of England. However, it is perfectly easy to install yourself; no fuss, no hassle.
Coming direct from our artificial turf expert installers, our step by step guide is here to ensure that your garden or outdoor space will look every bit as professional as you need. And if you do get stuck, you can simply give our team a call to answer any of your questions.
Please note: before ordering your turf, ensure you measure the dimensions of the space you need to cover accurately and order all of the materials you will require in advance. We stock Adhesive, Jointing Tape, Weed Membranes and more.
Strip your garden or outdoor space of all grass, weeds, stones, vegetation and plants.
Level the ground, removing any large stones and obstructions as you go. Firm the ground thoroughly.
First, you need to add a thin layer of sharp sand to your new lawn area. Remember to keep it level!
If you are using an underlay or weed membrane, you can now lay this, cutting to size as you roll it out.
Now you are ready to lay your turf. Roll out the lawn, working on top of your turf. When you are happy with the positioning, you can add a thin layer of kiln dried sand to weigh it down.
Carefully cut your new lawn to size.
Any joins will need to be secured. Ensure that your pile is running in the same direction before applying jointing tape and adhesive. Cut off any edging as necessary, and piece the two edges together tightly. Position jointing tape along the centre and add adhesive on the rough side of the tape. Weigh down your join until secure. It is important to take your time with this step, ensuring your lawn is flat and joins are not visible.
Add another layer of sand, and brush against the pile with a stiff brush, to allow your lawn to look more natural.
Repeat step 8.
If necessary, you can you use 4-6" nails to secure the edges of your new lawn.
How to Maintain Your New Lawn
Here at Artificial Lawn Company, we want your new lawn to look like new for as long as possible, which is why we have some top maintenance tips for you.
Brush regularly to remove any dirt or debris that can accumulate over time, especially after rain
You can wash your fake lawn to remove dust and dirt, too. Do not wash with a pressure washer, however, as this can disturb the infill
Every now and then, we would recommend that you loosen the sand on the surface with a rake and top up as required
Do not use a BBQ on your artificial turf
Do not leave cigarettes that are lit, or have recently been extinguished on your lawn
Don't leave heavy objects on your lawn for too long, as this can impact the soil below; leaving your lawn looking less level than previously
Do not use chemicals on your lawn
Snow will melt normally, and drain away like rain will
Fake lawns can be treated with moss killer if your garden is a little damp. We would suggest a liquid-based treatment, once a year, to keep your garden in tip-top shape
Clean any pet waste as soon as possible, washing and brushing gently as necessary. Disinfectant can be used to stop odours building up
Do not let your pets try to dig up your lawn!
By following these simple tips, your new outdoor space will look pristine all year round with minimal effort.
It's Easy with ALC
Artificial Lawn Company is based in Kent, with easy access to customers in the Greater London area as well as the South East of England. However, we provide our step by step installation guide to customers from all over the country to transform their garden, business or outdoor space in next to no time at all.
It is simple and easy to follow, and our expert team is on hand over the phone to answer any questions - should you need their assistance.
If you're looking for a quick and easy way to keep your outdoor space looking picture perfect all year round, then a fake lawn could be the long-term investment you need.
Please do not hesitate to contact us on 01474 364320 today to discuss your requirements.