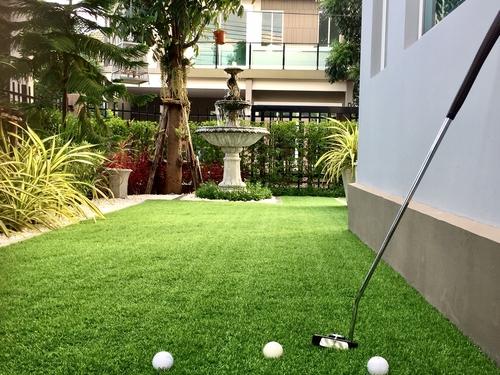 Keeping up with the Joneses; a phrase that we have all used at some point or another. While it was traditionally used as a comparison between neighbours - especially when it comes to your home and possessions, these days; the appearance of your garden and even your car are up for scrutiny, too!
When it comes to your garden, though, there are often forces outside of your control - namely the weather - that are working against you, every step of the way. This can make creating a picture-perfect garden hard to achieve when your lawn has been drowned out and looks a bit dishevelled because your lawn mower broke down - again.
Not to worry; the popularity of fake grass is growing every day; largely due to the hassle-free nature of the beast, but also because it looks better than it ever has, and it's a cost-effective long-term solution that looks great, too.
Want to know more? We've put together what we like to call: 'The Ultimate Guide to Fake Grass, the UK edition.' Covering everything you need to know - including the benefits and different uses - and we cover our entire range of grasses, too.
Benefits of Installation
No matter where you are based in the UK - England, Ireland, Scotland or Wales - you will be acutely aware that we are all based in a particularly rainy part of the world. While this should, in theory, lead to us all having lustrous, green, lawns that are healthy and full, the reality is quite the opposite.
In fact, traditional lawns are often more hassle, effort, and money than they are worth. They need feeding with fertiliser, aerating, treating with weed killer along with trimming with a lawn mower on a regular basis - and it could still be patchy, yellowed and coarse. All of this results in a garden that looks a bit haphazard and messy. The solution? Fake grass, of course.
Top 10 Benefits
No more muddy footprints in the house
No more grass stained clothing
No more weeding
No more mowing the lawn
No more lawn mower up-keep
No more fertiliser
No more bald patches
No more pets digging up holes
No more watering the lawn
No more chemicals or pesticides
We know that it sounds too good to be true, but this is an affordable solution to ease your garden woes, no matter where you are based.
Your children, grandchildren and pets can play and enjoy your garden, without the worry of them being exposed to harmful chemicals, and there is no need to take time out of your busy schedule to make the garden look presentable for guests, either.
Fake grass in the UK is the end of those muddy footprints being tracked through the house and school uniforms covered in grass stains - which can only be a good thing, right? What's more, with less time and money being spent on your garden, you'll have a chance to relax and enjoy your outdoor space!
Your household bills will be reduced with less water and electricity being used to maintain your lawn. What's more, with no more fertiliser and lawn seed added to your bill, no lawn mower maintenance and no expensive tools required to maintain a fake lawn; your garden expenses can be focused on flowers and other greenery instead.
The Many Uses of Fake Grass in the UK
When we think of fake grass, we often conjure up images of gardens and outdoor spaces, and for the majority of our customers, this is entirely accurate. However, residential use of artificial lawns is not all we can do. In fact, we also supply our lawns for commercial needs, too, as well as to schools and businesses.
It goes without saying that residential use of fake grass has grown rapidly here in the UK, transforming the urban landscape in the process. We now have evergreen gardens that look alive and kicking all year round, as well as brightening up inner city yards and balconies.
Commercial use of fake lawns is also very popular. Not only are our tougher, robust lawns perfect for those exposed outdoor areas that are subject to more than their fair share of wear and tear, but they also work well indoors - livening up a crèche or games room as well as decorating shops and hotels.
Schools and nursery playgrounds often incorporate fake grass, and this is for a number of reasons. Not only is it incredibly durable and cost-effective, but it is also long-lasting and a much safer surface for children to play on. When combined with our impact-absorbing underlay Grassflex, parents and teachers can rest assured that child safety is taken seriously.
Our sports surfaces are equally designed for continual use that is easy on the limbs and joints, as well as being able to withstand heavy and sustained footfall. No longer does the school playground need to be fed fertiliser and watered to compensate for all that sporting activity!
Up and down the country, there are businesses attending trade shows and exhibitions in a bid to attract new customers and make new business connections. In order to provide the best experience possible for customers and prospective partners, it is up to these companies to decorate their stalls as they would their own premises. For many businesses, a fake grass set up can really highlight products and services in an everyday setting!
Types of Fake Grass
Here at Artificial Lawn Company, we provide a varied range of fake grasses to suit all needs. Which one is right for you?
Easy Lawn - Our entry-level lawn is ideal for those looking for a value for money solution to their garden ailments. Featuring a combination of straight and curled pile in a realistic shade of green; this grass is very popular among home-owners looking for light to medium use.
True Lawn - This grass has a longer pile for a more natural visual aesthetic and features a combination of four different colours. We utilise a curled thatch to give an additional touch of realism. This lawn is ideal for all uses.
Tough Lawn - This extra durable lawn comes with a brown curled thatch with a mixture of straight and curled pile for increased resistance and realness. This is an excellent choice for gardens that are regularly used by those with children and pets alike.
Luxury Lawn - Our most luxurious and realistic lawn to date, with a 40mm thick pile comprising four shades and tones; creating the depth of real grass with all the benefits of artificial. Thick and sumptuous, this lawn is the most realistic available on the market.
Prestige Lawn - Our most opulent lawn with rich, dark green tones and 38mm pile for a realistic texture underfoot. Silky-soft to touch, the straight and curled pile is everything you need and more.
Play Lawn - This thick and cushioned grass has a 40mm long pile that is incredibly durable. Ideal for use within schools and areas with high traffic and footfall, this lawn is made for sporting activities.
Your Artificial Lawn Company
Our installers work primarily in London and Kent, but we sell our fake lawns to domestic and commercial customers far and wide, all over the UK. Not only are all of our lawns and grasses high quality and fit for intended purpose, but you can also rest assured that they are easy to install, too.
We have been providing our customers with some of the most realistic synthetic grasses on the market for over ten years. With our ultimate guide on your side, you too could be welcomed to the fake grass family.
Want to know more? Please do browse our site for any further information or give us a call today on 01474 364320, or contact us online by clicking here.