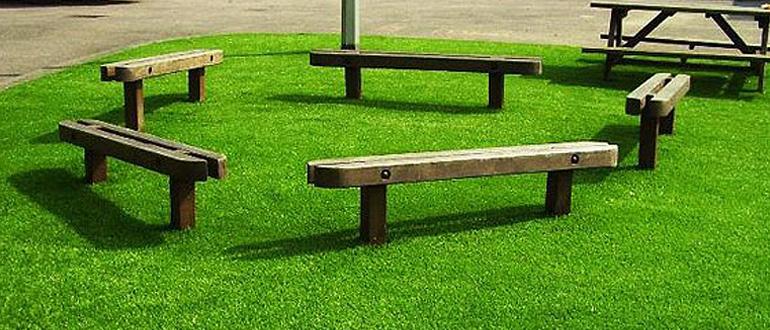 All of the advantages of artificial grass that are enjoyed in a garden environment are equally relevant to those in the commercial market place for the simple reason that the very same benefits can be applied to almost any given scenario. For example, an artificial lawn's capability to withstand high levels of wear and tear and exposure to heavy rainfall means that it is suitable for both domestic properties and commercial projects.
Nowadays, architects, developers, local authorities and leisure industry managers are specifying artificial lawn for areas of high foot traffic or that are expensive to maintain. As grass maintenance tends to be a hassle for those whose job it is to keep it looking spick and span especially in fluctuating weather conditions, the little to no maintenance promise that comes with artificial grass assures an easy solution.
Commercial areas appropriate for the use of artificial grass may include outdoor swimming pool surrounds, picnic areas, roundabouts, construction site entrances, caravan parks, paths and path edges. However, you do not have to limit yourself to outdoor commercial property surfaces; fake grass lawns can also be used indoors just as easily for indoor shop use and hotel carpeting.
As a company, our mission is to provide you with the most appropriate artificial grass substitute to bring your commercial project to life.
The Artificial Lawn Company specifies in commercial uses of artificial grass and offers installation services to accompany those who would prefer to invest in a specialised alternative. The most robust, heavy duty products within our range include the Dura lawn, luxury lawn and premier curl and we would be pleased to assist in the specification of your particular project.
If you have any questions or queries regarding the most suitable artificial lawn for your commercial strategy or would like to know more about the benefits of using artificial grass for your commercial property, please do not hesitate to get in touch.