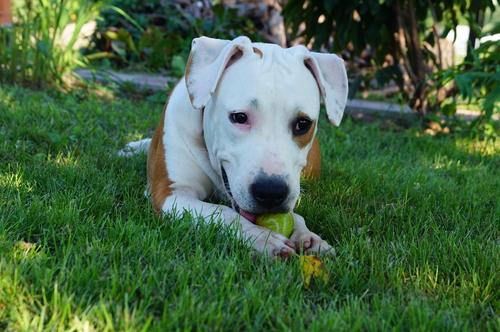 If you are a pet owner, then you are probably familiar with the problems that pets can cause in your garden. Well-manicured lawns and neat turf don't stand a chance against the excited playtime of a boisterous pet, and the cost of artificial lawn for dogs can be great when compared to how easy it is for an overexcited pet to destroy a natural lawn.
So, if you are fed up with the holes constantly being dug up in the middle of your lawn, the bare patches of soil where grass has been scraped up and swept away, and the continuation of muddy pawprints traipsed happily through the house, it may well be time to consider making the move over to an artificial lawn.
The Benefits of Artificial Lawn for Dogs
Artificial lawns are the perfect solution. Both you and your pet will love the look and feel of your brand new fake lawn, and it is sure to be a big hit and a worthwhile garden improvement investment. Artificial grass is becoming more and more popular over recent years, largely due to its adaptability and versatility. It is also easy to install and maintain, requiring the minimum amount of upkeep in exchange for a polished, high-quality effect that makes your garden look great all year round.
You won't need to worry about your beloved pets disliking their new garden environment, either, as fake grass is proven to be a fun, safe option for all kinds of pets to enjoy.
The garden will become a mud and insect free zone, meaning that your pets can have plenty of outdoor fun without saddling you with the necessity for a massive cleaning spree afterwards!
Plus, you will be able to say goodbye to those pesky bald patches for good, as pets won't always be trying to dig up your garden. Instead, the cushioned under layer will provide residual warmth and a slight bounce, making it the perfect surface for both pet playtime and cat napping.
The Practical Solution
There will be no unfortunate issues of discolouration or unpleasant smells, as our fake grass is fully permeable, meaning rainwater and any unsanitary liquids will quickly and easily drain away. That also means that your garden will be completely free from any unsavoury odours, and similarly, the grass will be easy to clean should your pet decide to leave you a little present.
The cost of artificial lawn for dogs isn't expensive, either. Our fake grass is affordable and practical, providing a highly cost-effective solution to your garden needs. To find out more information about installing artificial lawn for pets and dogs, you can give us a call on 01474 364320.