Dogs and garden lawns have not always been a match made in heaven. In fact, they have often been quite the opposite with lawns up and down the country ruined by our faithful friends. Holes and muddy paws make for a lot of time spent clearing up when we would otherwise prefer to be playing with our pooches.
It isn't just the time spent clearing up, though; it's also the financial aspect of replacing plants and lawn that has been ripped up. That's why many owners are making the move to artificial grass that dogs cannot dig up - as hard as they may try! No more holes, no more muddy paws and no more Saturday afternoons wasted clearing up the aftermath.
Are you a pet owner?
You will know that every dog needs a patch of grass to call their own! Instead of real grass, which can prove to be a headache for pet owners, why not consider joining the thousands already using artificial grass for dogs? With low maintenance and quality assured surfaces, it is little wonder why so many pet owners are making the move to artificial grass.
Pet owners already have enough on their plate with buying dog food, toys and insurance, so having to shell out for a garden revamp every summer isn't always a welcomed expense. By making the move over to artificial grass, that's one less thing you have to worry about, meaning you can afford to buy a few extra treats for your furry friend. If they are spoilt enough (if that is even possible), that's some extra money you can spend on yourself instead… win-win.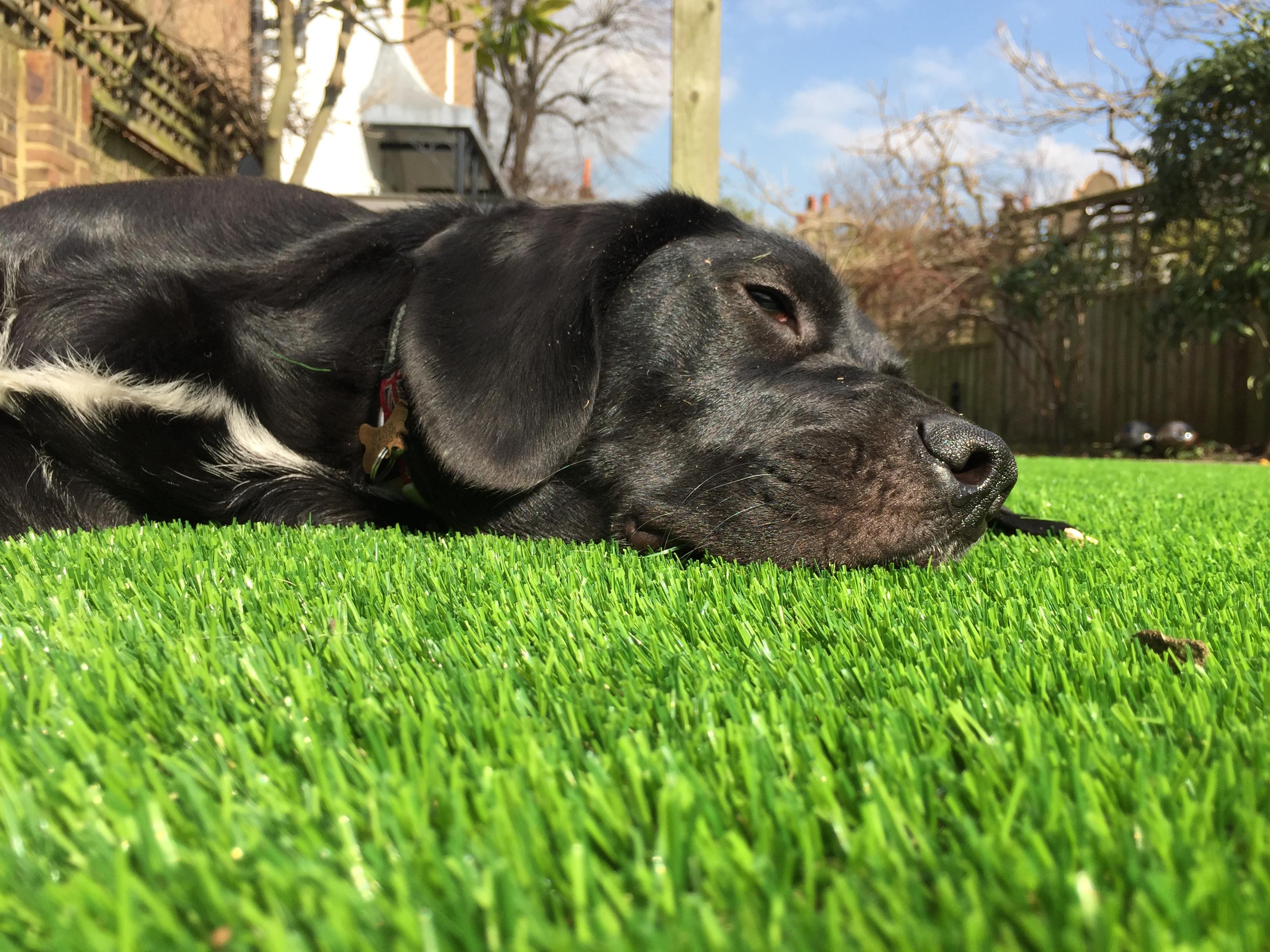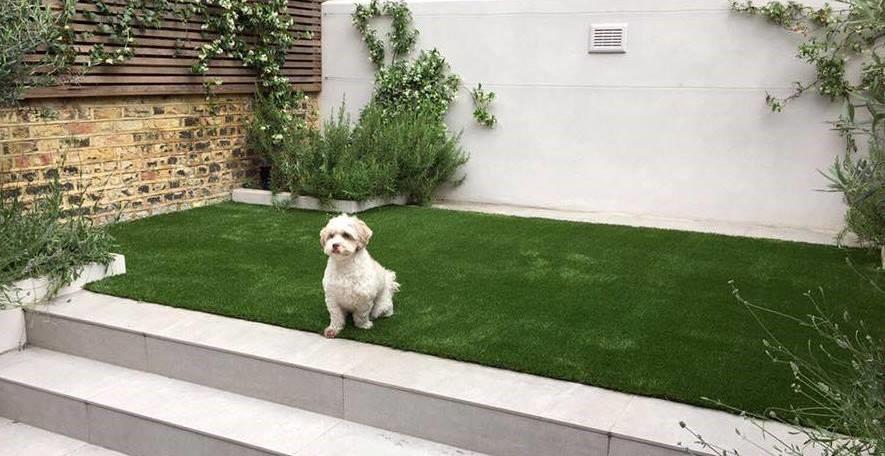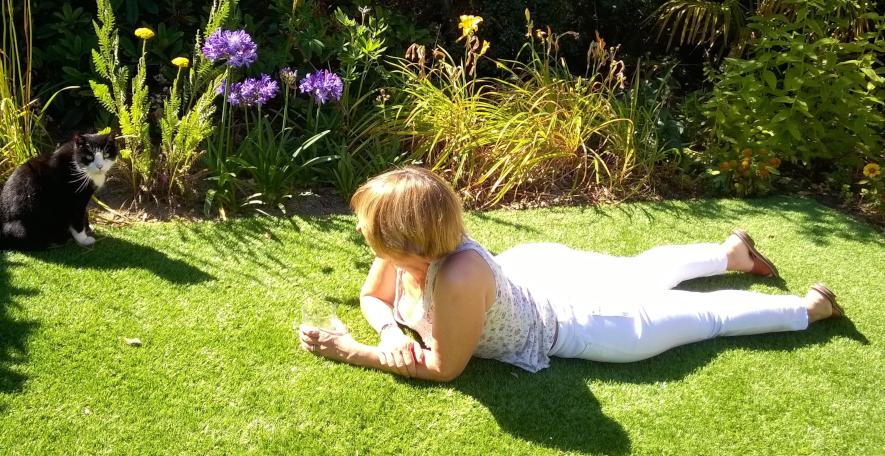 The Ideal Solution
Using artificial grass for dogs and other pets is an effective solution to problems like muddy tracks through the house, dead patches of grass, and unsightly brown or yellow lawns. Our range of grasses for pets is designed to be tough, easy to clean and suited to any environment. This means that whatever the weather, your furry friend can make the most of lusciously green lawn all year round.
In addition, dogs can still answer the call of nature on artificial grass just as if it was the real thing. Just clean up after they have finished as you would with real grass.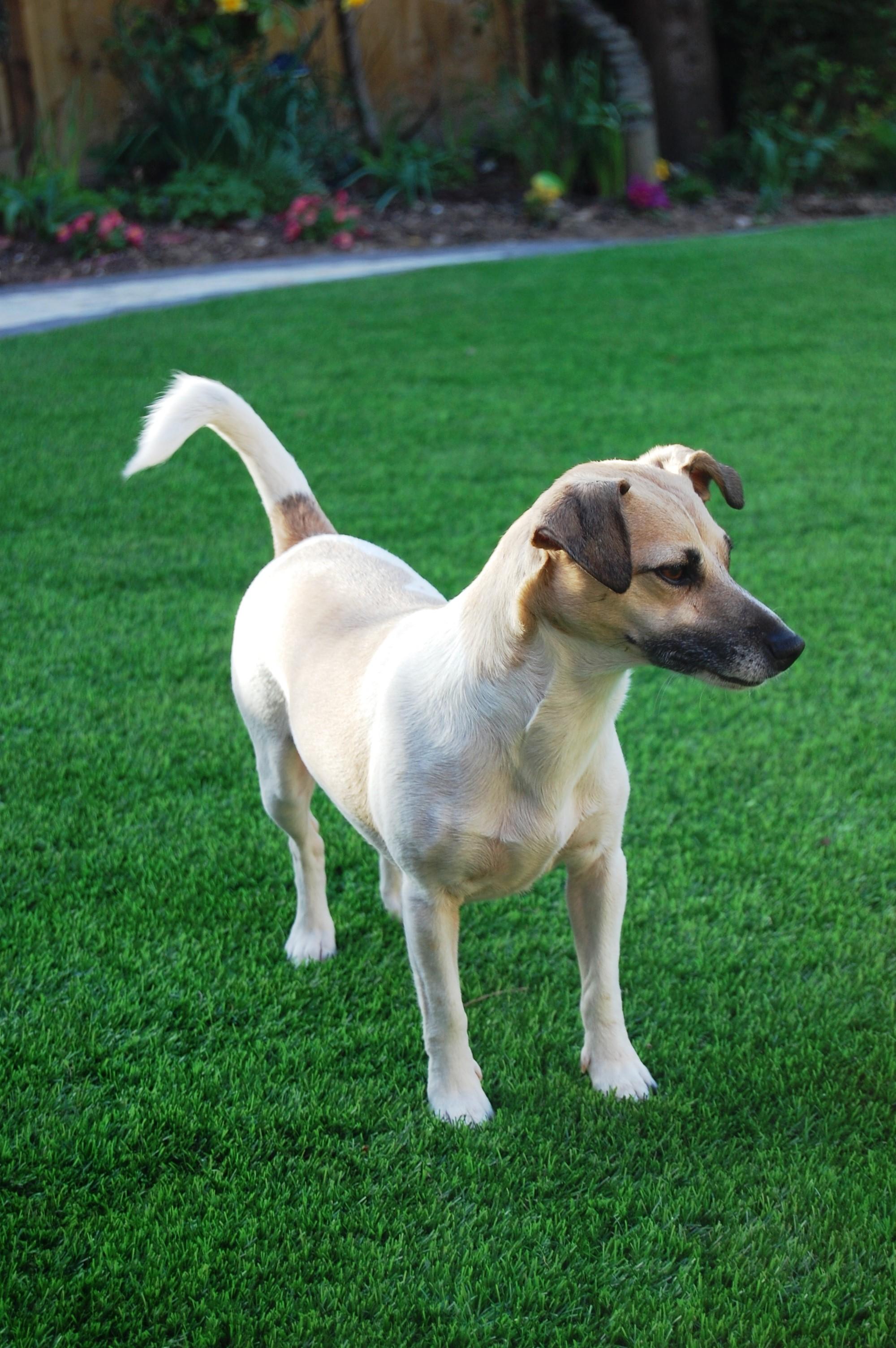 The Benefits
In addition to the aesthetic appeal, artificial grass for pets is also low-maintenance and cost-effective. It doesn't need constant nurturing or maintenance like real grass, and it is kind to sensitive paws, too. Easy to clean, without any staining, our artificial lawns for pets are ideal.
What's more, our synthetic lawns for pets are durable enough to deal with even the rowdiest of dogs, suiting every purpose - be it training for a show, heavy-duty doggy day-care or simply having fun at playtime. If you are the owner of a boisterous, enthusiastic or inquisitive pup, you will undoubtedly be thankful for your artificial lawn!
With an ten-year manufacturer's guarantee, we are confident that our surfaces are more than up to scratch with the heavy usage they will be subjected to. This means that you can purchase directly from Artificial Lawn Company today with confidence.
Will Dogs Ruin Artificial Grass?
The simple answer is no! Of course, you will have to take a little extra care of your synthetic grass when it comes to dogs when it comes to the call of nature, but a quick hosing down after clearing up after your furry friend will keep your turf in tip-top condition. Artificial grass is dog-friendly and will provide a wonderfully realistic surface for your faithful companion.
In truth, maintaining artificial grass with a pet is still far easier than keeping a real grass lawn. Anyone who has gone to mow the lawn, only to realise there's a little present hidden in the overgrown blades of grass that needs taking care of first, understands the pain.
The Possibilities
Whilst our grasses are popular in domestic gardens, for dogs in need of somewhere to play and owners in need of an easy life, they're suited for much more besides.
Artificial turf for dogs is suitable for use in agility training or kennel runs. In fact, our Pedigree Lawn is perfect as a training surface because it can withstand high traffic and requires minimal upkeep. As well as lending itself to world-class performance, all of our surfaces are perfectly safe to be used by pets.
FACT: It has even been used in the Main Ring at Crufts and at Discover Dogs exhibitions.
The Bottom Line
With a long life expectancy, this is an investment that will benefit the whole family. Costs vary depending on the style and composition of the grass, as well as the size of the project and the amount of turf needed.
Our team will be on hand to offer any help and advice you may need in pricing up the project, as well as being able to offer samples of each of our artificial lawns, allowing you to make an informed decision. Additionally, if you are based in London or the South-East, we can also offer a complete installation service.
You can get more information by contacting our friendly team today. At the Artificial Lawn Company, we are more than happy to offer expert advice and recommend the best synthetic turf for your needs. When it comes to our pets, we ensure that we offer nothing but the very best and safest artificial grass on the market.