In addition to our immaculate installations, amazing artificial grass and rave reviews, you will see that we have consistently scored highly for the 'contact with office', 'site visit and quotation' and 'installation of grass' sections – receiving top marks in almost all cases!
We pride ourselves on our polite and friendly customer service, our superb quality products and our experienced team of expert consultants and installers. While we love what we do and the reward of seeing gardens transformed and enjoyed by so many, what keeps us going is the smiles on our customers' faces when they see their artificial lawn, professionally laid and in place.
So, if you want to know who we are, what we do and why we are perfect for your project, please take another look at the comments above. Alternatively, if we've already had the pleasure of working with you and you are pleased with the result, please share your thoughts and feedback with us.
For more information about our artificial grass range and our services, please browse the rest of our site or get in touch with our team, who will be more than happy to discuss your enquiry. We're always happy to help!
Customer Feedback and Reviews
Great Service
Great service from the measure pricing and choice of grass.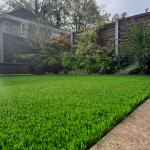 100% Recommend
Reasonable prices arrived and fitted on time very happy with end result, no more mowing the lawn the workmen were quick, friendly and left everything neat and tidy when completed.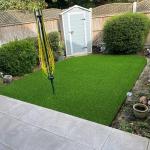 Highly recommend this company
Helpful professional friendly staff from the first visit to discuss the lawn installation to the day of completion. All aspects of the lawn explained fully and plenty of samples to choose from. On day of fitting nothing was too much trouble, no mess left, all tidy. Am so pleased with the end result . Would and will highly recommend this company. Thank you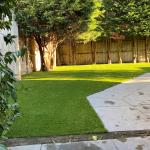 Great service, great product!
Very efficient, reliable and professional. Sam is a real asset to the business. The installers are extremely polite, tidy and good at what they do. I highly recommend Artificial Lawn Company.
Excellent
Excellent product, professionally installed by really nice guys. Would not hesitate to recommend yourselves. This country needs more companies like The Artificial Lawn Company.
Happy New Lawn
From the start of my inquiry into having a new lawn laid to the finished job, it was a really lovely experience with 1st class professional experience staff.
Highly Recommend
Very impressed with everything from the first consultation to the installation. Fantastic quality product at a really competitive price. Highly recommend.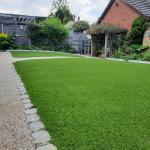 Very High Standard!
I thought about having artificial grass for a long time and eventually I contacted the Artificial Lawn Company. A gentleman came to visit and spent some time measuring the different areas of lawn. A day or two later I received a quotation which I accepted. The works were carried out a few weeks later. The men came on the agreed date and carried out the works over two days as expected. The works were carried out to a very high standard and when they finished everything was cleared away and the garden was left nice and tidy. Before leaving the men gave the "grass" a thorough brush and left it looking great. They also gave me several tips on how to maintain the new grass. I have only got one regret - I should have had it done years ago.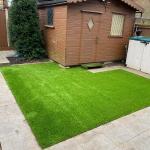 Very Professional
On time very professional from start to finish.
First class service all round
This company are very good on contacting them I was very impressed with the level of service I received. They sent out a number of samples for me to look at and choose from. There rep visited me and took the measurements then gave me a quick quote that I found to be acceptable. Two of the fitting team arrived and made a great job of laying the lawn leaving the garden clean and tidy. First class service all round.
Great company fab lawn
The man arrived and was very friendly followed the covid rules was quick and efficient, did a great job. Its been a year and the garden is fabulous grandchildren enjoy it I the warmer months. Thank you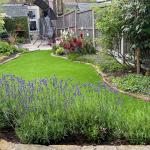 Very impressive
The experience was all good, workmen very diligent ,and work was very impressive, left the garden in an excellent condition.
Garden Makeover
A real pleasure dealing with this company, from initial call, consultation and installation. Professional and friendly and, best of all, a brilliant product. Extremely pleased with the final result which exceeded our expectations.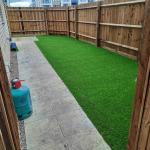 Brilliant Service
Brilliant service and great results! Our new lawn looks great, was quick to install and thorough advice on aftercare and maintenance was given. I especially recommend this product for dog owners - we have two huskies that were always digging up our garden and since we've had artificial grass they haven't attempted to dig at all. Lawn still looks as good as when it was installed. Looking forward to summer now as we won't have to mow it! Thanks so much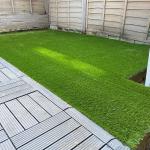 Highly recommended
From the initial engagement with Sam, to the installation of the turf itself. I was thoroughly impressed with the manner that this company conducted itself. We may not have the world's largest lawn, and this would have seemed like a small project for them, but they treated us with professionalism and courtesy from start to finish. Highly recommended to anyone looking for amazing quality AstroTurf, and even better customer service.
A better than expected beautiful lush lawn
We are really pleased with our new 'Luxury' lawn laid last week. It looks even better than expected and will continue to do so for a long time yet to come. All the staff at the Artificial Lawn Company were very helpful and a pleasure to speak to from planning to the installation. If you want to transform your garden to a 'no more mowing smart place of calm' look no further!
Highly Recommend
Extremely helpful over the phone whilst trying to order some artificial grass. The exact size I wanted was not available at the time but a larger piece was at a discounted price as an off cut. Delivery was extremely quick and the driver went above and beyond to take the grass into the exact area I wanted it. Will definitely use again and would highly recommend.
One of the best companies I have ever dealt with
Artificial Lawn Company were without doubt one of the best companies I have ever dealt with. Harry and Leon worked so hard and did not stop even though it was very hot. They were polite and courteous and a pleasure to deal with. The lawn looks superb. If only I had another house I wouldn't hesitate to ask Artificial Lawn Company to lay artificial grass there too.
Superb Job
Thankyou so much guys, I am absolutely amazed with the superb job you've done!
A new lawn!
We were very pleased with the level of service, the quality of work and the time to complete. It looks great!
Definitely recommend
Professional and efficient that transformed my lawn to perfection in one day and their prices was over 20% cheaper than my other two quotes. It saved me a lots of work and precious water. I definitely recommend to any one.
Best decision I ever made to have artificial grass
For a long while I considered getting artificial grass installed in my garden. I finally decided I should proceed and arranged for Artificial Lawn Company to provide a quotation. Their representative visited us and showed us several samples of "grass", he measured up and said he would prepare the quotation based on the grass we had chosen. I asked them to carry out the works and a couple of weeks later the works started. The area was prepared the first day and the artificial grass laid the second day. The works were carried out very efficiently and the men even cut the "grass" to match the uneven edges where granite setts had been laid. They left everything clean and tidy when they left. My only regret was leaving it so long before I made the decision to have the artificial grass laid. I am extremely pleased with the works Artificial Lawn Company carried out.
Professional and would highly recommend
Second time we have used this company and once again an excellent job well done. We had the first lot of grass laid about 8 years ago and it's still looking great. The grass itself is excellent quality and plenty of different styles to choose from. The workmanship of the installation was done to a high standard. They were reliable, tidy and hard working. They were very respectful with the covid restrictions at all times. Overall, brilliant company, professional staff and would recommend them to anyone.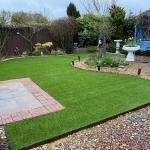 Excellent
Excellent service, excellent workmanship, could not fault anything at all. Old turf's and rubbish were removed recommend to family and friends well done.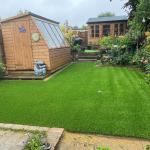 Would Recommend
Used this company before, efficient and on time Job done to standard Very pleased and would recommend
Excellent product and service
I contacted Artificial lawn company after another contractor had installed an inferior product and very badly. From the first phone call to the installation I cannot fault these guys. They were excellent and would not hesitate to recommend them to anyone. First class product and service!
Great Job Done
The workmen turned up on time and we're very polite. The work was done in a very professional way and after cleared up after the work was done. We are very pleased and money well spent. Will recommend them.
Great
Great very pleased with our new lawn. Original lawn got to much to manage now only needs the occasional brush to remove leaves. But you can leave them on if you want it to look natural.
Awesome company, would definitely use again
The team were professional and did an excellent job. In and out in a day and took all the waste away.
Luxury lawn looking fab
We are thrilled with our new artificial lawn supplied and installed by Artificial Lawn Company. We opted for the Luxury Lawn which looks very realistic and was installed very professionally. The crew were friendly, courteous and worked hard to complete our installation in just 2 days. I would highly recommend ALC to anyone looking for a stunning, low maintenance Lawn. We certainly aren't missing out on the mowing and are so pleased to have invested in our garden which we enjoy spending so much time in. I wish I could upload photos to share here.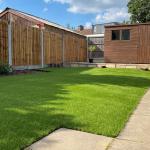 Very Pleased
I was impressed but the meticulous and careful laying of the new lawn. They ensured that all rubbish was removed and left the garden clean and tidy. Overall very pleased with the quality of the work.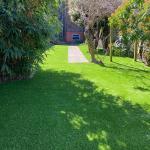 Incredible
Professional, competitive, friendly, easy to deal with at all stages. But the results are the most incredible testament to this company. My garden was completely overgrown with weeds, neglected and unusable. What these guys did in 4 days is nothing short of a miracle! My garden is now beautiful, neat, and practical, a real entertaining space. The guarantee on materials and work gives me peace of mind for years to come. I just wish I did this sooner!
Great Company
Excellent service great products highly recommended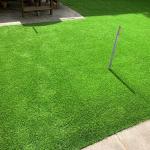 Would recommend to anyone
Very, Very impressed. Very professional, no mess and fantastic result. would recommend these guys to anyone.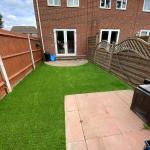 Amazing Company
Amazing company who came and done the artificial grass, they rang me as they were ahead of schedule and asked if I wanted it fitted earlier which was lovely! The men that came to fit it were so cheerful. It was a very hot day and they just got on with it. They also checked to make sure everything was ok. Clean throughout wouldn't have even known they were here.
New Lawn
From the start the experience was absolutely first class and continued until the job was completed.
Very good, would recommend
Very quick and efficient. Good quality grass, and good customer service.
Stress free beautiful lawn
The Artificial Lawn Company were efficient and helpful. I Wish I had made this decision years ago - my lawn always looked horrible., and half dead. I have two dogs, and the lawn is very easy to maintain its beauty. A quick rinse (or rainfall) and all is beautifully fresh again.
Great job looking fantastic
This company I found on the web when researching for a lawn that wasn't going to require a lot of work. Having looked at the reviews I gave them a call and was given a very helpful amount of advice by the lady that answered my call. As a result of which having received a number of samples I booked an appointment for one of the company advisers to call on me to give me an estimate. As a result of which I placed an order the price wasn't cheep but it was worth every penny. On date of the installation two of the company workmen arrived and got to work without any delay they informed me that it would only take one day to do the job. They started work and you could see that they knew what they were doing, when they were finished they cleaned and tidied up and left a great looking lawn with no mess. I have no hesitation in recommending this company and applaud the workmanship and very polite and helpful way in which I was treated.
Great Job!
Excellent workers, in difficult high temperatures, and we'll pleased with the result 3 months later.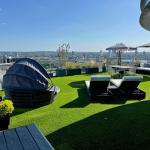 Fantastic Job
Fantastic job by the team at ALC! 4 days of hard work from them and I have a terrace that fits my view! Highly recommend!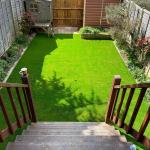 Would definitely recommend
Just over a week now since our Artificial Lawn was fitted by 3 lovely guys. We love it & cant stop looking at it. Would definitely recommend the Artificial Lawn company, great service from start to finish. Thank you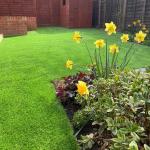 Worth Every Penny
From the moment Sam came out to measure up and go through the choice of grasses available to the moment Nick and Jammie arrived to lay it everything was done very professionally. They were friendly ,helpful and went out of there way to ensure the lawn went down as smooth as ever. Thank you so much. can't fault them at all and worth every penny.
Exceptional Service
Sam and ALC provided an exceptional service. Grass was amazing quality and high recommend this company if looking for artificial grass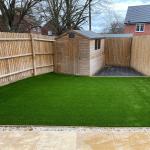 Highly recommend ALC
Got in contact with ALC for a quick quote over the phone was quick and easy! Sam came the following week to measure up and give us the exact quote. We decided to go with the ACTIVE law as it was more suited to our needs, we have a Shiba Inu and they are very active lol! Very happy with the price and the guys fitted us in early which was brilliant for us as we was ready to go. The finish is amazing levelled out brilliantly and the turf looks even better now it's all down. Nick the fitter was clued up and had years of experience. I would highly recommend ALC and have passed on details to neighbours and friends who are looking to have the same work done!
Completely transformed our garden
Great work from these guys. quick efficient but mostly quality. Completely transformed our garden and the kids and doggy are thrilled. enjoying the sunshine today on our brand new lawn! thanks again :)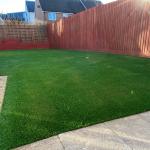 Big thumbs up!
Just had the over friendly play lawn installed to my swampy garden and the transformation that the guys achieved is breath-taking. they really do take pride in what they do. And it got a big thumbs up from 2 hard to please children and a very excited dog.
Totally transformed my garden!
Great service all round from the ALC team! From the first survey visit by Sam who was really helpful with the advice he gave and patiently accommodated my alterations close to installation day. I'm very happy with the finished garden that Danny and Craig have been working hard on. Brilliant work from start to finish. Thank you ALC.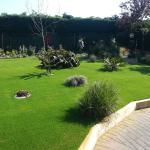 Incredible transformation
Our garden has been transformed. The look is informal and wasn't easy to achieve posing many challenges. Anybody that sees our garden is very complimentary. Our lawn looks as good now as it was when it was installed. Very good installers.
Artificial Grass
Excellent service from start to finish tidy and professional.
Garden transformed in day!
Great work to transform our lawn during lockdown summer. Everyone I had contact with were ultra careful regarding covid precautions. Lawn looks amazing and has been fantastic.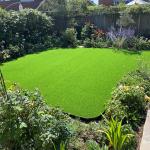 Excellent installation
Excellent installation and looks fantastic. The whole process from quote stage to installation was professionally carried out.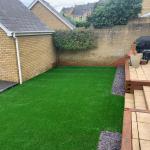 Great Company
Great customer service. Accommodated us when we had to delay installation due to delays to other work being carried out. Great quality and installation was perfect. Couldn't be happier.
Good firm, very pleased all round
I am very happy with my new 'lawn'! I have six dogs so needed something suitable. Good workmen, had to deal with heavy showers but completed the job well despite that. Tidied up cleanly. My dogs love it. Never gets soggy even after a downpour. Looks brilliant all the time. Dogs come in clean. Easy to use poop scoop on. No complaints only compliments. Happy I chose this firm.
Fabulous Job
Very professional company from initial visit to completion. Nice friendly guys and extremely clean workers . Would recommend them without hesitation.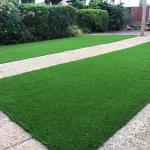 Envy of my neighbours!
Very prompt, very professional and left everything clean and tidy. My "grass" is the envy of my neighbours!!!
Without any doubt value for money
The job was carried out without any holdups. The two guys were very hard working and could not do enough to make sure we got exactly what we expected. The quality of service was to a very high standard, and without any doubt value for money.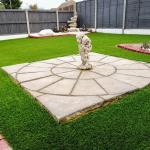 Would Highly Recommend This Company
Fantastic company, our garden is looking marvellous, would highly recommend this company,, Lots of work and effort ,put into it, many thanks to Sam, for all what he done for us Keep up the FANTASTIC, work, we are so so pleased, with the garden, we cannot stop Looking at it Once again THANK YOU, SAM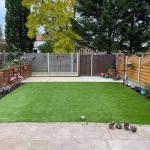 Amazing Service
Can't recommend this company enough - we had Danny and Craig completely transform our garden to somewhere that is now a pleasure to spend time, however Sam has gone above and beyond for our us! Following on from the installation, we noticed a visible dip in our part of our lawn, obviously concerned we got back in contact with Sam, and that same day he attended the property and carried out an inspection, only to find a big void had materialised under the lawn! The void had obviously been there a long time due to its close vicinity to the soak away, and it's only due to getting the work done and the ground getting disturbed that we realised it was there! Instead of going away and fixing the problem the next day/available appointment, Sam went out of his way, working beyond normal working hours to get the issue rectified for us and thankfully making our garden safe again. Danny and Craig were amazing, but Sam has been an absolute hero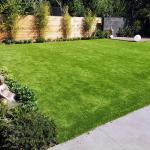 100% recommended for Artificial Grass!
100% recommended! Huge thank you to Sam who went above and beyond. Top level of products (artificial grass), great, easy to deal with, competitive and honest service!
The grass is Greener
Good service no messing you about gent attended to price, polite and on time. Came with samples so you could see what you was buying .No hard sale. 2 man crew arrived before there start time keen to get going. Again polite nice guys. Just got on with what they was there to do. Looked great on completion and still looking good now no issues. Would use them again.
Excellent!
Amazing service from start to finish.
Fantastic Service and Quality Grass!
We did our homework before investing in the grass and ordered samples from a few companies. The Artificial Lawn Company's samples were the best. We asked for a quote on a few different grasses and ways of laying (with or without a join) which they were more than happy to provide. They guy who came and measured was great and explained everything clearly. We liked the fact that there was no 'hard sell' at all which gave us room to think and ultimately, because of this, we bought the best grass with no join, a bit more than we budgeted for but well worth it. On the day of laying the guys arrived on time and were polite and courteous and got on with the job. The follow up visit from the first guy to make sure everything was good was a nice touch. We will defiantly be recommending The Artificial Lawn Company to other people in the future. Tim & Jackee (Sidcup)
A shame I can only give 5 stars
Sam's visit to give a quote to the installation by Nick and Alistair the whole thing went as smooth as silk. The best reference I can give is the fact that my son in law questioned even the concept of artificial grass, since seeing the final result he was so impressed he is considering doing it to his own garden.
Definitely recommend their services!
Had Sam, Danny and Nick sort out my horrible garden today, first they levelled it ( not an easy job as had a huge depression in the lawn ) then built it up, added gravel boards under the fences and laid Premium Astroturf, cracking job by some really friendly guys. Tiptop clear up as well, all in 35 degree heat! Cheers guys
Couldn't be happier with the artificial lawn we had fitted last week
The customer service was excellent from start to finish. The fitters were exceptional and did a great job and the price was right. Would highly recommend this company!
One happy customer and would highly recommend Artificial lawn company!
Had ALC round the last 2 days to install my artificial grass, and the results are fantastic!
From initial contact with Sam, to Danny and Craig doing the installation, customer service has been 5*! Big thanks to Sam as well for always answering my questions and organising the whole thing. Hoping to get my patio done over the next few weeks as well with ALC to finish off the garden.
Fantastic service from start to finish
Artificial Lawn Company have transformed our garden from a jungle to a tranquil haven. No longer embarrassed to have people round. Now looking to transform our front garden.
Thanks Artificial Lawn Company. Highly recommend
Would highly recommend this company!
From my initial contact with ALC to arrange a quote, through to the installation and completion of my order, they have proven to provide a quality and professional service. The lawn laid is excellent and the two lads who completed the work were polite and efficient. reasonably priced too as they beat other quotes received.
The only company I would ever use
The customer service we got right from the day we got the quote to the day it got laid was amazing. They done a very good job and were always happy to answer any questions. We are very happy. We opted for luxury lawn. Thanks guys!
Brilliant
Brilliantly helpful from start to finish and have helped transform our garden. Thanks to all!
A good job all round
From start to finish a totally professional company, initially with good advice and then transforming our garden. Prior to this we had two Rolawn turf gardens in 11 years. So now we have sold the mowers, sprinklers etc. The guys who laid the lawn were experts, clean and tidy and reliable.
Very pleased with your service
Neil gave good advice when he came to give a quote. Dave and Sam worked very hard on the day of installation. Would definitely recommend your company -- very reliable and professional. The lawn looks amazing, much better than the drab paving, I wish that I had done it sooner. Thank you!

Sam and the team were excellent
Their samples were the best on the market and their customer services was better than any of the companies we had met. We are so so pleased with our new lawn!
Fantastic service from start to finish
Sam originally came to quote and was incredibly helpful, nothing was too much trouble and he was very informative and knowledgeable. Helped us get around a potential tree root issue when other companies struggled to find a solution.
Fitters came on the day promised and were excellent. Took their time and finished the lawn to a very high standard, which included adding timbers borders. Our new lawn looks fantastic and the grass is high quality. I would recommend this company to anyone who is looking to transform their garden.
Excellent Company
Turned up to quote exactly when they said they would and also on time for the installation. Excellent job done. Looks fantastic. Would highly recommend.

Highly recommend, professional outfit
I was recommended the artificial lawn company from a friend and they did not disappoint. Despite being very busy they accommodated our request for a quick turnaround as we had an event at home. their staff was friendly, efficient and very accommodating.
A job well done
We had Artificial Lawn Company to do the work for us in September 2020 . They were the best work workmen we had to do any work for us. They were very professional and very tidy. Very friendly. The finished artificial lawn was so neat and beautiful. I really made our garden looks bigger.
Great Job
Great job. Had garden measured on Wednesday afternoon and it was all done on the Friday. In these difficult times it enhanced our outdoor experience during lockdown. Thank you for making a difference.
Very Pleased
The artificial lawn company did a fantastic job laying my lawn. The job was completed in the timescale mentioned. The area was left clean, tidy and all waste earth and grass taken away. I would not hesitate in recommending them.
Satisfied customer!
I am very happy with the installation of my artificial lawn and it has definitely transformed my garden. Before the installation the grass was very difficult to mow as it was on a slope. The young men who laid it were very efficient and worked very hard.
100% Happy
Perfect - very professional - would highly recommend
Very happy!
I'm very pleased with my artificial lawn and I would have no hesitation in recommending this company.
Great company to do business with
Extremely professional from start to finish. Good price and excellent products provided and installed. Would highly recommend.
Excellent service... And during pandemic lockdown!!!
Excellent service under very difficult circumstances ie COVID. The lawn was laid and looks fantastic. I'm sure there are cheaper companies out there but I wouldn't bother with them if I had any similar work to do. These guys would be my first choice.
Happy results
Happy in every way, we highly recommend this company. It was a pleasure from the moment we contacted them the service was courteous and efficient and everything went to plan. The results are great.
Professional and knowledgeable
Order and realization of the new lawn went smoothly and to great satisfaction. I highly recommend this company for any potential customer.
Recommended
Would recommend - they did an excellent job of my garden. When they arrived they realised the job wasn't quite straightforward as there were 3 tree stumps that sat above the level. They found a great solution and no drama to get it sorted. The site was left clean and tidy afterwards.
Excellent!
Excellent product, great customer service, would recommend!
Well priced for great quality
Sam and team were absolutely fantastic. They came out and did the job to my specifications and carried me along all through. I'm absolutely pleased with my garden and would recommend them anytime. I keep getting compliments.
Fantastic Service
A first class service from beginning to end, at a great price. A lovely company to deal with. They did exactly what they said they would, when they said they would. Thank you! We definitely recommend ALC.
Very Good
The guys customer service right from day one was very good. We are very happy with the lawn we chose. The workmanship that when into it was very good and the 2 guys we had were friendly and helpful. Wouldn't use anyone else but ALC
Very very satisfied
From start to finish the whole experience was brilliant from Neil coming to do the quote and shows us the grass we chose the pet friendly eco grass when Dave and Ali come to fit the grass very professional from start to finish completely transformed our garden very highly recommend this company 10 out of ten
Lovely garden and excellent, helpful and friendly service. Thank you!
Thank you so much for my 'new' garden- it is totally transformed! Everyone made the whole process easy and smooth; from your initial visit and advice about what could be achieved, then right through the garden preparation process to the final installation. I couldn't be more pleased with the final result. Thank you so much to everyone for their hard work, friendliness and time.
Great service, fantastic result!!
Excellent service from initially engaging with Sam through to the installation from Danny and Nick. The whole experience was extremely professional. There was no hard sell, no special offers if one places the order asap.. Just good old-fashioned honesty and proficiency in the job. The garden looks amazing!!! Highly recommended.
Would recommend to everyone
Excellent quality artificial grass first class service and installation
I'd Definitely Recommend
Lawn was fitted in one day and has transformed my from garden. Excellent quality product at a good price which was expertly fitted.
A beautiful job
Our lawn far exceeded our expectations. Such quality, such attention to detail. Our fitters collaborated with us at every stage and went out of their way to do the job properly rather than quickly. Our garden now looks so beautiful that we have strangers knocking on the door to compliment us. Thank you ALC.
100% Perfect
Absolutely perfect from start to finish. The product looks amazing. The workers were professional and polite - I could not have asked for better!
Artificial Lawn
Very happy with this company. Excellent service from measuring estimating and finally replacing my lawn. Very professional company from my lst call to finished job. Wish I'd done it years ago.
Great service and lawn options
Great product, and service. They came over to view the property and made recommendations based on my requirements. Installation took a day and I was pleased with the finish. It looks great all year round.
Good Lawn
Super product and ten star service, very professional service that was executed quickly with attention to detail, super job all round.
Fantastic
The whole process was completely flawless- from point of booking and final execution. The gentleman who were responsible for laying the grass were courteous and extremely professional. They took pains to ensure that the job was done to my exact specifications and I must say that I am a very happy customer. I recommend artificial lawn company highly.
Excellent Service
Extremely professional and no fuss. An excellent job thank you.
Fantastic Job
On time! Worked on the hottest day of the year!! Yes, they had to return on the following day but that was understandable!! Extremely professional. I would certainly recommend them to others.
Artificial Lawn Company
We were really impressed with the Artificial lawn company. They came, did all of the ground prep work, took away all of the rubbish and laid the grass. No nonsense, just got on with the job. The grass looks amazing and has transformed the area. We've had lots of compliments on the grass and our neighbour has decided to use them too. Reasonably priced compared to other quotes that we had. Great job, polite workers. Would definitely recommend them.
First Class Service
Could not fault anything, arrived on time completed the job quickly and efficiently and everything was left in a pristine condition. Very pleased indeed with the result.

New Lawn
The two chaps who laid the lawn were very good workers, clean and tidy. l would recommend.
Satisfied customer
Great product, looks better than real grass. Complete satisfaction. The two lads that laid it were very pleasant got on with the job and were a pleasure to have working in our garden. Thank you ALC. would definitely recommended
Great Job!
They were really professional finished in quick time and did a really great job would highly recommend.
Amazing Job!
First class service from quotation to completion. Very professional and reliable and have delivered exactly what they promised. 101% recommendation. Have changed our garden from a mud bath to a versatile and enjoyable space for our family and our children. Thank you!
A job well done
We are delighted with the finished 'lawn'. From the very beginning of the process through to completion we have been impressed by the professionalism of everyone we have encountered at ALC. The design, a complex one involving many curves, was carefully done and quoting, including options, was explained in detail. The installation team were delightful and a pleasure to have working in our garden. The weather did not make their job any easier, but they remained positive at all times. Thank you all of you.
Fast and reliable
Very fast and efficient. Had grass laid within the day. Both guys who fitted it were friendly and professional and clarified what I wanted. They were the best quote we had with good quality grass very happy with the results.
I would definitely recommend
Really good quality lawn with great service.
No hesitation in recommending your services
Good afternoon, I would just like to pass on my upmost praise, and a massive thanks to yourselves and your team who have just finished my install today. Everything done through you (including my two changes during planning, sorry!!), was done without any issues, from my first visit by Neil and his suggestions and great guidance to the final install. The team laying my lawn and doing my landscaping where Danny and James and there eye for detail and real professionalism was outstanding. It was reassuring to have two knowledgeable lads working on my garden who kept me in the picture as to what was happening, when and why. It is not everyday someone comes in and rips up your garden so the thought can be a bit daunting, but it was made into a pleasurable customer experience and both my wife and I are completely amazed at the transformation.

I wish you all the very best in the future, and can categorically say we will have no hesitation in recommending your services and would return to you without hesitation should we require any works in the future.
Hassle Free Lawn
Decided to get my front lawn fitted with artificial grass, so after some searching decided to go with artificial lawn company as they looked very professional from there website and after speaking to them was assured as the office staff were very knowledgeable and friendly too.

Wow I was not disappointed, they turned up and were polite and friendly took the old lawn away and fitted a lovely looking lawn. They were very tidy and when my wife came home she couldn't tell they had even been on our drive. She loves the lawn as is low maintenance now and looks great and green all year.

I would definitely recommend using them to anyone looking for hassle free lawn.
Excellent company, excellent product
Excellent service from start to finish. Very polite staff. Arrived on time and worked continually until job finished, in temperatures of 30deg. A total of 6hrs. Left the garden clean and tidy. Only way we knew they had been was by having a wonderful new lawn. We cannot praise ALC high enough and will certainly recommend them in future.
New Artificial Lawn
Excellent service really great friendly guys Nick and Wayne. We are really pleased with the result and will be happy to recommend to family and friends.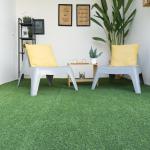 Excellent service
Excellent service and site staff worked hard.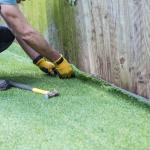 Very professional
Whilst here I would like to take time to say both the guys here worked so hard and their attention to detail made a great deal of difference to me. They only stopped to take as short break for lunch break. It was their professionalism that made me feel I had made the right choice... thank you all at the Artificial Lawn Company.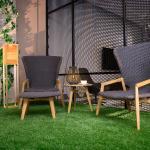 Great thank you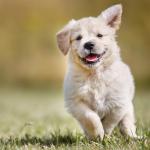 Looks fantastic
No problems at all - garden, even though not a mansion, looks fantastic, and dogs love it too!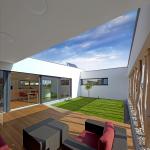 Excellent
Excellent from start to finish.
Excellent Installation Team
I have just returned from France after a few days to my new lawn, my wife was at home and she said what an excellent installation team your guys were. I am extremely pleased with the results and would with outhesitation recommend the company to anybody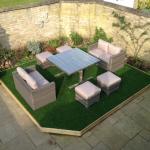 The product is absolutely superb and looks fantastic
We are absolutely delighted with the lawn we purchased from the artificial lawn company. The product is absolutely superb and looks fantastic. It has finally given me the garden I've always wanted - great looking with zero maintenance. The children can play outside in the garden all year round and it won't create any extra work for me! A fantastic product, coupled with great customer service - I would highly recommend anyone to buy from the artificial lawn company."
Thank you
Thank you for all of your advice, it was essential. Our garden is now complete with a lovely immaculate lawn. I absolutely love, love, love it.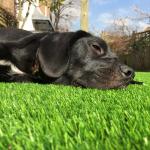 Great thank you
Thought I would show you the pic of Jack taken today on the lawn... Clearly he doesn't like it (joking). It's great and many thanks. - E