Artificial grass roofs are some of the best small garden ideas in the UK for roof gardens and terraces, thanks to their lightweight nature and ability to drain heavy rainfall quickly and easily.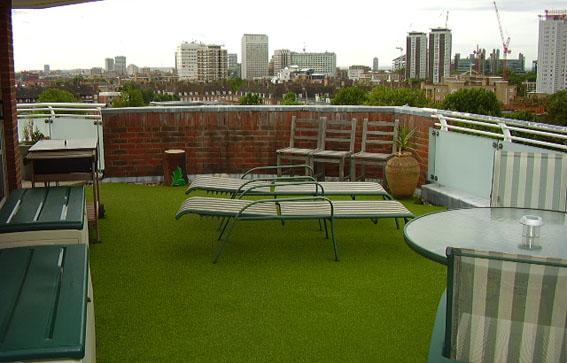 Recommended Artificial Grass for Roofs and Terraces
As the weight of the grass layer is often a primary concern on roofs, the Artificial Lawn Company team recommends opting for non-filled grasses when it comes to fake grass for balcony applications. Some of our suggested grasses for rooftops and terraces include Easy and Landscape lawns, which are medium-length grasses between 25mm to 30mm, while our Luxury Lawn is a little longer at 40mm. For a soft and more cushioned feel, you could even opt for our 38mm Comfort Lawn and 45mm Supreme.
With a wide variety of artificial grass products from our website, you can achieve DIY small garden ideas on a budget. Any tradesperson can improve properties with artificial grass on flat roofs.
Quality-Assured Drainage System
As the roof is the part of the home most exposed to rainfall, all our artificial grass has drainage holes to drain water from the roof fully. To assist with drainage, we also supply and strongly recommend Lawnflex tiles. These 18mm open cell foam layers will help the water drain more freely from the surface, provide a cushioned underfoot feel, and only add a little additional weight to your artificial lawn installation.
Unlike other brands, when laying artificial turf on flat roofs with Artificial Lawn Company, you are using a company with more than 20 years of experience in the supply and installation of synthetic turf. This means that quality, durability, and a fantastic aesthetic appeal are assured.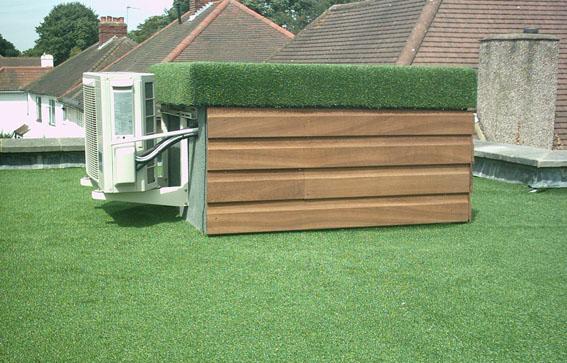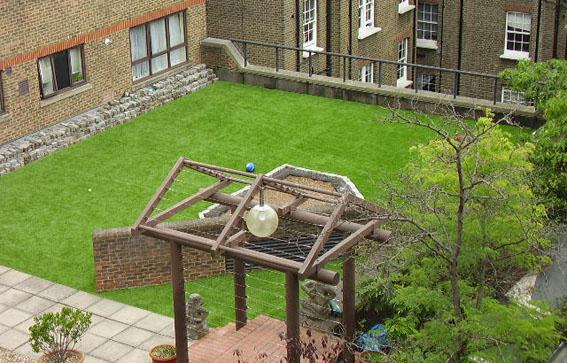 Backyard Low Maintenance Small Garden Designs
A natural grass garden requires plenty of attention in the spring to ensure it's ready for summer. With excellent drainage, small demand for time and the benefits of a natural appearance and soft feel underfoot, artificial grass is the solution for roof gardens, balconies, or terraces.
Using Our Trade Accounts
If you're a tradesperson, you're entitled to set up a trade account with us. This enables you to get artificial grass for a balcony or any other environment for a discounted price. In fact, our trade account holders can enjoy up to a 30% discount!
Transforming Your Home
The realistic artificial grasses we have available provide the ability to completely transform the current appearance of balconies or terraces into garden spaces to become not only a pleasure to use but idyllic icons of luxury. So, whether a space sees a lot of rain and sunshine or hardly any at all, our products can create a beautiful artificial plant wall to enjoy all year round.
Here at Artificial Lawn Company, we offer free expert advice on the process of laying artificial grass while providing specialised installation services to accommodate those who would prefer to let the professionals take care of the job at hand.
Please get in touch today for further advice, answers to any queries, or to simply enquire about the most suitable lawn for rooftop gardens or terraces. Our friendly team of experts will be on hand to offer any advice and guidance required, from selecting the best artificial grass for the project to installation queries.