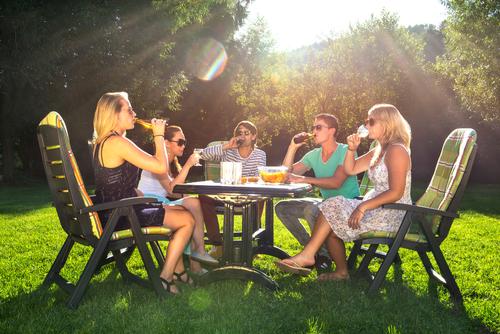 As we head closer to summer, now is the time to get ready for the party season - so, if your garden isn't ready, what are you waiting for? In Britain, we take any chance that we can get to bask in the sun because, after all, it's never around for too long before grey cloud return to ruin the day.
With this is mind, it is important that our gardens are ready for friends and family to come over. Installing artificial grass or investing in a new state of the art BBQ are sure-fire ways to get your garden party ready.
BBQs
There is nothing quite like sitting out in the garden tucking into a hot dog or burger fresh off the grill with the unmistakable BBQ aroma stirring around. Summer just doesn't get any better than that, does it?
If this is part of your plans this year, then the first thing you need to do is invest in a BBQ. Will you be holding just the one party? If so, consider just getting a disposable BBQ to keep costs and maintenance at a minimum. That being said, always keep your BBQ safely away from your fake lawn and away from children and pets.
All that's left to do is make sure that everyone has somewhere to sit and eat, as standing around with a plate full of food and a drink makes it a little hard to eat.
Inviting Artificial Grass
If you are especially keen to keep maintenance down to a minimum, then artificial grass is the perfect solution for your garden. There is nothing more inviting than a lusciously green lawn, but the prospect of masses of feet trampling over the grass can cause anxiety at the thought of all the care you need to give afterwards.
Through using fake grass, you don't have to worry about the lawn tearing up, and neither do you have to worry about making sure the lawn is freshly mowed before everyone comes round. By installing a synthetic surface, you ensure that your lawn remains green all year round, even in the winter!
Decorations
The next most important part about making your garden party ready is to include decorations, just as you would inside. Small ornaments make for great decorations, while you may also want to consider a gazebo, just in case the weather doesn't hold up but there isn't enough room inside for everyone.
By making simple changes, minimising the amount of maintenance you have to keep your garden presentable, your garden will be party ready in no time. For more information on how artificial grass can benefit your garden, please call our team on 01474 364320.