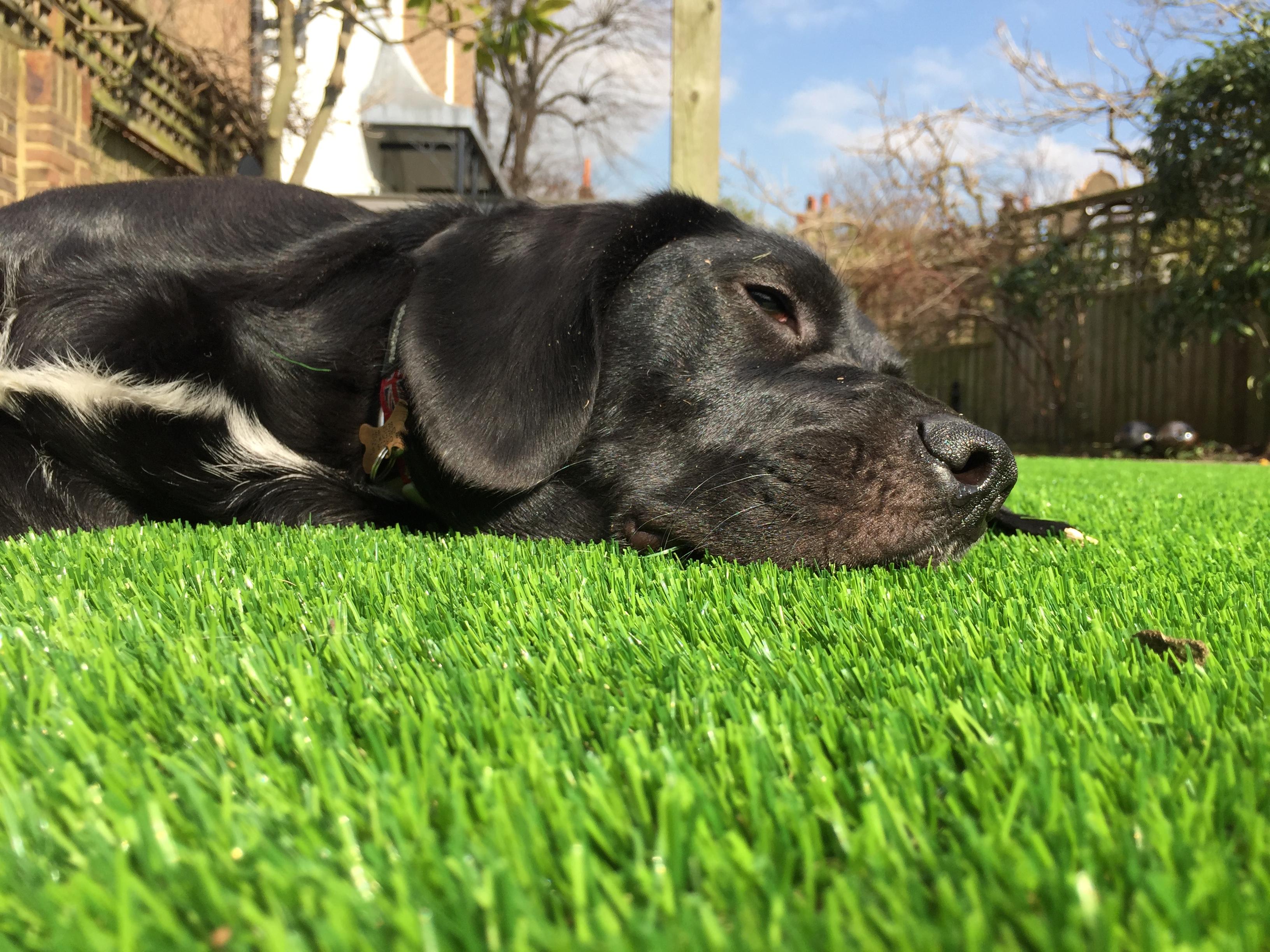 Our expert artificial grass installers are local to the capital and our services are available throughout the Greater London area. Wherever you need us, be it to install artificial grass in Bromley or deliver artificial lawn to Greenwich, Bexleyheath or Barnet, we can adapt our offerings to you and your needs with a complete service that includes a free evaluation, advice and quick and professional installation.
Looks Great
It looks luscious and full of life all year round, meaning no unsightly brown patches in the winter months
Safe
Artificial grass is family friendly, providing a safe surface for adults, children and pets alike
Low-maintenance
It's low maintenance, with hours of weeding and mowing replaced by only occasional brushing
Eco-friendly
You save water as there's no need for sprinklers in the summer - the perfect antidote to the dreaded hosepipe ban!
Utility bill savings
The reduced maintenance saves you money with lower water and electricity bills
Perfectly Green 365 Days a Year.
Pet and Family-Friendly
Purchasing artificial grass is the perfect solution for London residents seeking a high quality yet low maintenance solution to their outdoor space. It's ideal for families who want a pristine lawn but simply don't have the time required to maintain one.
Our top quality artificial grass will easily last 12-15 years and it is tough enough to endure all the challenges of urban living in the hub of the UK, as well as those put to it by children and pets.
The Answer to London's Garden Challenges
Living in London can sometimes feel like living in a concrete jungle because of the number of buildings compared to the amount of green space. Artificial grass is a great way to feel more connected with nature and to bring the benefits of greenery to your home, even if your garden is the centre of the UK's capital and is surrounded by high rise blocks.
Not only this; synthetic lawn works in spaces with very little sunlight, making it a fantastic solution for rooftop gardens, balconies, and corporate spaces throughout London where the weather is unreliable and available sunlight can be hampered by the shadow of other buildings.
The fact that artificial grass doesn't require any maintenance beyond a sweep every now and again makes it a tremendous choice for those with very little space (as is so often the case when living in London), giving you all the benefits of a soft, green lawn but without the need to find space for a lawnmower and strimmer.
A Firm Family Favourite
Artificial lawn is a great way to get children outside and enjoying some fresh air all year round. There's no mud or dirt which means you don't need to worry about cleaning your house and scrubbing endless pairs of wellies, plus, you needn't tackle streams of traffic (both in the car and on foot) just for 10 minutes on a swing.
For those with pets, fake grass offers excellent drainage which means dogs, cats, rabbits, guinea pigs and all other pets can benefit from the freedom of being outside without risking the state of your lawn.
Our durable artificial grass options really do stand up to all the challenges inner-city and familial living throw their way!
Professionally Installed by Artificial Grass Experts
We have been installing artificial grass in London for more than 20 years. As a result, our installation experts know exactly how to achieve an outstanding finish; ensuring that our customers are left with a realistic-looking, long-lasting lawn every time.
Free Artificial Grass Samples in London
All London residents can take advantage of Artificial Lawn Company's free Artificial Grass samples - helping you to make a more informed decision that suits your needs directly. If you are unsure as to the quality of our artificial turf, or if you simply don't know which surface is right for you, we highly recommend ordering a free pack containing trimmings of each of our surfaces before you buy.
Our expert team are also able to offer advice on the type of artificial grass to suit your usage and budget. Based just outside of London, our team can offer a full all-in-one service to our customers.
Hear From Our Customers
"I'd just like to say that the team worked so hard, and their attention to detail made a great deal of difference to me. It was their professionalism, that made me feel that I had made the right choice… thank you to all at the Artificial Lawn Company."