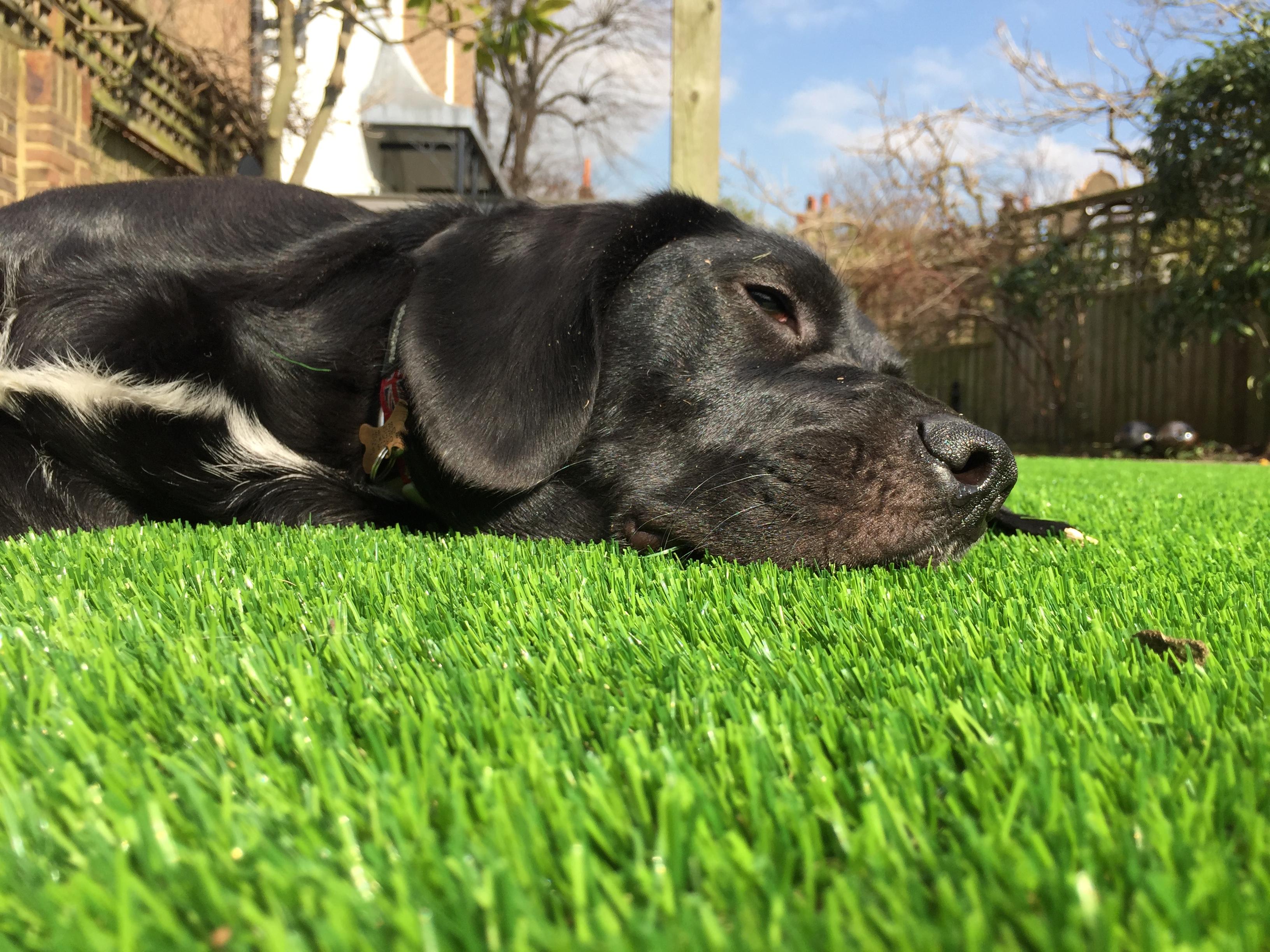 Artificial Lawn Company's team of artificial grass installers in Surrey provide home-owners across the county with a premium synthetic lawn that will last upwards of 12-15 years. Whether you don't have enough time to maintain and/or struggle to keep a healthy lawn as a result of children, pets or lack of sunlight, or if you have a roof terrace/balcony you want to breathe some life into, our range of fake grass can help.
Looks Great
It looks luscious and full of life all year round, meaning no unsightly brown patches in the winter months
Safe
Artificial grass is family friendly, providing a safe surface for adults, children and pets alike
Low-maintenance
It's low maintenance, with hours of weeding and mowing replaced by only occasional brushing
Eco-friendly
You save water as there's no need for sprinklers in the summer - the perfect antidote to the dreaded hosepipe ban!
Utility bill savings
The reduced maintenance saves you money with lower water and electricity bills
Low Maintenance and Unrivalled in Quality
Our evergreen artificial grass looks incredible all year round, requiring only a weekly sweep to stay in tip-top shape. Made using specially designed memory fibres, our grass is soft underfoot and safe for all members of the family, including your pets. When it comes to quality, we don't cut corners. We offer an extensive range of artificial lawns, each with sufficient drainage and fade-proof blades, ensuring no matter what the weather is, your turf won't get damaged as a result. In addition, the process of installing fake grass removes the soil underneath, meaning you needn't worry about mess or weeds. Once your grass is laid, there's nothing more you need to do besides the occasional sweep to keep debris away; perfect for busy families and home-owners lacking the time to maintain a garden but who still want an aesthetically pleasing lawn all year round.
Perfectly Blending in With Surrey's Natural Beauty
Gone are the days when artificial grass would look unnaturally vibrant and noticeable. Our artificial grass products are made using a blend of colours, as well as both straight and curled fibres, creating a completely natural appearance that seamlessly fits in with Surrey's beautiful greenery. We develop the most realistic and durable artificial grass possible and have such confidence in our products that we offer a 10-year guarantee on all of them.
Artificial Grass Installed by Experts
Boasting over 20 years of experience in supplying and installing artificial grass throughout Surrey, we consider ourselves experts in creating pristine artificial lawns that are both practical and impressive. Our service and advice is tailored to you, your garden and your situation so that we can work quickly and achieve an exceptional finish every time. Find out more by getting a no-obligation quote, or contacting us for a free evaluation.
Hear From Our Customers
"I'd just like to say that the team worked so hard, and their attention to detail made a great deal of difference to me. It was their professionalism, that made me feel that I had made the right choice… thank you to all at the Artificial Lawn Company."