Whether you are a pro looking for some extra practice time or an amateur dabbling on the weekend, golf is a great sport for all seasons. Maintaining real turf to the necessary standard for a quality round, though, can be a challenge, especially in the UK when all seasons can be wet.
So instead of battling the elements and struggling to get a decent green in time for golf season every year, why not opt for an artificial putting green you can enjoy all year round?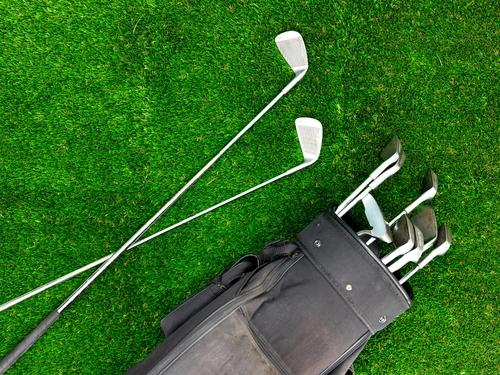 As well as being more weather-resistant than their organic counterpart, artificial putting greens are a much hardier and lower maintenance alternative. These benefits are a particular advantage when you consider the extra wear and tear a putting green endures from your clubs.
From an aesthetic perspective, you will have the perfect green lawn all year round, and thanks to its exceptional durability and unique drainage system, avid golfers won't be faced with Spring quagmires and balding muddy patches – leaving you free to return to the course quickly, even after a heavy rainfall.
It is no secret that grass contributes heavily to a player's performance, so ensuring something with that much influence is of the best quality is paramount. As such, you will be pleased to know that our artificial grass range consists of many varieties, all with their own unique features and characteristics. So, you can choose the ideal match according to your exact specifications and needs – be it a multipurpose lawn fit for golfing or a purpose-built golf tee turf.
An added benefit of artificial putting greens is that they stay pristine while remaining cost-effective. Unlike real grass, which needs a lot of ongoing care and maintenance, as well as costly repairs and replacements, an artificial green will not have such a short shelf-life. They are not sensitive to particularly hot or cold conditions, they do not need constant hydration or trimming, and they aren't subject to the same injury golf spikes inflict on a real lawn.
Artificial putting greens do require basic upkeep on a fairly regular basis, which includes the occasional brushing to remove dirt and debris. By staying on top of this comparatively minimal upkeep, you can keep the artificial lawn in top condition, avoiding the need for extensive repair and maintenance costs.
As well as busy public greens, artificial grass is ideal for private putting greens too. Our expert team are experienced in quality installations of all kinds, from large commercial premises to smaller private ones. So, whatever your plans, the Artificial Lawn Company has got it covered.
If you are interested in learning more about our ranges or if you have any questions about purchasing the right artificial grass for your putting green, please browse our site for more information or get in touch with our team of expert consultants. From offering guidance on your lawn choice to providing quality installation, we are always happy and on hand to help.