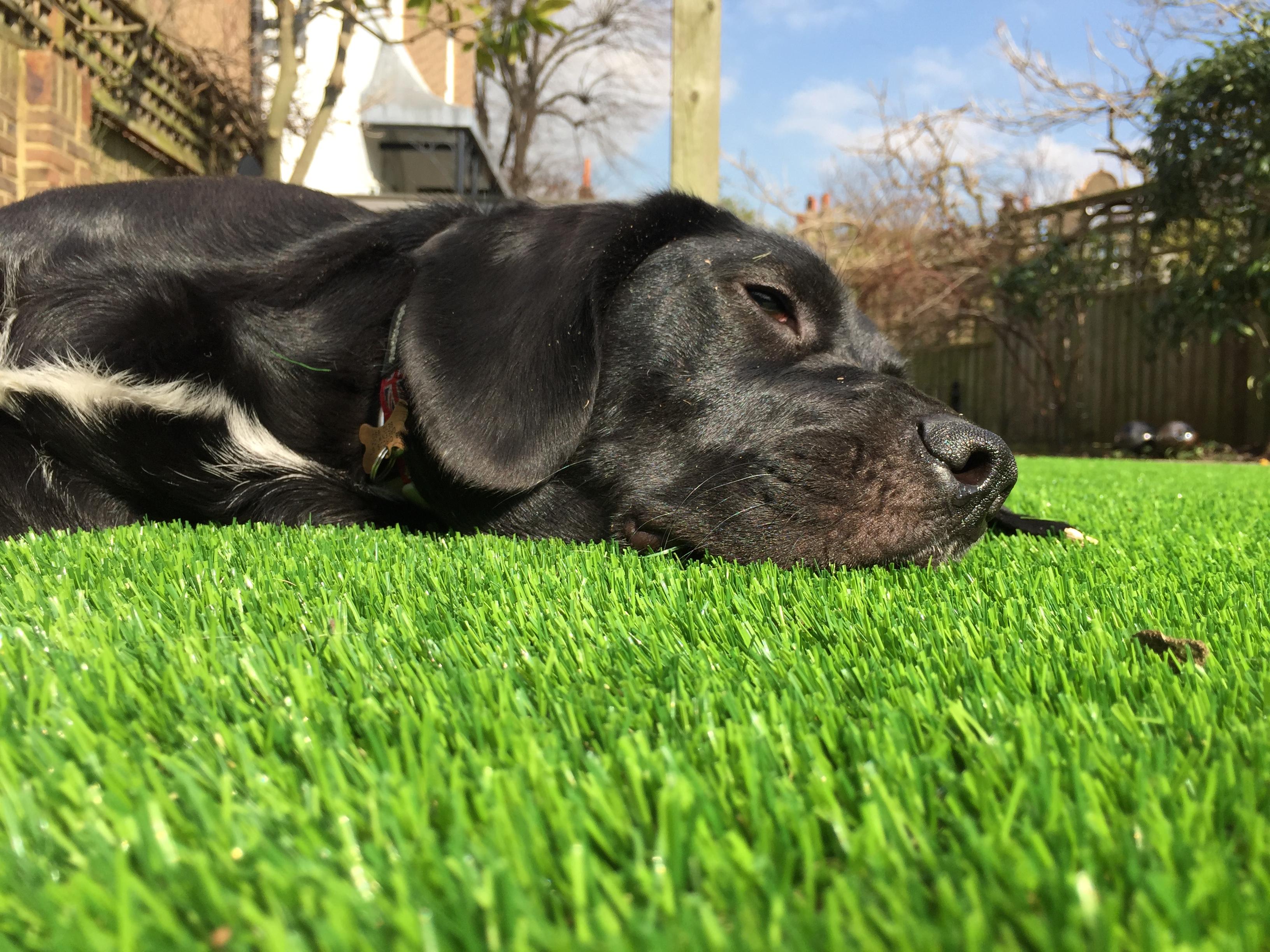 Basildon in Essex is just under 30 miles away from our base in Shorne, Kent. Similarly, it is less than 35 miles away from central London, making it a bustling town of hard-working commuters. This lifestyle doesn't always leave a lot of time to dedicate to gardening, resulting in us being one of the leading artificial grass suppliers across Essex.
Artificial grass has been steadily growing in popularity across the United Kingdom for many years, with an increasing number of families and businesses opting for a low maintenance, high-quality artificial lawn solution. Artificial lawns come with a whole host of benefits, and here are just a few that our Essex customers have told us they love:
Looks Great
It looks luscious and full of life all year round, meaning no unsightly brown patches in the winter months
Safe
Artificial grass is family friendly, providing a safe surface for adults, children and pets alike
Low-maintenance
It's low maintenance, with hours of weeding and mowing replaced by only occasional brushing
Eco-friendly
You save water as there's no need for sprinklers in the summer - the perfect antidote to the dreaded hosepipe ban!
Utility bill savings
The reduced maintenance saves you money with lower water and electricity bills
Artificial Lawn Company supplies luscious-looking lawns across the Essex region so that even the busiest of people can have the loveliest of lawns. We promise that our lawns will be consistently appealing all year round.
Voluminous Fake Grass Basildon
Your garden is in good hands when it comes to Artificial Lawn Company. With over 20 years of experience, there isn't much that we cannot handle. In this time, we have successfully crafted a near-perfect imitation of real grass.
Although we offer the best quality, our prices are in no way extortionate, and even the cheaper ranges are extremely robust. We have worked to develop shaped fibres that retain their springiness for years on end. Furthermore, you can be sure that your lawn's colour will never appear dull, thanks to our unique blend of vibrant colours.
The vibrancy and integrity of the fibres will endure the test of time, with our lawns typically lasting anywhere from 12 to 15 years.
Installation Service in Basildon
For the best results, you can hire our experienced team to install artificial lawn to your Basildon property. We would always advise you to get your fake grass professionally installed, as we are the best equipped to ensure that your lawn will withstand anything that is thrown its way. In the absence of a specialist, your lawn may be clumsily fitted with visible lumps and obvious seams. However, our grass experts have the means of implicating an effortlessly smooth finish.
If you wish to find out more about our professional installation service and receive a quote for artificial grass in Basildon, click here.
A Collective Solution
Everyone craves an effortlessly stunning garden space; however, the unpredictability of nature does not always make this an easy feat. Instead, artificial lawn can be applied to any space and does not present you with any nasty surprises. Here at Artificial Lawn Company, we install in old, new, residential, and commercial spaces, meaning the possibilities are endless.
If you do not have an abundance of time, sunlight, or gardening expertise, artificial grass could be the solution that you have been searching for.
Buy Artificial Grass in Basildon
If you would like to learn more about the possibility of incorporating synthetic grass into your Basildon property, please get in touch. Our team will be able to provide you with both product and installation information before you place your order. Similarly, you can consult our list of where we work to check if we are in operation in your area.
Hear From Our Customers
"I'd just like to say that the team worked so hard, and their attention to detail made a great deal of difference to me. It was their professionalism, that made me feel that I had made the right choice… thank you to all at the Artificial Lawn Company."