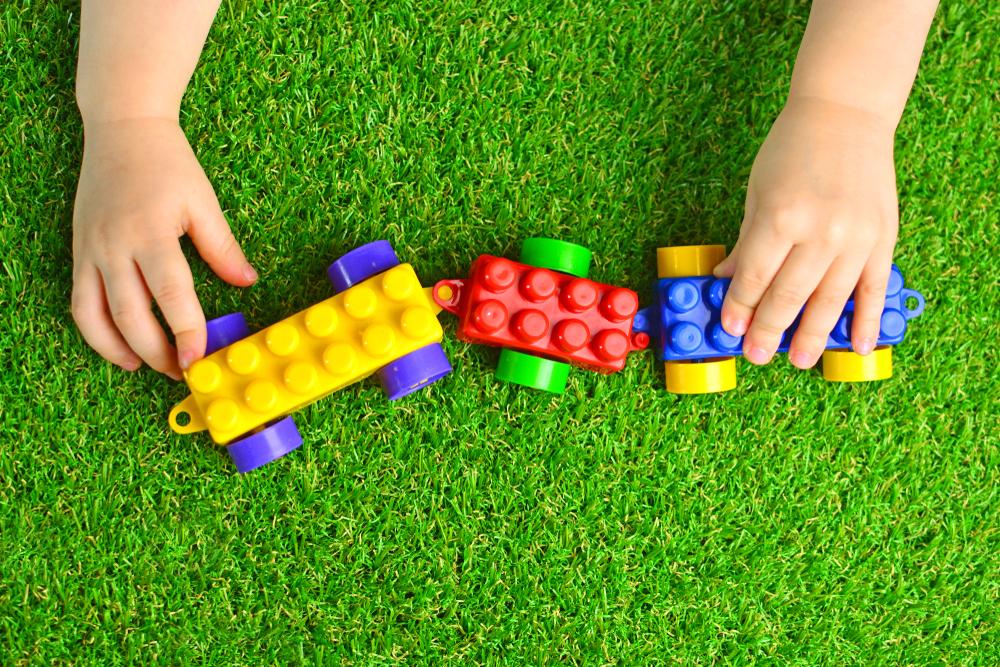 We have been installing artificial grass for more than 20 years, and over that time we have evolved our range of fake lawns in line with the latest technology. Despite there being huge advancements in the artificial grass sector, many people still believe common fake grass myths that have long been proven to be false.
To help dispel some of the misconceptions, we've put together this list of common artificial grass myths that you shouldn't take notice of.
1. Its not compatible with pets
One of the main myths we hear about synthetic turf is that it's not compatible with pets like cats and dogs. This notion likely comes from a toilet training point of view, but it couldn't be further from the truth. Artificial grass is actually a great choice for pets because it's extremely durable and hardwearing, meaning your pet can play and run as much as they like without risk of damaging the lawn.
In terms of going to the toilet, artificial lawn is installed with drainage in mind, meaning urine can easily pass through the lawn and drain away as it would with natural turf. If you're concerned about there being a concentration in one specific area, you can simply hose it away with water or use some diluted jeyes fluid or another cleaner.
Another concern is that over time, the urine might stain or discolour fake grass. Artificial lawn is designed so that it will not discolour, stain or damage from urine and is also highly UV resistant.
The final concern that perpetuates the pet myth is that fake lawn is rough and hard under paws, making it uncomfortable for pets to walk, lay, and play on. At Artificial Lawn Company, our grasses are designed to be as soft and natural feeling as possible, meaning they're perfect for dogs, cats, rabbits, and any other pets who enjoy spending time outdoors.
Artificial grass is so compatible with pets that it's used at Crufts – the world's leading dog show! We have supplied Crufts with the statement grass that is synonymous with the show, and you can buy the exact lawn for your own dog at a competitive price.
2. Its not child-safe
It's not just pets that people think can't use artificial lawn – there is a myth pertaining to fake grass being unsafe for children, too. Many people assume this because real grass is known for being soft, making it ideal in playgrounds and gardens where trips and falls may happen. Whilst real grass is a soft and safe landing, artificial grass is, too.
Most of the time, synthetic lawns are installed in place of natural turf, meaning they're placed atop the same earth (although a subbase is laid on top for drainage and stability). If you're concerned about softness, you can purchase an additional shock pad which absorbs the impact and makes for an even softer landing should a fall or trip occur.
Not only is fake lawn as soft as real grass, it's actually more accessible and overall safer, too. This is because before it is installed, the ground underneath must be completely flat and even. Natural turf often has dips and bumps, posing a trip hazard and making it difficult for disabled children to use the play area or garden. All of these imperfections are smoothed out and amended using the subbase, ensuring a far smoother and safer surface.
What's more, there's no slip hazard in winter when mud gets churned up due to the grass getting soggy – there is no mud which means fake grass remains usable all year round! The durable fibres also mean it's capable of withstanding the rough and tumble of children, making it a great option if you want to avoid dead or bald patches of grass.
3. Its hard to clean
Some people are put off buying artificial grass because they believe it will be difficult to clean. This likely comes from the notion that it is like carpet. Whilst this is true, it's not to be confused with indoor carpet. Artificial grass is, as mentioned, very hardwearing, meaning it doesn't need much in the way of maintenance.
All you really need to do is give it a sweep regularly using a stiff bristled brush to lift up the pile and also clear the area of debris when required. This will keep it looking clean, pristine, and looking like new. If you have pets, any mess will need to be removed and then a little hose every now and then to help reduce the chance of any nasty smells.
4. It wears out quickly
Artificial grass comes with a higher price tag than traditional turf, and many people don't want to invest because they believe it's not worth the price due to it wearing out quickly. This is potentially one of the biggest artificial lawn myths. Our lawns are made using expert shaped fibres that bounce back time after time, no matter how many feet tread on them or how rough playtime is.
In fact, our lawns all comes with a 10 year guarantee and typically last up to 12-15 years. This makes them a fantastic long term investment that will actually end up saving you money in the long run. This is because unlike real grass, fake grass doesn't die out. It won't become dry or dead during summer, and it won't require re-seeding or watering to keep it alive and looking luscious. What's more, repeated use won't churn it up.
5. It pools water
The final popular myth surrounding artificial grass is that it pools water when it rains, therefore making it soggy and unpleasant. Provided you get your lawn professionally installed, there will be adequate drainage throughout with your artificial lawn installed onto a free draining crushed granite base. The actual grass itself also has drainage holes punched into the backing, ensuring rainwater trickles away and doesn't sit on top of your grass for days on end. In fact, it will greatly improve the drainage of most gardens so that even after heavy downpours, a little sun on the grass and it will quickly be dry again.
Find out more
If you have any questions about artificial grass, or if you've heard some myths that you want to fact check, please contact us and we will be more than happy to help you separate fact from fiction, resulting in a more informed buying decision.