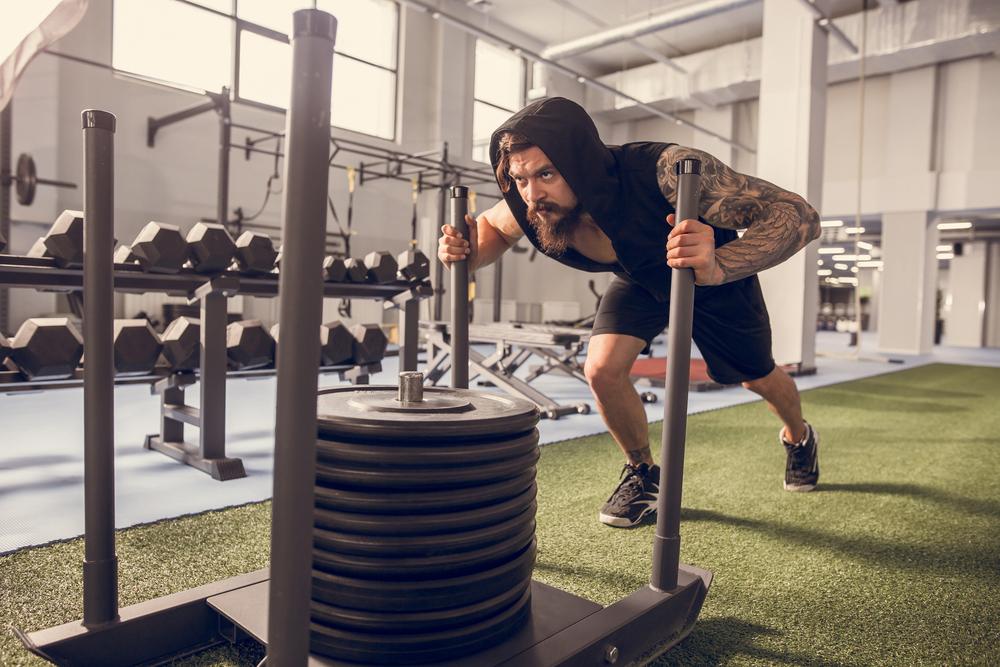 Gyms are very unique spaces in the sense that they require an intelligent design process to make them as practical and functional as possible. To some extent, you could simply get some exercise equipment, put it in a room and call it a gym, but whether you are creating a home gym or a commercial one, for many that simply won't be adequate.
There are a host of other considerations to keep in mind when putting together a workout space - from lighting and equipment layout to temperature and ventilation. In this guide, we want to talk about flooring options – in particular, artificial grass for gyms.
At Artificial Lawn Company, we specialise in both supplying and installing artificial grass throughout London and the South East. Boasting over 15 years of experience, we know all there is to know about this incredibly versatile material and why many gyms choose artificial grass as a flooring solution.
Here are some of the major advantages of artificial grass you should keep in mind when creating your own home or commercial gym.
Fast Installation
Firstly, synthetic turf is quick and easy to install if you have the experience and knowledge. If you're looking to create your workout space quickly and efficiently, then artificial grass is a great high-speed choice.
Made using a combination of durable plastic memory fibres sewn into a carpet-style backing, artificial grass can be laid similarly to traditional carpet – in rolls with jointing tape and adhesive to create a seamless finish. The main consideration to take note of is ensuring a consistent direction for the grass so that it is uniform in finish.
Customer Engagement
For commercial gyms, artificial grass doesn't just offer a practical flooring solution but a profitable one too. There are a few key factors that gym-goers consider when deciding what gym to join – price, services, amenities and atmosphere. Whilst price, services and amenities tend to be intertwined and self-explanatory, the atmosphere can be much harder to grasp or improve.
Each gym has a target audience, whether it's the casual exerciser, the weightlifter, the boxer or something different. Each audience is enticed by a slightly different workout environment, with boxers and professionals preferring a more serious space compared to casual exercisers. Artificial grass is an unconventional and quirky flooring option which is incredibly accessible, appealing to the masses and adding a relaxed element to the gym's ambience. Perfect for non-specialist workout establishments.
Easy Maintenance
A clean and tidy environment is essential for gym success. Not only does an orderly space help ensure everyone can find and use the equipment they'd like to, but it also helps maintain health and safety which is obviously fundamental. Building further on this, marks and stains in a commercial gym environment are sure to put off potential customers. Whilst everyone knows that gyms are naturally sweaty and a little dirty, the truth is, they don't want to see it – which is why it's important to pick a flooring option which hides these blemishes.
Artificial grass is extremely easy to clean and maintain, all you need to do is manually remove the larger debris and give the surface a quick brush afterwards. Other than these steps, synthetic grass can be left for years and still look spotless.
Durability
One of the most prominent advantages of artificial grass gym flooring is its innate durability. At Artificial Lawn Company, we stock a range of different synthetic grasses, each with a slightly different appearance and specification, but all share the same long-lasting, high-quality manufacturing. This way, you can ensure your gym's floor is a long-term investment that will last years to come.
Grip and Friction
The memory fibres that make up modern artificial grass are expertly designed to offer a combination of realism, natural variation and grip. Non-slip but still easy to travel over and use, synthetic grass offers many of the advantages that traditional rubber gym flooring provides whilst maintain versatility and attractiveness.
Shock-Absorbent
Artificial grass offers a natural 'give', absorbing energy during falls and offering an easy method of reducing impact injuries. This is made more effective when the artificial grass is installed with one of our shock absorbent underlays, offering up to 35mm of additional energy dissolving rubber underneath the grass surface. A great choice for bodyweight exercise spaces where falls can be common.
Speed Sled Suitable
Speed sleds are a popular workout item, offering a range of different exercise opportunities for a range of muscle groups. In particular, speed sleds are great for sports-focused gyms, where athletes want to develop speed, acceleration, lower body strength and endurance. However, due to the nature of speed sled design, many gyms have to invest in specialist flooring to cater to them, as traditional rubber mats do not permit smooth motion.
Artificial grass is a great choice in this dilemma, offering free motion for speed sled usage whilst also being strong enough and safe enough to remain practical throughout the rest of the gym environment.
Hypo-allergenic
Made of plastic and easy to clean, artificial grass is hypo-allergenic and will help avoid lots of sneezing in the gym. This is a major point for improving customer experience and keeping them coming back; or, in a home gym, for making sure that you don't find yourself becoming sick every time you workout. Note that hypo-allergenic flooring is particularly essential in spaces where gym users are likely to be on or close to the floor, such as floor mat zones.
Aesthetically Attractive
Synthetic turf is also a worthwhile addition to the gym environment because it always looks good. Artificial grass for gyms is great at separating areas from one another, creating pristine, clean-cut lines and boundaries that remain durable after months or years of continual use. As mentioned previously, this is further assisted by the way that artificial turf hides marks and how easy it is to clean.
Can Be Both Temporary and Permanent
Finally, you aren't caged into a specific choice for your gym when it comes to artificial grass. If you only want to use your synthetic turf during the summer months, it's easy to roll it up and move it to a storage area for the rest of the year. Similarly, if you find it is popular, a permanent installation is quick and easy – it all depends on your gym's purpose, user-base and goals.
With these points in mind, it's clear that artificial turf has potential as a gym flooring solution. Be sure to view our range of artificial grasses today or for more detailed information and bespoke advice, contact our dedicated team.