Artificial grass is one of the most useful and versatile garden improvements you can make. There are countless applications and uses of artificial grass and due to its natural durability, you can be sure that it will last too. However, deciding exactly how you want to include synthetic turf in your front garden can be a little difficult; fortunately, we're on hand to help you make your final choice.
The Artificial Lawn Company team have extensive knowledge and experience installing artificial grass across London and the Home Counties. Using this, we have put together this guide to some of the best ways to use synthetic grass in your front garden. By the end, you should be armed with a few more ideas to inspire your next garden makeover!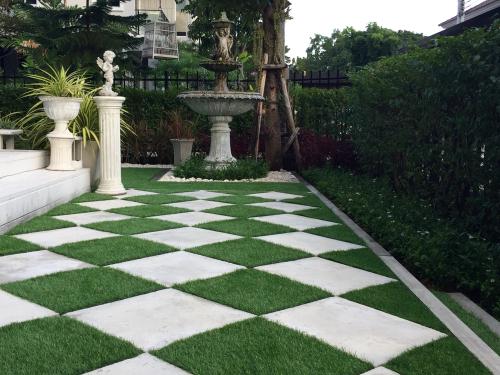 Embedded Pathways
Our first artificial grass idea that works well for your front garden is the use of paving to create intricate, attractive paths. Most of the time, creating a quaint path to your front door comes with a host of different challenges. Firstly, you have to dig out the turf and then, even after you have finally got the path in place, the natural grass and earth surrounding it means you'll spend your summers continually edging, cleaning and weeding your path to keep it looking good.
Artificial grass is perfect for avoiding this. Not only can artificial grass be cut to perfectly fit your new pathway, but it won't need to be continually trimmed at the edges to remain in shape either. Plus, the weed-resistant membrane that artificial grass is installed with will help you save plenty of time that would usually be reserved for weeding.
Not to mention, it looks good and saves you a lot of hassle so you really can't go wrong.
Water Features
Water features are seeing a resurgence and if added tactfully, they can really add something special to your front garden. One of the best parts about combining water features with your artificial lawn is that they can be installed together. This is especially important if the work on your front garden is causing a lot of disruption for you on a day-to-day basis, as it saves two bouts of uprooting your garden layout.
Water features are amazing for adding a little something special to your outdoor space and creating an engaging environment with natural movement and sounds. For visitors, water features are incredibly interesting and can make all the difference when you're looking for that wow factor. It's just about finding the piece that suits your style, décor and personality!
Texture Shifts
Another great way to amplify the artificial grass in your front garden is to include multiple different textures in the garden experience. Whilst artificial lawns look great on their own, adding other materials can both make them look more impressive and add to the general feel of the space you have created.
Try lining the edges of your lawn with gravel and pebbles or even implement a paved path with gravel skirting and a sweeping, pristine artificial lawn to surround it. Combining these different looks and materials into a single experience is satisfying to look at and a pleasure to walk through; perfect for impressing visitors and making your time walking to the door more enjoyable. Not to mention that once in place, this combination requires little-to-no maintenance too, looking great all year round and in all weather conditions.
Sleek and Discreet
For a much more classic look, stick to the elegance of simplicity. Clean-cut edges and complementary, colourful flower beds can add a big wow factor to your artificial lawn and front garden. No need to get flashy with it, often people value the basics more than anything else.
Make sure to consider the colours already present in your front garden and pick new flowers accordingly. Alternatively, small fruit bushes can create a more homely feel and yield treats during the summer months. Often, the best technique is a combination of both, or even the addition of a fruit tree somewhere in or around your artificial lawn to create that added layer of depth.
Whatever your preference, don't be afraid to keep it simple.
Grass Staircase
As a final idea, if you have steps leading up to the front of your house, covering them in artificial grass can create a unique and eye-catching look. As artificial grass is stitched into a fabric backing, it can be laid in a similar way to a conventional carpet, making installation onto a staircase quick and easy.
Clean-cut steps are a man-made feature of any garden but there's something about adding a natural look to them, either with artificial grass, wildflowers or both, that looks incredibly satisfying. If you have steps in your front garden, experiment with how you can add something special to them based on the already established décor of your outdoor space. As long as you're satisfied with how your garden looks, you can't really go wrong!
These five ideas are perfect for artificial lawn owners who want to take their front garden to the next level. At Artificial Lawn Company, we specialise in providing completely bespoke artificial grass installation services and products throughout London and the surrounding area. If your next front garden project requires an artificial grass upgrade, don't hesitate to get in touch with our team and walk us through your project for tailored advice and unrivalled service.