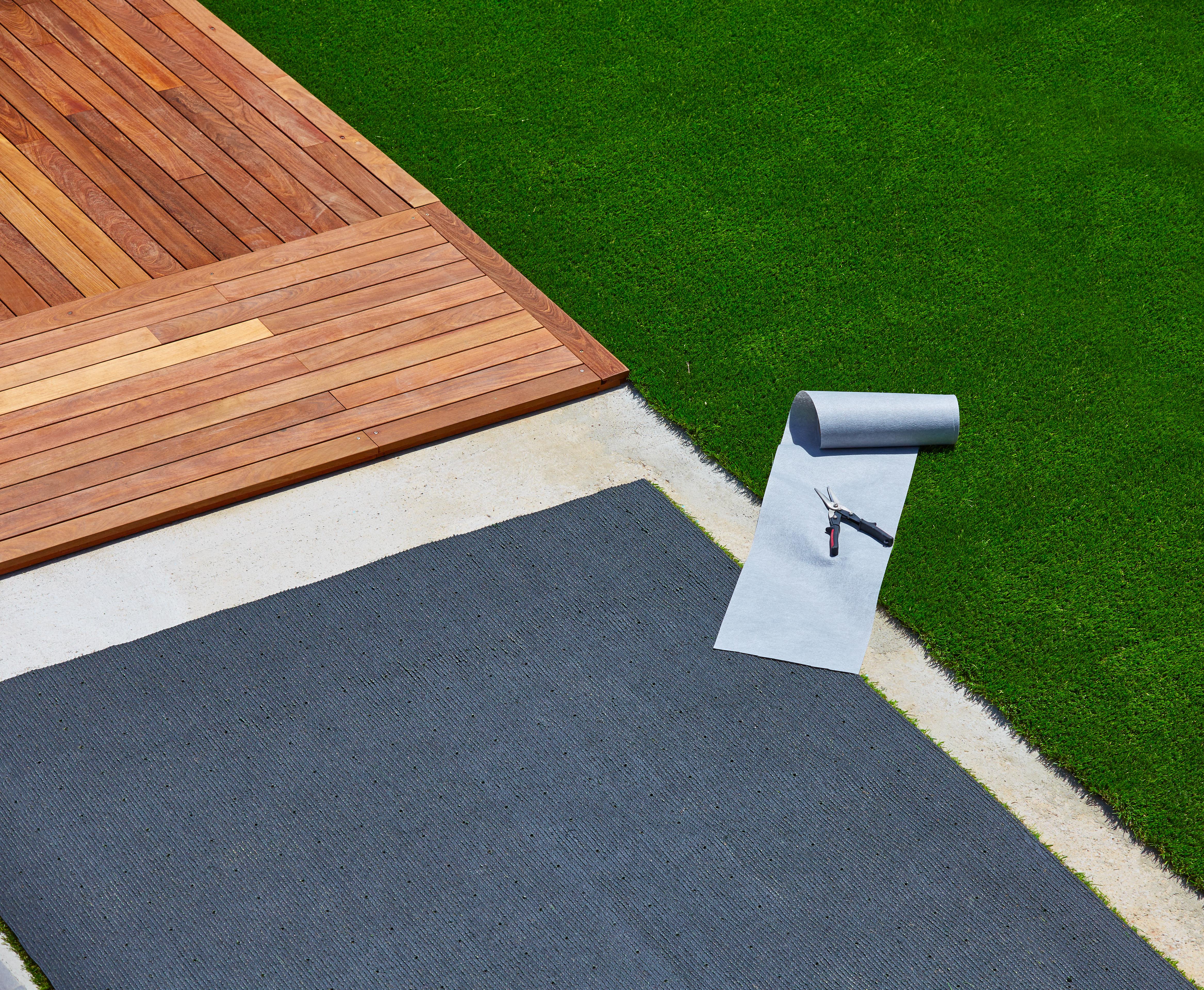 Anyone who has purchased artificial grass for their property understands that it is an investment and requires the proper equipment to be looked after. It is a low-maintenance solution that doesn't demand weekly cuts and watering like real grass, but ensuring that your synthetic turf comes with extras that will keep it looking and feeling its best is a must.
Here, the Artificial Lawn Company team will delve into the list of artificial grass accessories that any owner should have in their arsenal, such as adhesive, jointing tape and more. Some are vital to ensure a smooth installation, while others will come in handy during the weeks, months, and years after it has been laid.
Jointing Tape
When artificial grass is laid in the garden (or wherever it is being installed), jointing tape (sometimes called joining tape) is necessary for the installation. Jointing tape is laid under the turf where the seams of two rolls meet. This is to make sure that the rolls of artificial grass flow neatly together and don't ruin the aesthetics of the lawn. Without jointing tape, there is a risk that seams will be visible, taking away from the natural appearance that even the highest quality synthetic grass offers.
While our installation team will use jointing tape as standard as part of the service, this can be a vital accessory that is easily missed by DIY fitters. There is little more annoying than thinking you have done a job well done, only to find mismatched joins that simply look messy. As well as from an aesthetic point of view, having mismatch seams that are not joined together is a safety hazard, with the potential for trips and falls. Our installation team will always ensure that every artificial lawn we fit is installed to the highest quality before the completion of the project.
Jointing Adhesive
Along with jointing tape, the adhesive is equally as important. The adhesive is used along with artificial grass jointing tape to create a smooth seam that will remain for years to come. Using incorrect, low-quality adhesive risks the overall quality of your new artificial lawn, with the potential for seams to lift and come away from the tape.
When used, the person responsible for the installation must ensure that the two rolls of artificial grass flow in the same direction before fitting into place. Once the adhesive has dried, it can prove problematic to remove the fake grass from the tape and re-lay without damaging the material. Precision is key where artificial lawns are concerned if you wish to achieve the best possible finish.
Geotextile Weed Membrane
Another worthwhile extra that is worth incorporating into your installation is a geotextile weed membrane that will help to stop annoying weeds from poking through your artificial surface. While the presence of a sub-base and the artificial lawn itself will certainly not do any favours for potential weeds growing underneath, it isn't the ultimate solution for nuisance growths. This is why a weed membrane comes highly recommended by our team for anyone who wants to ensure that their low-maintenance lawn remains exactly that, and you need not spend hours and money spraying weed killer to keep your garden looking its best.
The weed membrane sits below the artificial grass surface on top of the ground it is being laid on, acting as a barrier against unwanted growths. As well as protecting against unsightly weeds poking through the artificial grass, the membrane also retains excellent drainage properties which, during the wetter and colder months, will allow for heavy rainfall to effectively clear away which reduces the risks of standing water on your lawn.
Shock Pad
An underlay is useful for environments where artificial grass is to be installed where children are likely to be playing on the surface, such as for gardens with children living in the household and playgrounds. This provides an extra level of protection against tumbles and falls which, as any parent or guardian knows only too well, are often unavoidable. Without a shock pad installed underneath the artificial turf, which provides the realistic soft feeling of walking on a real field or lawn, there is an increased chance of injury.
From Artificial Lawn Company, two types of shock pads can be invested in, which are Lawnflex and Grassflex. Lawnflex is an 18mm-thick underlay made up of fused polyethylene foam pieces which offer a suitable solution for draining water away from rooftops, decking and concrete areas. However, we would always recommend the 35mm-thick Grassflex underlay as a more suitable solution for areas with children, which has a tested fall height of 1.5m.
Grassflex is a popular choice for households with children, schools and sports facilities with artificial pitches in order to reduce the risk of serious injury.
Hosepipe
It is likely that if your property has/had a real grass lawn, you will already have a hosepipe that was used to water the grass area. If you do not have one, then consider investing in a hosepipe as this will help to clean your synthetic turf – especially if you have any pets that are likely to do their business on it.
You won't have to constantly water your artificial lawn in the same way as you would with real grass; having a hosepipe to hand will help on the occasions where cleaning up after animals and/or any spillages is needed. The last thing you want are smelly odours ruining your pristine lawn.
Broom, Brush or Plastic Rake
A final key accessory for any perfect artificial lawn is a broom, brush or plastic rake. These are the best tools for lifting the pile of the artificial grass after it has been used. It is best to brush the lawn against the direction it was laid for the best results with minimal effort. A broom is also a quick an easy way to remove debris from the lawn as well as lifting the pile. If your lawn has a lot of surrounding foliage then a leaf blower could also be a great investment for you!
Get in Touch with Artificial Lawn Company
If you would like any more information on the best accessories our team recommends for your artificial lawn, or if you are interested in investing in synthetic turf, please get in touch with a member of our team today.