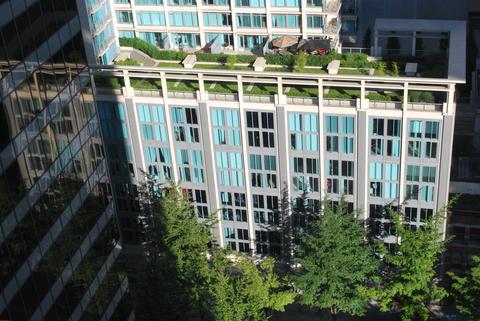 A top floor apartment in a big city will often come with a roof terrace, and you can be left wondering what you can do with it. The grey surroundings and traffic noise can leave even the most optimistic people feeling a little unenthused. But what if we told you that you could have a luscious, year-round green lawn that imitates those magazine rooftop terraces? Read on to find out more or click the link to view our gorgeous lawns.
How do they do it?
Jealousy is often associated with the colour green, and with an artificial grass roof terrace or balcony, that is certainly the colour your neighbours will be turning. People often don't realise that those picture-perfect lawns seen in magazines are, in fact, fake grass. It can be laid within a day and will last all year round with little to no maintenance. What's more, is that its durability will leave it intact for years to come.
What about the rain?
Artificial grass is ideal for balconies and outdoor spaces; it is lightweight and has the capability to drain away heavy rainfall in a very short amount of time when used alongside our 18mm Lawnflex underlay. If you were concerned about the additional weight going onto your roof, we would recommend not infilling your artificial grass (as this is what adds most of the weight). The underlays are also very light and will not add much additional weight to your installation.
All our grass is made with drainage holes so that the rainwater can effectively drain away across the roof. However, our Lawnflex tiles offer much better drainage and make for a more cushioned surface, without extra weight, making this the ideal fake grass for your balcony.
How do I look after it?
You don't! With artificial grass, there is little maintenance involved. We only recommend that you keep any debris (such as leaves) off of the grass to prevent it from breaking down into it. If you need to, you can wash it down with a mild detergent, or give it a brush down. Aside from that, you don't need to water it, worry about any decolouration or bald patches.
Which grass would be best for my terrace?
In order to help you get the ideal look and feel for your artificial grass balcony design, you can contact us for samples of each of our grasses. You can then get a feel for the texture, which is especially useful if you're likely to have pets or children on the grass because the texture could affect your final choice. We can help you decide which lawn would best suit your requirements and our helpful staff will talk you through the process.
Can I put garden furniture on my fake grass?
Yes! Part of the enjoyment of fake grass is that it is a better version of natural grass; you can treat it as you would a normal terrace or garden. So, whether that means topping it with your outside dining table or your sun loungers, don't hold back! All it will take is a quick brush when you move the furniture to get the grass back upright and looking it's best. The only thing you cannot do is use a barbecue on your artificial grass surface.
It is entirely possible to transform your urban terrace, balcony or rooftop into a peaceful, green retreat without the burden of upkeep and maintenance. Great news for when you have friends over for a summer party, and you needn't worry about heels sinking into the ground, or bugs crawling into the plate of tasty goods you placed on the floor. You will find the best artificial grass for your balcony right here from Artificial Lawn Company.