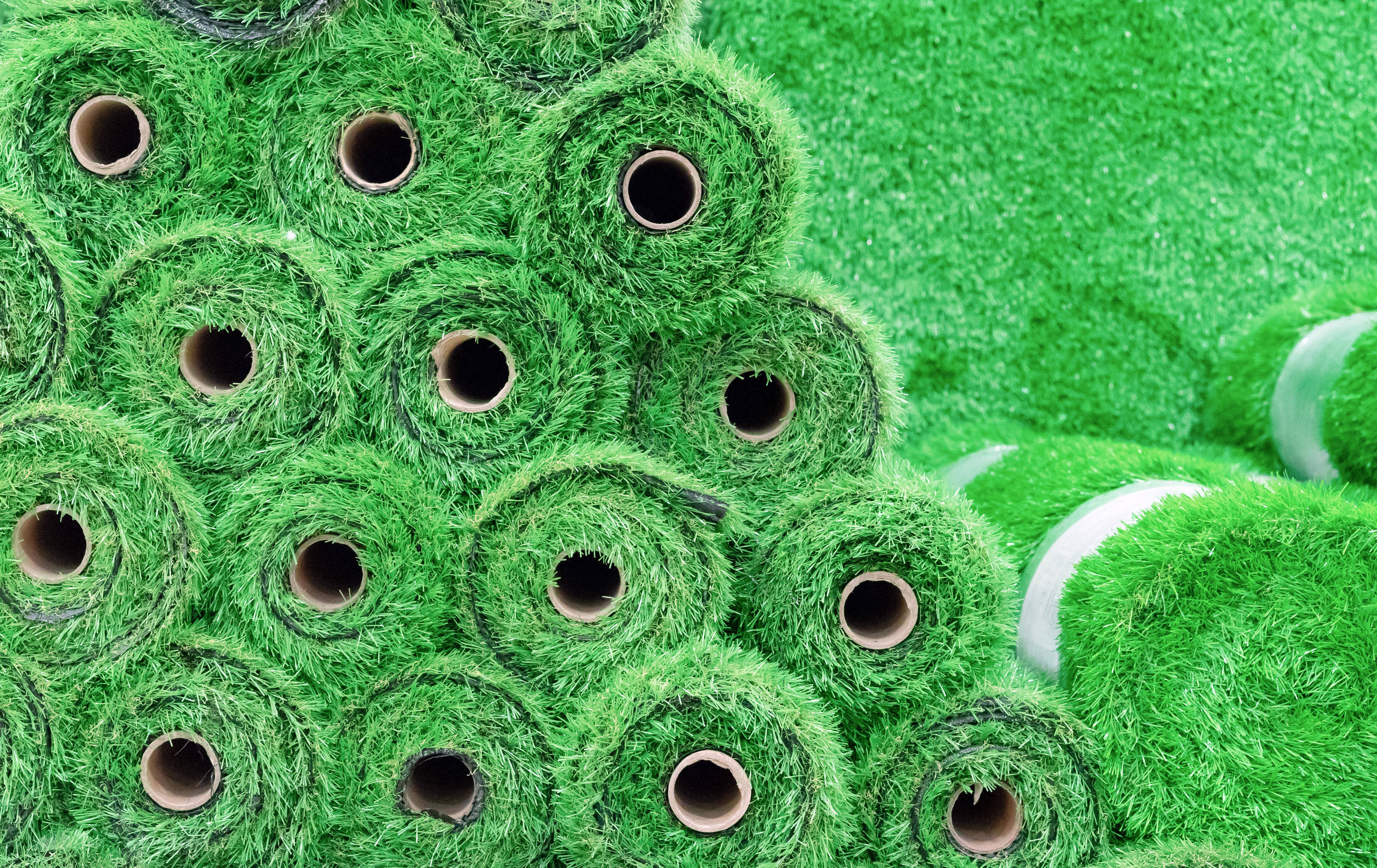 Here at Artificial Lawn Company, we live and breathe synthetic turf. We've been in the industry for a very long time, so what we don't know about fake grass isn't worth knowing! Over the years, we've accumulated lots of nuggets of knowledge.
For the fact-lovers amongst you, or for those simply looking to learn more about artificial grass, we've put together a list of five interesting artificial grass facts you might not have already known.
1. Artificial grass looks modern, but it's over 50 years old
Fake grass is often associated with modern, contemporary houses and architectural feats. This tends to give people the impression that it's a new concept that came to prominence within the last 10 or 20 years, but this isn't the case.
Artificial grass was developed in the 1960s in America and has been used around the world ever since. Although it was originally used in a sports capacity, it has become more common in residential homes as time has gone on. Despite the seemingly new rise in people buying fake grass, it has long been used and will likely continue to be a go-to option for many homeowners over the next 50 years and beyond.
2. Fake grass isn't as damaging to the environment as you think
There is a misconception that artificial grass is extremely bad for the environment because it is made of synthetic plastic fibres. Whilst it is made of plastic, it's not quite as bad as it's made out to be. The first thing to note is that, unlike a natural lawn, synthetic grass doesn't need to be watered. Water is a finite resource. Only 1% of all the fresh water on Earth is accessible to humans, and various countries around the world are already feeling the effects of water shortages.
Artificial lawn won't solve the water shortage problem, but it will go some way to helping it. In addition, there are no harmful pesticides and chemical weedkillers that need to be used, nor is there a need to use electric and petrol lawnmowers. On top of this, our grasses can last well over a decade and are not a single use plastic which cause a lot of issues globally.
3. Your synthetic grass won't fade for years
Thanks to the way in which artificial grass is manufactured, which includes the use of UV inhibitors, this means that your lawn will stay lusciously green for many years to come. The UV inhibitors are incorporated into the yarning process, which means that each synthetic blade of grass will hold its colour for at least a decade.
That's unlike the real things which, as anyone who has ever been responsible for the upkeep of a real lawn will know, will turn yellow and patchy after just a few days of inadequate rain and sunlight. That's one less thing to worry about!
4. Artificial grass is effectively an outdoor carpet
If you've ever purchased a carpet, you'll probably be familiar with terms like 'pile length' and 'pile type'. You'll likely also be familiar with taking measurements in metres². Artificial lawn follows the same lead as carpet. In fact, you can think about synthetic grass as an outdoor carpet. The two are manufactured in a very similar way, but the main differences are the materials used, the installation process and the fact that fake grass has drainage to allow water to pass through.
If in doubt about measurements, think about your garden as a room in your house that needs a new carpet, otherwise, get in touch with our team and we'll be able to provide professional guidance and advice to help you.
5. A quarter of UK gardens don't have real grass
You'd be forgiven for thinking that artificial grass is still in its infancy, but it's not! Many people assume that in order for a garden to be classed as a proper 'garden', it has to have grass. The reality is a lot of people don't get along with grass (muddy paws, tiny feet or allergies). In addition, many people have small gardens and don't have the space for lawnmowers and garden tools. On top of this, many people simply don't have the time to tend to a real lawn, or they struggle to grow it due to shade from the sun and it ends up looking messy.
With this in mind, it's no shock that one in four of all UK gardens doesn't actually have grass! Gravel, paving, decking and fake grass are a feature in a quarter of all homes.
Contact Artificial Lawn Company
If you want to find out more about our fake grasses, or if you have a specific question about installation, please contact us. We will be happy to help and share more interesting facts with you!