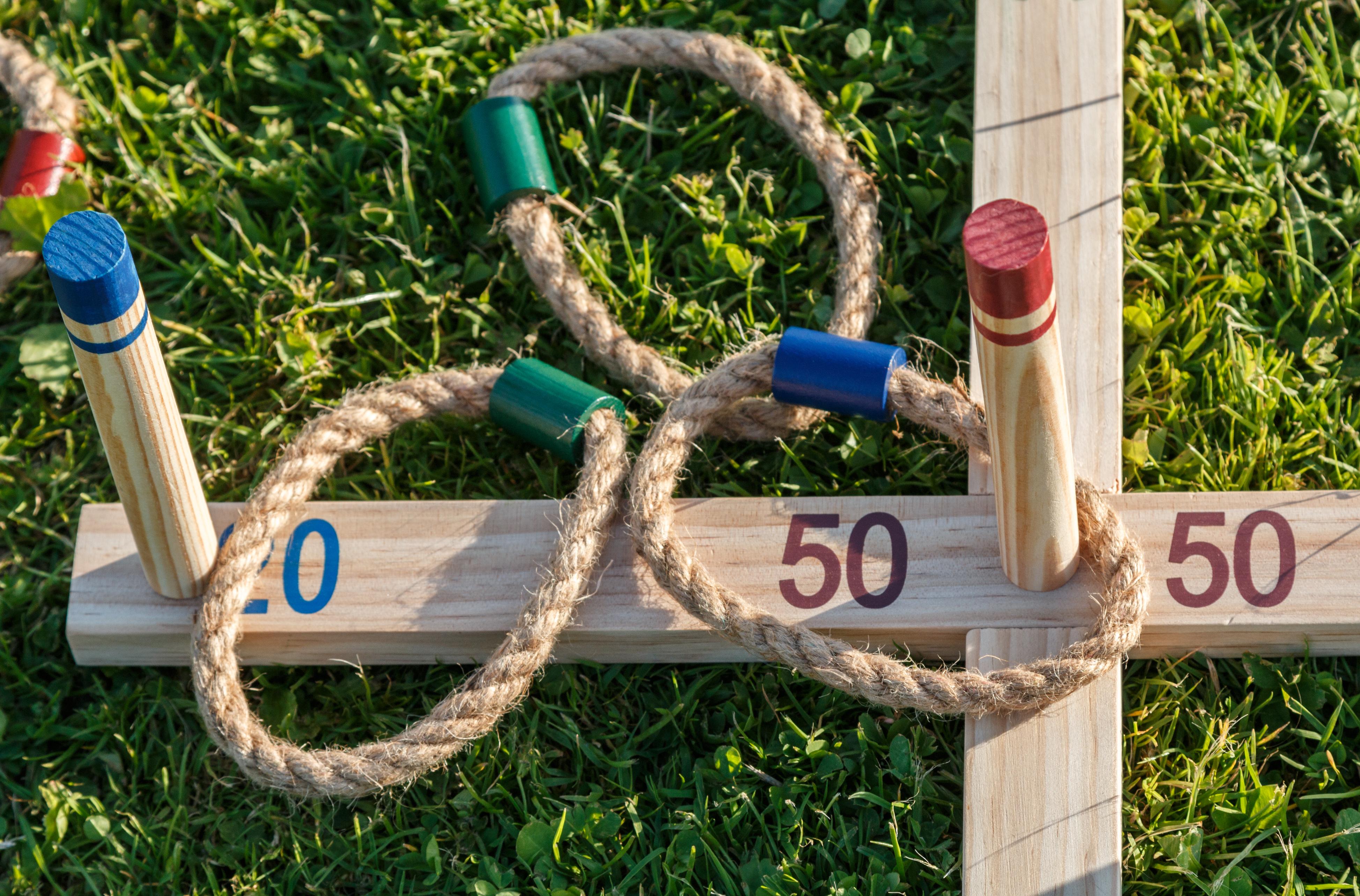 Summer is finally here, which means the sun is out and most people will be looking to spend some long-awaited time outdoors whilst the weather is fine. It's not just children who can have fun in the sun, though! There are so many ways adults can enjoy quality time outside beyond a simple BBQ and social catch-up.
If you've recently had a luxury residential artificial lawn installed and want to make the most of it this summer, or if you're just looking for outside-the-box ways to entertain adult friends and family, here are some fun garden games for adults you can try.
Quoits
Quoits, also known more commonly as ring toss, is a conceptually simple game but one that requires skill and patience nonetheless. The aim of the game is to toss a hoop onto a peg from a distance. Sounds easy, right? Wrong. Unless you have great hand-eye coordination and spatial awareness, you'll likely find this a challenge. Add in a healthy dose of competition from your nearest and dearest, and you've got yourself a fun-filled adult afternoon in the garden.
Whether you have a big or small garden, quoits doesn't take up too much room so should be a viable game for you to play.
Space Hopper Race
Almost every adult will have fond memories bouncing around on a space hopper in the garden as a child. Why not relive those memories and see if you're still as good at hopping as you used to be? You can buy affordable adult space hoppers online. Find something to mark out a start line and a finish line (a broom or a clothes prop will suffice), and let the fun begin!
You don't need to buy lots of space hoppers, you can race in pairs or threes and do rounds. This game tends to work better in slightly larger gardens.
Drink Pong
If you've got an outdoor dining table and some re-usable plastic cups, drink pong is within your reach. You can make the game alcoholic or non-alcoholic. Either way, it's a great way to round off an evening of dining and socialising.
Like quoits, drink pong requires excellent coordination and finesse. It's a highly competitive game, so if your friends are a competitive bunch, this is a good option for you. Simply fill 20 cups with a beverage of your choice (you can mix and match fruit punches, fizzy drinks or alcohol) and align them in triangle shapes on either side of the table (a line of four at the back, then three, then two and then one, mirrored on the other side of the table).
The aim of the game is to throw a ping pong ball into the opposing side's cups. If you get one in, they have to drink. As long as your garden has space for a table and people on either side, you will be able to play drink pong.
Giant Connect Four
Is there anything more fun than giant versions of classic games? Probably not, and that's why giant connect four is a great adult garden game. You can buy the set relatively affordably. The premise is the same as the classic tabletop version, just on a bigger scale. This is the perfect game to play in the background of a BBQ or a social gathering, and it doesn't take up much space, either. The unit itself is slim so will fit into almost any sized garden.
Giant Jenga
If you preferred Jenga to connect four as a child, you can rest easy knowing that giant Jenga is also a real thing. Jenga is notoriously a game of patience, forward-thinking and gentle hands, and the giant version is no different.
It is more suited to a larger garden because if the tower comes tumbling down, the last thing you want is for things to get broken or flowerbeds to get crushed. A spacious lawn is your best bet for this one.
Croquet
For something a little more sophisticated, why not try croquet? Whilst it has a reputation of being a fancy garden sport, the rules are actually very simple. The general aim is to get your ball through the hoop with a mallet. You may only hit your ball once, and you're not to touch anyone else's ball with your mallet.
Croquet requires room so is more suited towards medium and larger sized gardens. If you are keen to play but don't have enough space, you could always take your kit to the park and play there.
Limbo
The last adult garden game on our list is the old faithful limbo. It's impossible to look good whilst doing a limbo, so if you and your friends don't take yourselves too seriously and are happy to look a bit silly, limbo is a must-play game.
Limbo requires more height than anything else, meaning small, medium and large gardens can all play host to it.
Get Your Garden Game Ready
Do you want to play garden games but your garden isn't looking its best? If so, get in touch with our team and learn more about how we can use artificial grass to transform your garden into a perfectly luscious space that looks good all year round.