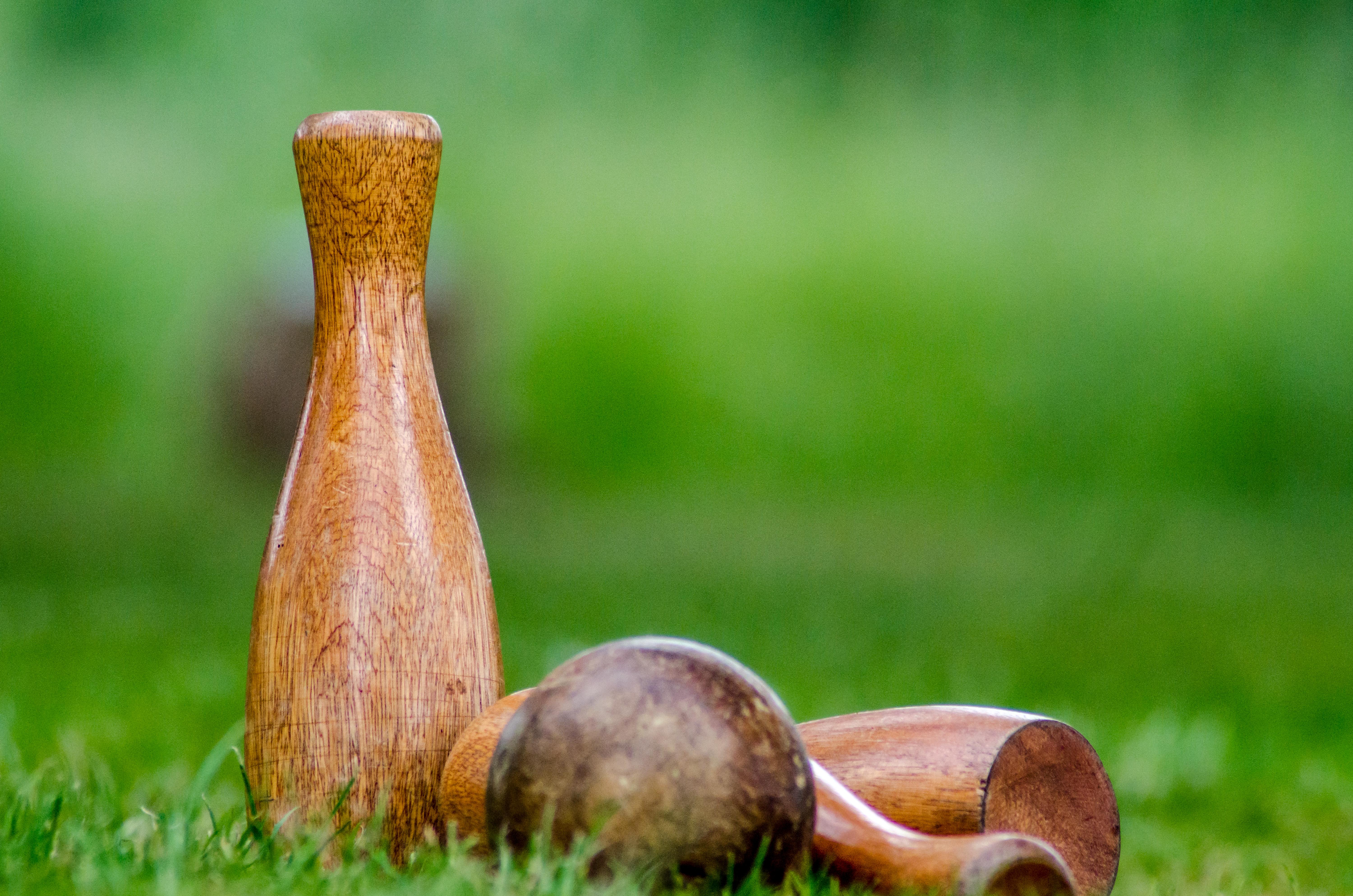 Summer is finally here, which means the sun is out, and most people will be looking to spend some long-awaited time outdoors whilst the weather is fine.
If you've recently had a luxury residential artificial lawn installed and want to make the most of it this summer, or if you're just looking for outside-the-box ways to entertain friends and family, here are some of the best family friendly garden games can try.
Skittles
Skittles can easily be set up, and the chances are that there will be a kit that is themed around some family favourite character(s), so getting the kids engaged shouldn't be too difficult.
Skittles won't damage your lawn and can be played in gardens of all sizes, making this one of the best family garden games, for all family friendly garden design ideas.
Swingball
Swingball is perfect for adults and kids alike. You will need to insert the swingball into your garden lawn. If you have a concrete or paved garden, you can buy weighted sets that can be filled with sand or water. In terms of garden size, as long as there is enough room for the ball to swing around, your family will be able to enjoy a light-hearted game of swingball. As a result, swingball effortlessly slots into all family friendly garden ideas.
Giant Snakes and Ladders
Classic board games like snakes and ladders are available in giant formats. Typically, giant snakes and ladders kits are 2m x 2m, so as long as your garden can accommodate a square of this size, giant snakes and ladders is one of the best garden games for family.
Target Ball
The aim of target ball is simple: throw the ball onto the target and try to rack up as many points as possible. Target ball typically works with hook and loop fastenings which means the ball is soft, so you don't need to worry about squashed flowers and broken windows! Consequently, all the best family garden designs in the UK accommodate target ball.
Sack Race
Sack races are a common feature of school sports days and are something people of all generations have taken part in. You can use almost anything as a sack, including bin bags, old duvet covers, and hessian sacks.
As it's a race, this will work better in slightly larger gardens or longer ones. In case of falls, it's best to play it on the lawn so that there's a soft landing.
Egg and Spoon Race
For the egg and spoon race, you must have impeccable balance and concentration, as well as excellent spatial awareness so that you don't trip on anything on your way to the finish line.
If you don't have a rubber egg, you can use a ball and tennis racket instead. Whatever you do, don't use real eggs! Whilst concentrating on the delicate balancing act, trips and falls may happen, so it's best to do an egg and spoon race on grass rather than concrete or paving.
Swimming Pool
If you have a natural lawn, you might be slightly put off by visions of large, dead patches of lawn and soggy soil, but if you have one of our luxury residential artificial lawns laid, you won't need to worry. You can keep the pool out all summer long!
Quoits
The aim of quoits is to toss a hoop onto a peg from a distance. Sounds easy, right? Wrong. Unless you have great hand-eye coordination and spatial awareness, you'll likely find this a challenge.
Whether you have a big or small garden, quoits doesn't take up too much room, so should be a viable game for you to play.
Space Hopper Race
You can buy affordable space hoppers of all sizes online. Find something to mark out a start line and a finish line (a broom or a clothes prop will suffice), and let the fun begin! This game tends to work better in slightly larger gardens.
Drink Pong
For drink pong, simply fill 20 cups with a beverage of your choice and align them in triangle shapes on either side of the table.
The aim of the game is to throw a ping pong ball into the opposing side's cups. If you get one in, they have to drink. As long as your garden has space for a table and people on either side, you will be able to play drink pong.
Giant Connect Four
Connect four is a great garden game. You can buy the set relatively affordably. The premise is the same as the classic tabletop version, just on a bigger scale. This is the perfect game to play in the background of a BBQ or a social gathering, and it doesn't take up much space, either. The unit itself is slim, so will fit into almost any sized garden.
Giant Jenga
Jenga is notoriously a game of patience, forward-thinking and gentle hands, and the giant version is no different.
It is more suited to a larger garden because if the tower comes tumbling down, the last thing you want is for things to get broken or flowerbeds to get crushed. A spacious lawn is your best bet for this one.
Croquet
Whilst it has a reputation of being a fancy garden sport, the rules of croquet are actually very simple. The general aim is to get your ball through the hoop with a mallet. You may only hit your ball once, and you're not to touch anyone else's ball with your mallet.
Croquet requires room, so is more suited towards medium and larger-sized gardens. If you are keen to play but don't have enough space, you could always take your kit to the park and play there.
Limbo
The last garden game on our list is the old faithful limbo. Limbo requires more height than anything else, meaning small, medium, and large gardens can all play host to it.
Get Your Garden Game Ready
Do you want to play garden games, but your garden isn't looking its best? If so, get in touch to learn about how artificial grass is the best turf for family gardens.