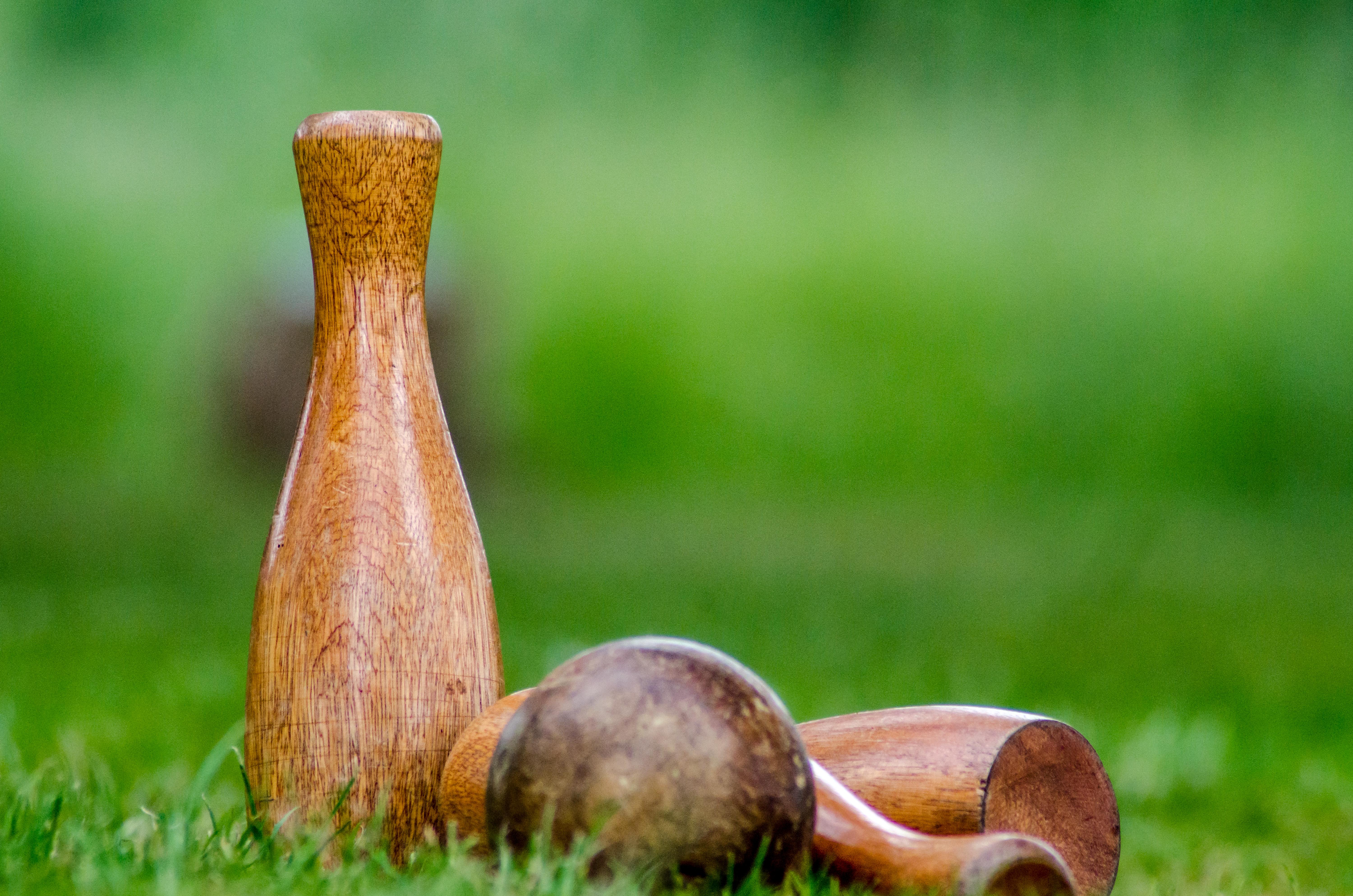 Keeping children occupied in summer in the garden is no mean feat, especially if you have more than one child. The key is to provide them with fun garden games that will get them active outdoors without ruining your garden or running the risk of having an accident.
We've put together a list of children's garden games that can be enjoyed by all that won't compromise your lawn or artificial grass. So, if you're struggling to find ways to entertain your children on summer weekends or during the school holidays, keep reading.
Skittles
Skittles is one of the best garden games for toddlers because it's completely safe, and it builds on essential coordination skills that will aid all aspects of your child's development. Skittles can easily be set up, and the chances are that there will be a kit that is themed around your child's favourite character(s), so getting them engaged shouldn't be too difficult.
Skittles won't damage your lawn and can be played in gardens of all sizes, making this a great choice for all families.
Swingball
Not everyone has enough space in their garden to play ball games, nor does every part want to let their child loose with a ball in their garden, either. In this case, swingball is a great option. It's more aimed at slightly older children and is best played in pairs, but single children can also enjoy a game of swingball by themselves, too.
You will need to insert the swingball into your garden lawn. If you have a concrete or paved garden, you can buy weighted sets that can be filled with sand or water. In terms of garden size, as long as there is enough room for the ball to swing around, your children will be able to enjoy a light-hearted game of swingball, all the while improving on their hand-eye coordination and concentration.
Giant Snakes and Ladders
We all played snakes and ladders as children, and there's a high chance you've passed your copy of the game onto your children. It's a great solution for a rainy day indoors, but it can be enjoyed in the sun, too! Most classic board games are available in a giant format, including snakes and ladders.
Your children will be able to increase their counting and comprehension skills, all whilst getting active outdoors. Most giant snakes and ladders kits are 2m x 2m, so as long as your garden can accommodate a square of this size, giant snakes and ladders is a worthwhile game to buy.
Target Ball
You'd be hard pressed to find a child who doesn't enjoy throwing balls. Make sure they do it safely and without breaking anything by providing them with a target ball kit. The aim of the game is simple: throw the ball onto the target and try to rack up as many points as possible. By playing it, children will be encouraged to work on their coordination, as well as their adding skills. Not only this, target ball typically fosters a healthy competitive spirit, ideal for keeping siblings and play dates entertained.
Target ball typically works with hook and loop fastenings which means the ball is soft, so you don't need to worry about squashed flowers and broken windows!
Sack Race
One of the oldest garden games for kids is the sack race. It's a common feature of school sports days and is something people of all generations have taken part in. The sack race is simple in its concept but provides endless fun. Unlike most races, it's less about speed and more about technique, meaning children have to be intuitive if they're going to be in with a chance of winning. You can use almost anything as a sack, including bin bags, old duvet covers and hessian sacks.
As it's a race, this will work better in slightly larger gardens or longer ones. In case of falls, it's best to play it on the lawn so that there's a soft landing.
Egg and Spoon Race
Often the mocked sport on sports day, the egg and spoon race is not to be sniffed at. It's tricky in all ways. First, you have to have impeccable balance and concentration, and then you need to have excellent spatial awareness so that you don't trip on anything on your way to the finish line. It's not easy, but it's great fun and does wonders for building on essential motor skills in childhood.
If you don't have a rubber egg, you can use a ball and tennis racket instead. Whatever you do, don't use real eggs! Whilst concentrating on the delicate balancing act, trips and falls may happen, so it's best to do an egg and spoon race on grass rather than concrete or paving.
Swimming Pool
There's no better time to get the paddling pool out than during summer. Endless hours can be spent getting active in the water, especially when you have things like slides and water toys. If you have a natural lawn, you might be slightly put off by visions of large, dead patches of lawn and soggy soil, but if you have one of our luxury residential artificial lawns laid, you won't need to worry. You can keep the pool out all summer long!
Get Artificial Lawn Installed
Don't let your children's garden games be hampered by your lawn this summer. Speak to us about getting artificial lawn installed and enjoy all manner of garden games this sunny season.